Groupon / Living social
GrouponWorks
For those who don't know, Living Social (livingsocial.com) is a deals website offering one deal a day per city. The deals can be anything from 90% off a haircut to 80% off sporting event tickets such as for a football game. They can give such a large discount because there has to be a minimum amount of people buying the deal before it goes live for you to claim. Below is a quick guide answering the question of "How Does Living Social Work" in detail. How Does Living Social Work?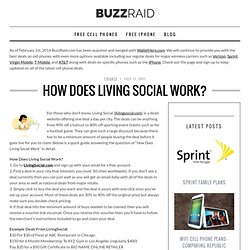 How Does Living Social Work? - Buzzraid
Daily Deal Sites - Best Daily Deal SItes
are all the rage these days and with that you have thousands of websites offering these deals to chose from. A daily deal website can get you huge discounts of 50%-85% off things such as local deals of spas, restaurants, attractions to many national brands and designer brands. Search through our daily deal sites below as well as the featured places we recommended. Featured Daily Deal Sites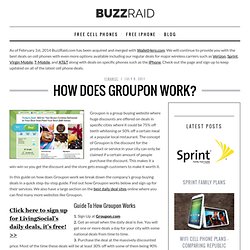 Groupon is a group buying website where huge discounts are offered on deals in specific cities where it could be 75% off teeth whitening or 50% off a certain meal at a popular local restaurant. The concept of Groupon is the discount for the product or service in your city can only be claimed if a certain amount of people purchase the discount. This makes it a win-win so you get the discount and the store gets enough customers to make it worth it. In this guide on how does Groupon work we break down the company's group buying deals in a quick step-by-step guide.
How Does Groupon Work? - Buzzraid
Study: One Third of Businesses Don't Profit from Groupon Deal
How Groupon Works for Small Businesses
Over the last year, social deal sites have been popping up all over the place. I hadn't given much attention to them until this week when I saw an amazing deal from Living Social. They were selling $20 Amazon gift cards for $10.
How Living Social and Groupon Works