Biz to read
Collaboration, Task and Project Management Solutions | Connect by Mindjet. 9 Ways to Delight Your Facebook Fans Without Giving Away The Farm. When it comes to social media marketing, and Facebook in particular, the name of the game is engagement.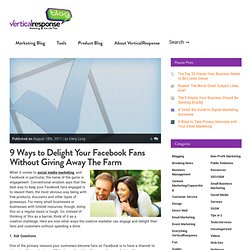 Conventional wisdom says that the best way to keep your Facebook fans engaged is to reward them, the most obvious way being with free products, discounts and other types of giveaways. For many small businesses or businesses with limited resources, though, doing this on a regular basis is tough. So, instead of thinking of this as a barrier, think of it as a creative challenge. Here are nine other ways the creative marketer can engage and delight their fans and customers without spending a dime. Roos Displays - Fixture Manufacturing Company. Excerpt: Enterprise Collaboration & Social Software Evaluation Report - Comprehensive Product Evaluations - The BrainYard. State of Enterprise 2.0 Collaboration Q2, 2011­­ - The BrainYard.
Enterprise 2.0 People & Culture: HR Management Challenges & Opportunities - The BrainYard. Guide to Understanding Social CRM - The BrainYard. Enterprise 2.0: What, Why and How? - The BrainYard. E-commerce Platforms - Young & Reckless Reports Record Sales. (December 20, 20111 – Oakland, CA) -- Young & Reckless, the streetwear clothing brand created by Drama from MTV's Rob Dyrdek's Fantasy Factory has reported record breaking web sales since signing with Sparkart Group, Inc., the Oakland based full-service independent digital agency.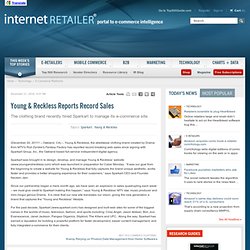 Sparkart was brought in to design, develop, and manage Young & Reckless' website (www.youngandreckless.com) which was launched in preparation for Cyber Monday. "It was our goal from the beginning to create a website for Young & Reckless that fully captures the brand unique aesthetic, works faster and provides a better shopping experience for their customers," says Sparkart CEO and Founder Naveen Jain. December 2007 - Apparel & Accessories Bringing merchandise and the store to online shoppers.
When it comes to categories of products sold, apparel & accessories is the biggest kid on the Internet retailing block.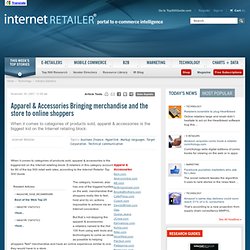 E-retailers in this category account for 80 of the top 500 retail web sites, according to the Internet Retailer Top 500 Guide. The category, however, also has one of the biggest hurdles on the web: merchandise that shoppers really like to feel, hold and try on, actions impossible to achieve via an Internet connection. But that`s not stopping the apparel & accessories e-retailers named to the Hot 100 from using web tools and technologies to come as close as possible to helping shoppers "feel" merchandise and have an online experience similar to one they would have in a store. Coach.com, for example, has introduced Try It Online, a site feature designed to help dampen worries shoppers have when purchasing a handbag online.
December 2008 - Apparel & Accessories. The e-commerce sites featured in the apparel & accessories category of this year's Hot 100 are as distinctive as, well, individual clothing buyers.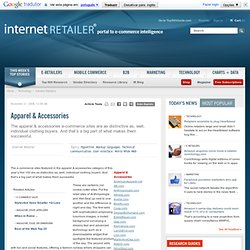 And that's a big part of what makes them successful. These are certainly not cookie-cutter sites. Put the retail sites of Anthropologie and Wet Seal up next to one another and the difference is night and day. The first sells with sophistication-employing luxurious images, a muted background conveying a dreamy feel and advanced technology such as a downloadable widget that spotlights the featured product of the day. - Hip-Hop Shop. If there were a contest to pick the edgiest retailer in the Internet Retailer Top 500, Boston-based Karmaloop LLC would surely win.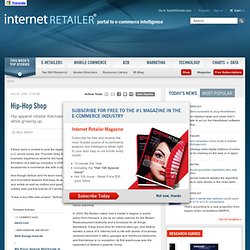 Founder Greg Selkoe didn't launch the online store because he liked retail or had any business experience-what he did have was a real passion for urban street culture. That passion sparked the formation of a start-up company in 2000 that Selkoe since has built into an established apparel and accessories e-commerce site with a big following among the young and uber-hip. And though Selkoe and his team have poured heart and soul into Karmaloop.com, packing it with content and innovative features that keep its audience coming back to see what's new with the genre's celebrities and artists as well as clothes and gear, there's still a small part of Selkoe that's surprised his start-up, which initially sold just five brands of T-shirts and sweatshirts, has become a $40 million business.
Catalogers - New Page For boo.com. Sportswear and streetwear online retailer boo.com will publish a spring/summer 2000 season catalog, called the "look book," which it claims marks the first time a "pure-play" apparel e-tailer has used an offline catalog in the U.S. to draw attention to online products.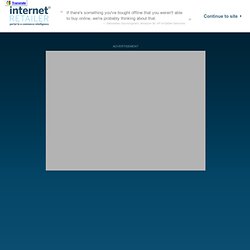 The catalog, which showcases 33 products on 44 color pages, will be printed in seven languages, says the New York City-based firm. The book will be distributed in 15 countries through the mail to consumers, and at key fashion and Internet industry events. A toll-free number and an e-mail address connecting to the boocrew, boo.com's contact center, are included in the catalog to place orders via telephone and email. The retailer highlights merchandise in the catalog from labels such as Converse, New Balance, Puma, Helly Hansen, The North Face, Maharishi and Final Home. Items featured are representative of the boo.com merchandise mix for the season. Internet Retailer - Search Results for streetwear. / Press Release Avatar New York, Award-Winning Web Design and Technology Firm awarded JimmyJazz.com's front-end technology and design project for Full-Feature Urban Fashion Site BROOKLYN, NY - [February 18, 2009] - For the latest in hip-hop and urban trends, people look to Jimmy Jazz for the hottest sneakers, clean-lined styles, and most up-to-date street fashions.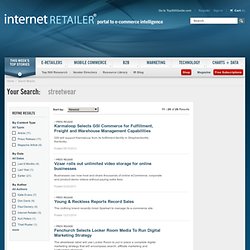 Jimmy Jazz offers the name brands that women, men and kids shop and now award-winning web design... Posted 02/18/2009. Decide.com: Online Shopping for TVs, Computers, Cameras & Electronics. E-Commerce Sales Are Booming, Thanks to Discounts and Free Shipping. Matt Cardy/Getty ImagesAn Amazon fulfillment center.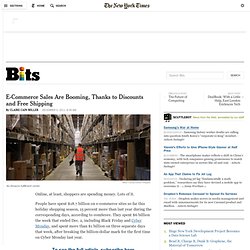 Online, at least, shoppers are spending money. Lots of it. People have spent $18.7 billion on e-commerce sites so far this holiday shopping season, 15 percent more than last year during the corresponding days, according to comScore. Top 500 - E-commerce sales jump 16% in 2011. U.S. e-commerce sales totaled $194.3 billion in 2011, up 16.1% from $167.3 billion in 2010, according to an estimate released today by the U.S.
Commerce Department. The estimate, not adjusted for seasonality, show that e-commerce is taking a bigger portion of overall retail sales in the United States. 4.6% of total retail spending took place online during 2011, up from 4.3% in 2010, according to the Commerce Department. Record Holiday 2011 Ecommerce Sales Impact by Online Marketing Technology. Philadelphia, PA (January 05, 2012)According to ComScore, online spending reached a record $35.3 billion this holiday season, a 15% increase over last year.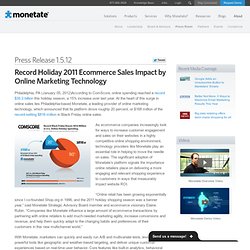 At the heart of this surge in online sales lies Philadelphia-based Monetate, a leading provider of online marketing technology, which announced that its platform drove roughly 20 percent, or $168 million of the record-setting $816 million in Black Friday online sales. As ecommerce companies increasingly look for ways to increase customer engagement and sales on their websites in a highly competitive online shopping environment, technology providers like Monetate play an essential role in helping to move the needle on sales. The significant adoption of Monetate's platform signals the importance online retailers place on delivering a more engaging and relevant shopping experience to customers in ways that measurably impact website ROI.
Hoovers | Business solutions from Hoovers. Running Lean: Iterate from Plan A to a Plan That Works. Business Models: The Forgotten Middle Children of Startup World. 8 Ways to Make Customers Love a Local Business. Published Nov. 10, 2011 Daniel Kehrer discusses why and how to make your customers love your business. Many local businesses are content if their customers seem "generally satisfied" overall. Others aspire to something more -- they seek the kind of passionate customer satisfaction that inspires glowing thank you letters and backyard fence comments like "My plumber (or dry cleaner, pet groomer, dentist, insurance agent, hair salon, etc.) is really great! Business Plans & Financial Statements Template Gallery. Skip to Main Content Area Enter terms Enter Zip or City,State Home » Templates & Tools. Mentoring. New Resources to Sell and Source Overseas. In 2006, total sales were just $64,000 at Loudmouth Golf, a small golf clothing company based, well, nowhere in particular.
(The company has no official headquarters; Founder Scott Woodworth still works out of his house in Sonoma, CA.) Now sales have topped $10 million at the 32-employee firm thanks to an approach of sourcing materials and selling finished goods globally. Resource Links for International Trade. Published Apr. 26, 2011 SCORE has compiled this list of helpful resources for international trade. EC21 EC21 is a business to business marketplace that facilitates online trades between exporters and importers from all around the world. Global Sources Global Sources creates, manages and delivers information that international trading partners need to meet and do business. Top 10 Tax Tips for Small and Growing Businesses. 10 Ways To Make Your Website Work Harder For You. Marketing Matters: Marketing Advice for Local Business. BizBest - Business Made Better. ShopTalk: Social Media - Social Media Advice for Small Business.
---