Templates
Dreamweaver templates: Customizable starter designs for beginners
The following templates were designed and developed to give web designers a jump on new web layout techniques. In addition to design and layout, each design contains a dynamic element developed using CSS, HTML and JavaScript, commonly referred to as Ajax. Adobe has its own framework for developing Ajax-based sites, commonly known as Spry, and Adobe Dreamweaver supports a visual way to work with Spry and Spry widgets. The download files also include source Photoshop files with slices, which can be edited with either Photoshop or Fireworks, and the design elements are already set up to work with the layout and Spry widgets. Preview and download the templates you want, and watch a short video to learn how you can customize these templates for your own needs.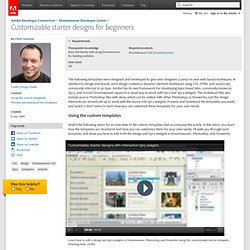 Liquid, Fluid and Elastic Layout Templates, Tools and Frameworks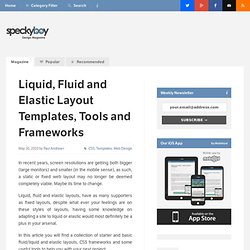 In recent years, screen resolutions are getting both bigger (large monitors) and smaller (in the mobile sense), as such, a static or fixed web layout may no longer be deemed completely viable. Maybe its time to change. Liquid, fluid and elastic layouts, have as many supporters as fixed layouts, despite what ever your feelings are on these styles of layouts, having some knowledge on adapting a site to liquid or elastic would most definitely be a plus in your arsenal.
Adobe Dreamweaver is very popular software for web development. If you are a web designer then you must know the importance of templates. Templates are great time savers for web designers. With the help of templates you don't have to create a web design from scratch. In the past I compiled so many template lists for the readers of my blog and today in this post I am going to present a list of free Dreamweaver Templates for web developers.
30 Best Free Dreamweaver Templates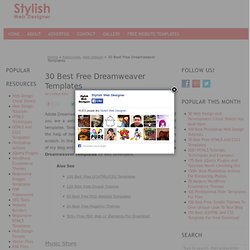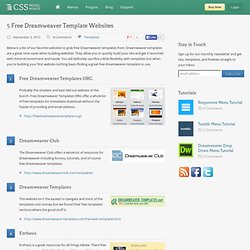 5 Free Dreamweaver Template Websites | CSS Menu Maker
Below is a list of our favorite websites to grab free Dreamweaver templates from. Dreamweaver templates are a great time saver when building websites. They allow you to quickly build your site and get it launched with minimal investment and hassle. You will definitely sacrifice a little flexibility with templates but when you're building your first website nothing beats finding a great free dreamweaver template to use.
Home
Interview With Khajag Apelian"Type Design Is Not Only About Drawing Letters" Having started his career studying under some of the best typographic minds in the world, Khajag Apelian not only is a talented type and graphic designer, unsurprisingly, but also counts Disney as a client, as well as a number of local and not-for-profit organizations throughout the Middle East. Even more impressive is Khajag's willingness to take on work that most people would find too challenging.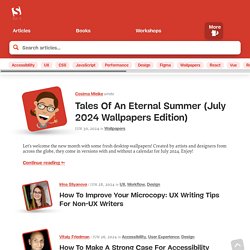 Latest Free CSS Templates Below are the 12 newest CSS templates. You can also browse all CSS templates. About FreeCSSTemplates.org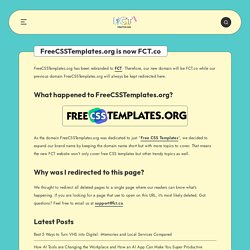 Free Banner Maker - Builder
Layout can both be one of the easiest and one of the trickiest facets of web design. Sometimes a designer can bust out an amazing layout in minutes and sometimes that same designer can struggle for the better part of day with the same task. Each project is unique and calls for a unique solution, but I've found it helpful to keep a few rock solid and incredibly versatile alignments in mind that I can bust out when I get stuck.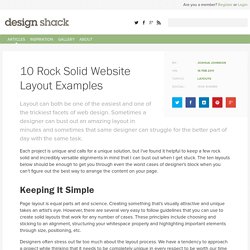 33 Best One Page Portfolio Themes From ThemeForest at DzineBlog
Learn how to earn $125 or more per hour as a freelancer - Click Here Looking for hosting?. We recommend MediaTemple for web hosting.