Imaging
Step by step tutorials | PhotoLesa.com
Amazing Retouching Tutorials In Photoshop
As graphic designer retouching photographies is essential skill You need to master.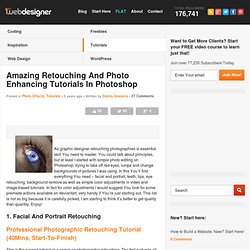 Assignment 1: Blend Photos Like a Hollywood Movie Poster in Photoshop - Web save the new photo in your PhotoShop folder as PS_Movie_Poster_Yourname You will start out by selecting two pictures you want to combine Then create a new document named as above Make it a width of 8 x height 10.5 inches Resolution 300 Color Mode CMYK Background Transparent You will move both picture files onto this new document Follow the link instructions from here on - Web Assignment 2: Selecting two pictures you want to combine. You should be in both pictures. Then follow the steps above and the steps on the link. Save the new photo in your PhotoShop folder as PS_Movie_Poster_ME_Yourname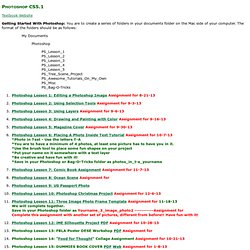 Multi-Media PhotoShop Assignments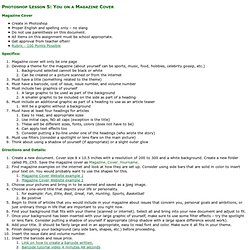 PhotoShop Lesson 5 - Magazine Cover Assignment
Magazine Cover Create in Photoshop Proper English and spelling only – no slang Do not use parenthesis on this document. All items on this assignment must be school appropriate. Get approval from teacher often! Rubric - 100 Points Possible
Abstract Effect
Better Photographs - Where photographers help one another.
50 Stunning Examples Of Reflective Photography
Advertisement Using reflections in photography can lead to some amazing effects and beautiful images.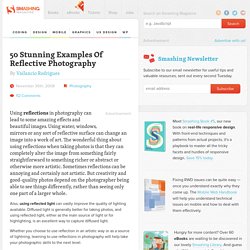 A Post By: Nate Kay Want to spice up a dull photograph? Take the same shot with a cool reflection in it and you'll be considered a photography master getting faved all over Flickr. Try it, you'll thank me later. Here are a few examples to give you a little inspiration.
20 Effective Reflection Photos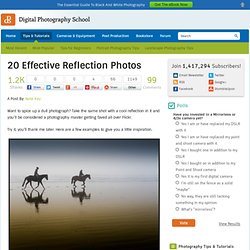 Join in practicing your photography skills by participating in our weekly blog photography assignments! This is a list of all of our weekly assignments to take and a link to the original blog entries. It's also never too late to participate in sharing your assignments on the forum. Just post your images under the appropriate assignment thread. Weekly Assignment 1 - Up Close One of the absolute best ways to improve your photography is to practice!!!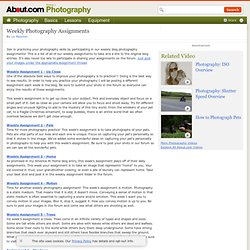 Weekly Photography Assignments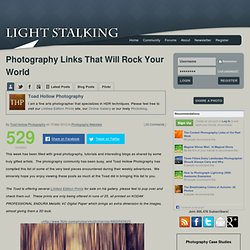 Photography Links That Will Rock Your World
This week has been filled with great photography, tutorials and interesting blogs as shared by some truly gifted artists. The photography community has been busy, and Toad Hollow Photography has compiled this list of some of the very best pieces encountered during their weekly adventures. We sincerely hope you enjoy viewing these posts as much at the Toad did in bringing this list to you.
Photo Assignments | Brought to you by R. McPhee Photography and Education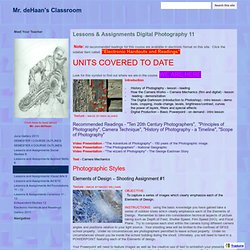 Lessons & Assignments Digital Photography 11 - Mr. deHaan's Classroom
Note: All recommended readings for this course are available in electronic format on this site. Click the sidebar item called: "Electronic Handouts and Readings" Look for this symbol to find out where we are in the course WE ARE HERE Introduction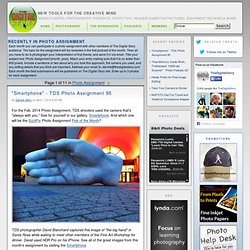 The Digital Story: Photo Assignment Archives
For the July 2013 Photo Assignment, TDS shooters often saw double. See for yourself in our gallery, Duality. And which one will be the SizzlPix Photo Assignment Pick of the Month? Photo by Carl Shortt. "My son and I went on a once in a lifetime photography trip to Bosque del Apache, New Mexico in December 2012," Carl wrote. "The weather was very cold but the birds were quite active.
How Less Can be More in Photography | FreeDigitalPhotographyTutorials.com
You may have heard the expression "Less is more" before. It's a term often used in various situations and can also apply to the world of photography composition. A problem many photographers have is that they like to cram as much into the frame as they possibly can because it just seems to be the natural thing to do. Why show a couple of people or objects in your image when you can show half a dozen? In some instances this is the right thing to do in photography composition. For example, a once-in-a-lifetime trip with several friends or family members warrants everybody's face in the shot.