Verstimmtes
Обычный немецкий - Словари - Клавогонки - онлайновый клавиатурный тренажер-игра
Howl with Allen Ginsberg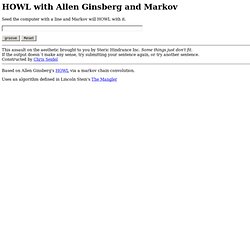 HOWL with Allen Ginsberg and Markov Seed the computer with a line and Markov will HOWL with it.
Der Sieg gegen Argentinien - die schönsten O-Töne - Mediabox - F
ASLSP - John-Cage-Orgelprojekt Halberstadt
Seit sich Stefan Raab mit den Raabigrammen einen Platz in der Hall of Fame der Deutschen Fernsehgeschichte gesichert hat, kennt Sie jedes Kid: Die Ukulele . Da hab ich mir gedacht, wenn Du 6 Saiten auf der Gitarre mühevoll bezwingst, dann müsste so ´ne Ukulele mir 4 Saiten doch auch handlebar sein.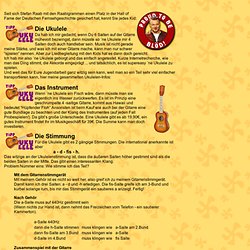 UKULELE
Grifftabelle für Ukulele, Download als PDF möglich!