Musik
Vincent Moon e Petites Planètes: se il videoclip diventa nomade
Se dovessimo nominare un solo regista capace di descrivere veramente lo spirito del nostro tempo questo sarebbe proprio lui, Vincent Moon. Qualche anno fa con l'aiuto di un manipolo di amici parigini si è inventato i Take Away Shows: prendere una telecamera e girare con alcuni degli artisti rock più famosi del mondo usando come scenario niente altro che le vie di Parigi, tutto il resto affidato al caso, al talento e all'emozione. Da quel giorno il mondo dei videoclip non è stato più lo stesso, poi sono seguiti i lavori con R.E.M. , Arcade Fire, Mogwai e tantissimi altri che hanno richiesto il suo particolare occhio per stravolgere il concetto di film musicale o documentario in qualcosa che rimane sospeso tra le due dimensioni, volutamente senza trovare una soluzione definitiva.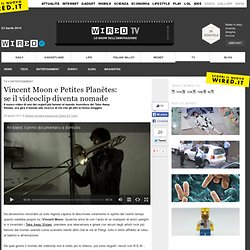 MUSKAT's stream on SoundCloud
▶ Házad by Kuckó Collective
Free Online Guitar Tuner | Acoustic & Electric Guitar
Sway.. | bloodmandarin | 17 likes | 112 listens
vsevelova: Late Train Songs - Compilation (2011)
European Border Breakers Awards
Ludovico Einaudi Nuvole Bianche Sheets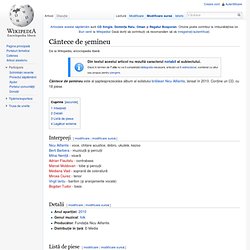 Cântece de șemineu
Cantece de semineu este al saptesprezecelea album al solistului brăilean Nicu Alifantis , lansat in 2010. Conține un CD, cu 18 piese. [ modificare ] Interpreti Nicu Alifantis - voce, chitare acustice, dobro, ukulele, kazoo Berti Barbera - muzicuta si percutii Mihai Neniță - vioara Adrian Flautistu - contrabass Marcel Moldovan - tobe si percutii Mediana Vlad - soprana de coloratura Mircea Ciurez - tenor Virgil Ianțu - bariton (si aranjamente vocale) Bogdan Tudor - bass [ modificare ] Detalii Anul apariției : 2010 Genul muzical : folk Producator : Fundatia Nicu Alifantis Distributie in tara : E-Media
EXCLUSIVE NEW DOWNLOAD: James Yuill - This Sweet Love (Earth Version) The original version of "This Sweet Love" appeared on Turning Down Water For Air , James Yuill 's debut LP released earlier this year on Moshi Moshi in the UK and Nettwerk here in the States. On September 22nd, Yuill releases the "Earth & Fire" versions of that album, which apparently aren't remixes but are instead entirely rearranged, re-recorded tracks. Here, that meant adding a percolating xylophone part and little else, resulting in something you could play after Architecture In Helsinki and still classify as a love song. James Yuill - This Sweet Love (Earth Version)
EXCLUSIVE NEW DOWNLOAD: James Yuill - This Sweet Love (Earth Version)
James Hill | Ukulele... seriously.
Optimus Discos - Noiserv
- KIDAM film production -
GlowingPixel Music.
my piano sheet music
Yann Tiersen - Rue Des Cascades
spaceman spiff bei MySpace Musik - Kostenlos MP3s anhören, Bilde
Thounds - http://thounds
// DAAU // DIE ANARCHISTISCHE ABENDUNTERHALTUNG // DAAU // DIE A
Früchte des Zorns - Start