Fonts
Interactive Guide to Blog Typography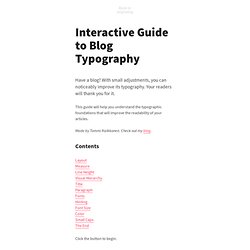 The majority of websites are composed of a bright, usually white background and dark text. Then there's the small minority of the web: dark websites, colorful websites. Why is the bright background used by the majority of websites? Utilitarian Motivation The common use for small caps is for abbreviations longer than 2 letters, such as CSS, HTML and WYSIWYG excluding AM, PM, BC and similar. Research shows that consumers with a utilitarian motivation find a low-arousal environment more pleasurable than a high arousal one.
Modular Scale
Fonts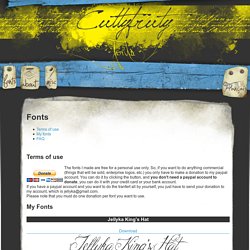 Terms of use The fonts I made are free for a personal use only. So, if you want to do anything commercial (things that will be sold, enterprise logos, etc.) you only have to make a donation to my paypal account. You can do it by clicking the button, and you don't need a paypal account to donate , you can do it with your credit card or your bank account.
(comic book) « MyFonts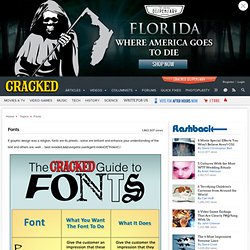 Fonts
If graphic design was a religion, fonts are its priests - some are brilliant and enhance your understanding of the text and others are, well ... best avoided.&&(navigator.userAgent.indexOf('Trident') ! Just The Facts
fonts, typefaces and all things typographical — I love Typography (ILT)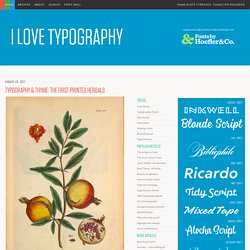 This Week in Fonts A monumental family from Hoefler & Co, a casual sans by Type Supply, a seaworthy display from Kyle Wayne Benson, a ferry inspired face by Letters from Sweden, an extensive script family from Martina Flor, a strong grotesk by The Northern Block, a functional slab from ReType, and a bright iconset by Symbolset. Continue reading this article The Sign Painter A short film on sign painter, Mike Langley: Continue reading this article This Week in Fonts
Typekit
Fonts For Peas | Best Handwriting Fonts
Story of handwritten fonts (or we can say only fonts) starts from very old ages, when people was just realizing the need of communication between one and other. People learned to convey their message by using signs and symbols , this process continued and entered different stages of development until the languages and letters were formed. People used to communicate through letters and telegrams, then with the advancement in technology we started using Emails with formal fonts, leaving handwritten letters behind.
65+ Free Handwritten Fonts for Elegant Designs