Europa
When the financial crisis made clear the extent of western banks' involvement in eastern Europe, concerns surfaced about the effects on western economies, re-awakening perceptions of the East as unruly and unpredictable. In the East, meanwhile, suspicions were reinforced that the West was interested in the new EU member states only insofar as they provided an opportunity to expand existing markets. What are the ethical and political implications of a globalized economy in general, and of western companies' expansion in eastern Europe in particular?
Economy and ethics in crisis - Daniel Daianu, Robert Misik A new-old East-West divide?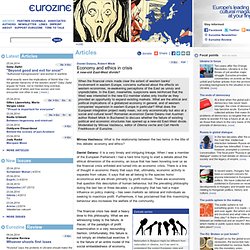 http://www.europeonline-magazine.eu/
Institut für Europäische Politik [IEP] - www.iep-berlin.de
seemo
Nachrichten Osteuropa - Reise Reisen - Wirtschaft
Gain the most up-to-date knowledge from C-level strategists, thought leading market experts and the key drivers who will deliver keynote presentations, real-life case studies at EBCG's 3rd Annual CFO Forum (27-28 May 2013, Prague).
Die Euros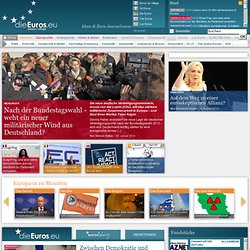 Am 18. November 2012 wurde zum 12. Mal der Siebenpfeiffer-Preis verliehen – und Die Euros haben von der Jury eine lobende Anerkennung erhalten.
Act-on-ACTA
EurActiv
EUROPE ONLINE | Nachrichten und Reisen
Zeitschrift OSTEUROPA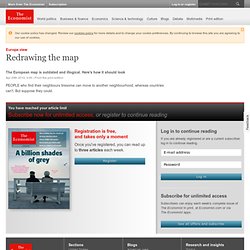 Europe.view: Redrawing the map
PEOPLE who find their neighbours tiresome can move to another neighbourhood, whereas countries can't. But suppose they could.
weitere Artikel
Die Europäische Union – eine Einleitung - Demokratie und Wahlen
Erweiterung der EU - euro|topics: Pressestimmen
Eine Auswahl von eurotopics.net
Erweiterung - Europäische Kommission
Europa kontrovers - bpb.de
EUSA | Information and ideas on the European Union
European Intercultural Forum e.V.
EU Jahresbericht 2009