Europa
When the financial crisis made clear the extent of western banks' involvement in eastern Europe, concerns surfaced about the effects on western economies, re-awakening perceptions of the East as unruly and unpredictable. In the East, meanwhile, suspicions were reinforced that the West was interested in the new EU member states only insofar as they provided an opportunity to expand existing markets. What are the ethical and political implications of a globalized economy in general, and of western companies' expansion in eastern Europe in particular?
Economy and ethics in crisis - Daniel Daianu, Robert Misik A new-old East-West divide?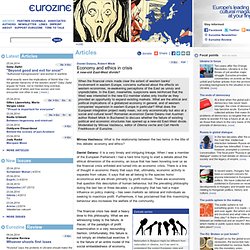 http://www.europeonline-magazine.eu/
Institut für Europäische Politik [IEP] - www.iep-berlin.de
Balkan Point - the virtual Balkans Institute, established in Vienna and all countries in the Balkan-Region - offers you an all-party and independent platform of information regarding the Balkans (South East Europe). _______________________________________ Balkan Point means Business contacts between Vienna and South East Europe (Balkan) since 1988. Our links are free to browse through. However please read the disclaimer first!
seemo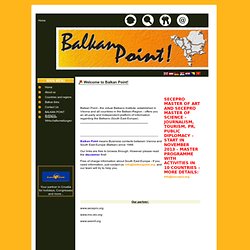 Nachrichten Osteuropa - Reise Reisen - Wirtschaft
Die Euros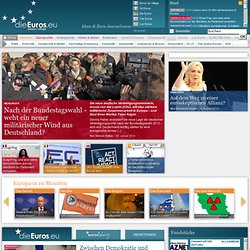 Am 18. November 2012 wurde zum 12. Mal der Siebenpfeiffer-Preis verliehen – und Die Euros haben von der Jury eine lobende Anerkennung erhalten.
Act-on-ACTA
Von Nürnberg nach Prag auf den Spuren Kaiser Karl IV. Kühne Architektur, groovende Vielfalt, geronnene Geschichte, heißblütiges Nachtleben, eiskalte Eleganz, märchenhafte Paläste, atemberaubende Spannung, revolutionäre Dynamik, kultureller Urknall: Mit Sicherheit die außergewöhnlichste Wandertour inmitten von Europa Erstmals besuchte der Verfasser 1970 den Athos. Weitere Wanderungen in der autonomen Mönchsrepublik fanden 1996 und 2001
EUROPE ONLINE | Nachrichten und Reisen
Zeitschrift OSTEUROPA
Europe.view: Redrawing the map
weitere Artikel
Die Europäische Union – eine Einleitung - Demokratie und Wahlen
Erweiterung der EU - euro|topics: Pressestimmen
Eine Auswahl von eurotopics.net Welche Grenzen wird die EU in Zukunft haben? Wann wird sie neue Staaten integrieren? Sind Erweiterungen um die Türkei oder Kroatien nicht längst überfällig?
Cookies Dieses Portal verwendet Cookies zur Optimierung der Browserfunktion. Informieren Sie sich, wie wir Cookies verwenden und wie Sie Ihre Einstellungen ändern können. Europäische Kommission Eingabehilfen Zum Inhalt gehen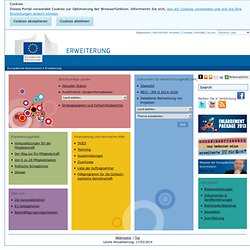 Erweiterung - Europäische Kommission
Europa kontrovers - bpb.de
EUSA | Information and ideas on the European Union
The European Intercultural Forum e. V. (EIF) is a non-profit, non-governmental and non-political organisation which operates on international level in the field of international cooperation and development, peace education, active citizenship, empowerment and capacity development. The objectives of the organisation are: 1. to contribute to peaceful development in the Western Balkans and the South Caucasus by strengthening the civil society and fostering democratic development2. to provide intercultural learning experiences to youth and adults to enhance intercultural tolerance and mutual understanding3. to provide exchange opportunities to NGOs representatives to discover and promote best-practices in international cooperation and peace education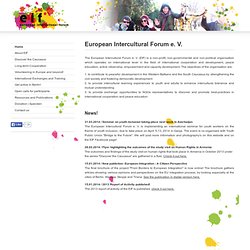 European Intercultural Forum e.V.
EU Jahresbericht 2009