Media Theory
Paradise Now: UbuWeb's World Without Copyright. Paradise Now: UbuWeb's World Without Copyright Kenneth Goldsmith, founding editor of UbuWeb Keynote SpeechECO-Encuentro de Nuevos Sonidos March 17th, 2012, 12.30 h Lecture Hall.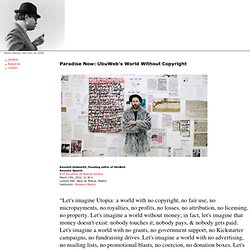 Nave de Música, Madrid Institución: Matadero Madrid "Let's imagine Utopia: a world with no copyright, no fair use, no micropayments, no royalties, no profits, no losses, no attribution, no licensing, no property. Let's imagine a world without money; in fact, let's imagine that money doesn't exist: nobody touches it; nobody pays, & nobody gets paid. Museums and artists take a stand against the dominance of social media. Artists play a crucial role in visualizing power relationships and disrupting subliminal daily routines of social media usage.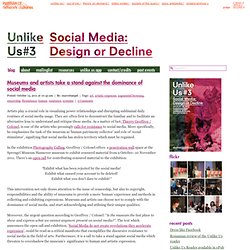 They are often first to deconstruct the familiar and to facilitate an alternative lens to understand and critique these media. As a matter of fact, Thierry Geoffroy / Colonel, is one of the artists who pressingly calls for resistance to social media. More specifically, he emphasizes the task of the museum as 'human patrimony collector' and role of 'social stimulator', signifying that social media has stolen territory which must be regained. Searching For Mark Pilgrim. [[ MARK IS FINE and his work is not lost.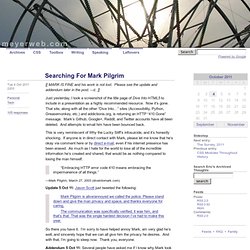 Please see the update and addendum later in the post. —E. ]] Just yesterday, I took a screenshot of the title page of Dive Into HTML5 to include in a presentation as a highly recommended resource. Twitter Psychology. Psychological research on Twitter reveals who tweets, how much, what they talk about and why.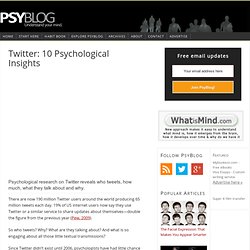 There are now 190 million Twitter users around the world producing 65 million tweets each day. 19% of US internet users now say they use Twitter or a similar service to share updates about themselves—double the figure from the previous year (Pew, 2009). So who tweets? Judith Butler: Bodies in Alliance and the Politics of the Street | eipcp.net. In the last months there have been, time and again, mass demonstrations on the street, in the square, and though these are very often motivated by different political purposes, something similar happens: bodies congregate, they move and speak together, and they lay claim to a certain space as public space.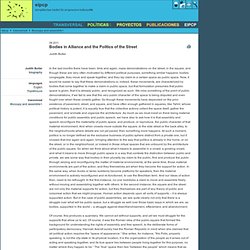 Now, it would be easier to say that these demonstrations or, indeed, these movements, are characterized by bodies that come together to make a claim in public space, but that formulation presumes that public space is given, that it is already public, and recognized as such. We miss something of the point of public demonstrations, if we fail to see that the very public character of the space is being disputed and even fought over when these crowds gather. The Media That Therefore We Are – on Lenore Malen's video installation « Machinology. I wrote this short catalogue text for Lenore Malen's I am the Animal — also included stills (courtesy of and permission from Lenore Malen) from the exhibition: The Media That Therefore We Are It's a matter of scales.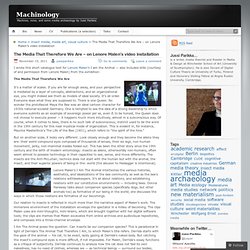 Demos | Publications. Populist parties and movements are now a force to be reckoned with in many Western European countries.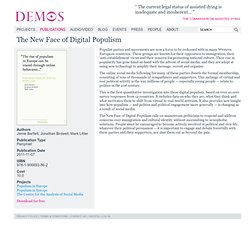 These groups are known for their opposition to immigration, their 'anti-establishment' views and their concern for protecting national culture. Their rise in popularity has gone hand-in-hand with the advent of social media, and they are adept at using new technology to amplify their message, recruit and organise. The online social media following for many of these parties dwarfs the formal membership, consisting of tens of thousands of sympathisers and supporters. This mélange of virtual and real political activity is the way millions of people — especially young people — relate to politics in the 21st century.
How We Know by Freeman Dyson. The Information: A History, a Theory, a Flood by James Gleick Pantheon, 526 pp., $29.95.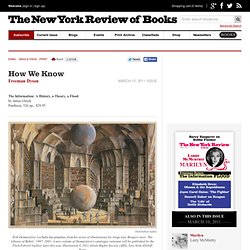 Powered by Google Docs. Semblance and Event. "Semblance and Event is a book about the smallest things, and the biggest.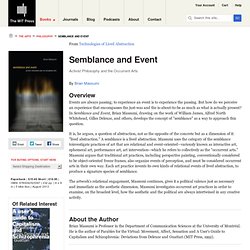 Brian Massumi effectively overcomes what Gilles Deleuze once described as the 'wrenching duality' of aesthetics. Massumi brings together action and contemplation; he finds the extraordinary in the everyday, and vice versa. This is a book about the life in art, and the art in life: a political aesthetics for the twenty-first century. " Steven Shaviro, DeRoy Professor of English, Wayne State University; author of Without Criteria: Kant, Whitehead, Deleuze, and Aesthetics "Brian Massumi practices an 'activist' philosophy indeed, as his writing craft produces an intensive indiscernibility between the abstraction of philosophical concepts and the activation of aesthetic experience associated with art.
Innovation Starvation. Stumpel_ma_thesis_the-politics-of-social-media_facebook_control-and-resistance. The Internet of Things [INFOGRAPHIC] When we think of being connected to the Internet, our minds immediately shift to our computers, phones, and most recently tablets.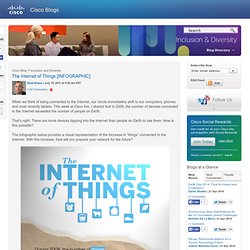 This week at Cisco live, I shared that in 2008, the number of devices connected to the Internet exceeded the number of people on Earth. That's right. There are more devices tapping into the Internet than people on Earth to use them. Animal Ecologies in Visual Culture. Steve Jobs 1955-2011. | DARC – Digital Aesthetics Research Center. Newspapers and gadget magazines are overflowing with praise and remembrance, and there is no doubt that one of the big IT company leaders and visionaries has died. In many places he is praised as an aesthete that made computers and gadgets with stunning design and great wow-factor. This is of course true, but in DARC we should remember him for how he made new IT-formats or genres popular like the PC with graphical user interface (which Apple didn't invent but popularized), the iPod and the iPhone. Also it is significant that especially the success of the iPhone is built on culture and cultural consumption, both in the way that it integrates the musical culture of the iPod and iTunes and in the way it extend it to software culture, which it has transformed into a mobile app-culture.
The iPhone and other IOS devices are cultural interfaces and cultural computing – and this is what made it different from the more engineering driven visions of e.g. Info – Daily Watch » Supercomputer Predicts Revolution. A new type of software has been shown to predict revolutions by mining news reports around the world. Retrospectively mining the news for the past 30 years the software indicates points at which the likelihood for a revolution is high. When put to the test – bingo!
Ostalgia Trips. The end of August marked the 31st anniversary of the Gdánsk Agreement, the accord which is usually seen as having kick-started the demise of communism. Today, Adam Michnik, millionaire and owner of Agora Media LLC, speaks at the Edinburgh Book Festival as a 'famous dissident', while Poland takes over presidency in the EU. But somehow no one questions why, in contemporary capitalist Poland, none of the workers' postulates in the Gdánsk Agreement of 1980 have been achieved.
The more distant the collapse of the Berlin Wall becomes, the more miraculous the events around 1989 seem to be. The more capitalist these former republics become, the more nostalgia for communism seems to grow. It ranges through art and theory, film and design, books and anthologies, all of which respond more often to communism's aesthetic than to its political meaning. Pasquinelli_Machinic_Capitalism. Geek Revenue – University of Copenhagen. Glitch Reality II - analogue-to-digital-to-analogue translation by @m_pf.
Following from Glitch Reality No1 commissioned by It's Nice That for Nike, Glitch Reality 2 by Matthew Plummer-Fernandez and David Gardener is a new iteration of exploring physical objects in glitch form. The process is an interesting one, applying digital methodology to alter physical objects. Matthew Plummer-Fernandez explains: A tea set was created by purchasing non-matching tea set components, scanning them with a Z-corporation 3D scanner and roughly repairing the digital mesh files. The mesh files are then 3D printed to create an instance of this tea-set data that inherits the glitches from the analogue-to-digital-to-analogue translation.
---