Sites ressource
arts numériques
build!: open source urbanism
say it with software art!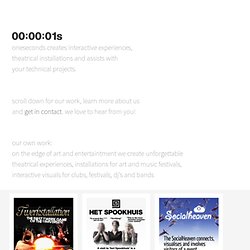 The 'Spookhuis' is a intense, interactive and multi-medial experience. A labyrinth where the visitor is confronted with himself. This production is available for theatre venues, festivals and corporate events.
oneseconds
Interactive Art @ Monkeys & Robots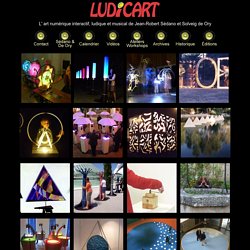 l'art interactif de Jean-Robert Sedano et Solveig de Ory
L' art numérique interactif, ludique et musical de Jean-Robert Sédano et Solveig de Ory Pionniers de l'art interactif, Jean-Robert Sédano et Solveig de Ory expérimentent et réalisent depuis les années 1980 des environnements, installations et sculptures musicales qui proposent à chacun une expérience concrète, dynamique et ludique . Pratiquant une forme de création trans-disciplinaire, ils ont développé un joyeux mélange entre arts plastiques, musique, technologie et créativité participative.
superfantastik.org
MANUAL INPUT SESSIONS - TMEMA 2004-2006
Feedtank LLC - [ Interactive Installations, Mobile Application Development, Experiential Design, Web Development | Brooklyn, New York ] - Home