Interesting Research Resources
Information Research: an international electronic journal. Information science, Information management, Information systems, Information retrieval, Digital libraries, Information seeking behaviour, Information seeking behavior, World Wide Web, WWW. Tom H. C. Anderson - Next Gen Market Research — More Than Market Research - Gain The Information Advantage. Alfred Schutz, phenomenology and research methodology for information behaviour research. Professor T.D.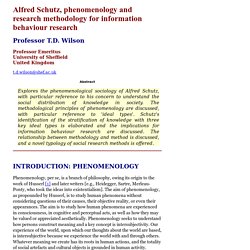 Wilson Professor Emeritus University of Sheffield United Kingdom t.d.wilson@shef.ac.uk. Research Methods Knowledge Base. Research interests. Over a number of years, my interests have centred on information seeking behaviour, and information needs but I have also carried out work in the areas of office automation, information systems strategies, information service evaluation, and other aspects of the impact of information technology on organizations.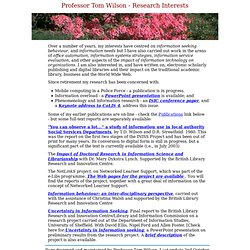 I am also interested in, and have written on, electronic scholarly publishing and digital libraries and their impact on the traditional academic library, business and the World Wide Web. Since retirement my research has been concerned with: Mobile computing in a Police Force - a publication is in progress. Information overload - a PowerPoint presentation is available; and Phenomenology and information research - an ISIC conference paper, and a Keynote address to CoLIS 4, address this issue.
---