Examples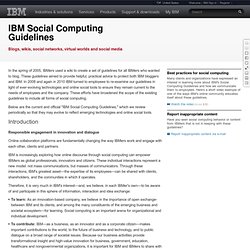 In the spring of 2005, IBMers used a wiki to create a set of guidelines for all IBMers who wanted to blog. These guidelines aimed to provide helpful, practical advice to protect both IBM bloggers and IBM. In 2008 and again in 2010 IBM turned to employees to re-examine our guidelines in light of ever-evolving technologies and online social tools to ensure they remain current to the needs of employees and the company.
The page you are looking for might have been removed, had its name changed, or is temporarily unavailable. Please try the following: Make sure that the Web site address displayed in the address bar of your browser is spelled and formatted correctly. If you reached this page by clicking a link, contact the Web site administrator to alert them that the link is incorrectly formatted.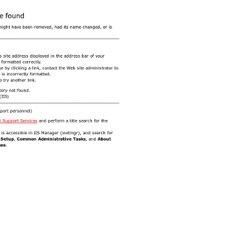 Done - SA Govt socialmedia_guidelines.pdf (application/pdf Object)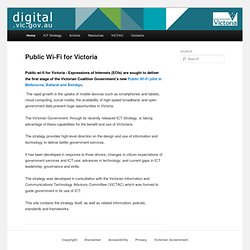 The rapid growth in the uptake of mobile devices such as smartphones and tablets, cloud computing, social media, the availability of high-speed broadband, and open government data present huge opportunities in Victoria. The Victorian Government, through its recently released ICT Strategy, is taking advantage of these capabilities for the benefit and use of Victorians. The strategy provides high-level direction on the design and use of information and technology to deliver better government services. It has been developed in response to three drivers: changes in citizen expectations of government services and ICT use; advances in technology; and current gaps in ICT leadership, governance and skills.
Web Publishing Branch Policy Number: PCY10/061 Approved: December 2012 Next Review: December 2014 This work is licensed under a Creative Commons Attribution 3.0 Australia licence Policy Owner: Web Publishing Branch Document History 1. Context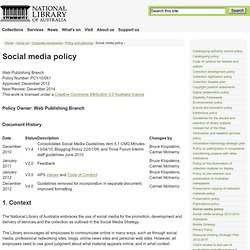 Done-Social Media Policy
Purpose The purpose of this document is to provide a set of simple guiding principles for engaging in communications via social media channels. This policy will ensure that all State Records staff members, volunteers, contractors and consultants understand their responsibilities when engaging externally with other organisations, forums and individuals using online engagement tools or "social media Definition The term "social media" includes online discussions, blogging, Wiki entries, Twitter posts, etc. Scope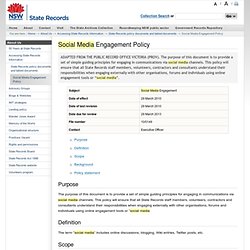 Done - Social Media Engagement Policy
Done - NAA rk_policy 2005_tcm2-4905.pdf (application/pdf Object)