Christian & Technology (Catholic, Orthodox, Protestant... open)
Cherchez un horaire de messe par commune et/ou code postal, ou le nom d'une église suivi de "à" (ou d'une virgule) et du nom de la commune. Rechercher la messe par heure et jour, en entrant une heure (11h) et une date (7-11-2010) ou le jour dimanche (dim) ou samedi (sam). Pour les jours de fête, entrez son nom (Noël, Jeudi Saint, Vendredi Saint, Veillée Pascale, Pâques, Ascension, Pentecôte, Assomption, Toussaint) Pour les villes de Paris, Lyon et Marseille, il est possible de chercher par arrondissement en faisant suivre le nom de la ville du numéro de l'arrondissement (écrit en chiffres romains ou arabe) La recherche est insensible à la casse, les accents sont ignorés et les raccourcis généraux sont remplacés (st, ste, nd, etc.). La recherche est possible par paroisse en cherchant "paroisse" suivi du nom de la paroisse ou d'une partie du nom.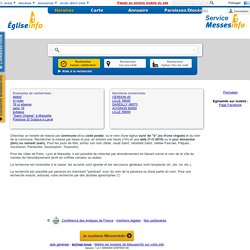 EgliseInfo (ex. MessesInfo)
The Catholic Directory - Find Catholic Churches, Catholic Mass Times, Bulletins, and Contact Information
[Text site] Click here to revert to the previously used style of displaying Mass time information i.e. via a menu approach [Link to this page] Click here in order to display what link should be used to access the currently displayed map area. This could be used to send a link to someone else or to bookmark the most useful area. New Location Enter a place name or post code information to redisplay the map around that location.
weekdaymasses.org.uk
Technology & Catholic groups