Undefined Tools
Hey ! welcome on kweeper. The most diversified collection in the world of topics, medias & interests, organized and curated. Trailmeme. Yutzu.com. Submishmash: Submission Manager. Tattler (app) gRSShopper. Eegoes | What matters to you? About. Company Profile Pinyadda is an early-stage internet company based in Boston, Massachusetts.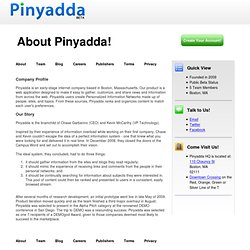 Our product is a web application designed to make it easy to gather, customize, and share news and information from across the web. Darwin Ecosystem Announces a Series of Free Darwin Editions™ Operating in real time, the Darwin Awareness Engine™ allows for the efficient scanning of content to find both breaking news and underlying casual patterns in the topics of your interest.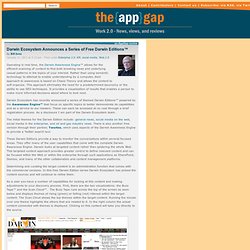 Rather than using semantic technology to attempt to enable understanding by a computer, their approach to awareness is based on Chaos Theory and allows the content to self organize. This approach eliminates the need for a predetermined taxonomy or the ability to use SEO techniques. It provides a visualization of results that enables a person to make more informed decisions about where to look next. Darwin Ecosystem has recently announced a series of themed Darwin Editions™ powered by the Awareness Engine™ that focus on specific topics to better demonstrate its capabilities and as a service to our readers. Rewire the web.
Readability: Enjoy Reading. Support Writing. A smarter Twitter widget. DIASPORA* Newsle: news about your people. Memolane. Loud3r - Content Curation & Optimization for Publishers, Brands and You. Longreads: The best long-form stories on the web.
---