Undefined Tools
Yutzu.com on Vimeo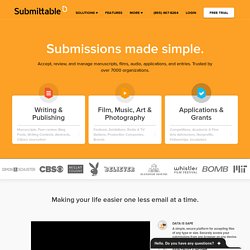 Submission Deadlines Through April 21st 492014 / Laurie Pace 04/08/2014 Hudson Valley Writers' Center – Friday Poetry Workshop with Jennifer Franklin (Session 2) etc 04/09/2014 The Fence at Photoville – Streets, People, Home, Play, Creatures 04/09/2014 Traverse Theatre – Festival 2014 – Visiting Company Submissions 04/10/2014 Litro Magazine – Shakespearian Sonnet Competition, Augmented Reality: May 2014 (Print Magazine) 04/10/2014 Oak Orchard Review – Fiction, Art (photography and/or digital images […] Read more...
Tattler (app) is an open source topic monitoring tool for today's Web. Tattler finds and aggregates content from the Web on the topics you want. Using semantic Web technologies, Tattler mines news, websites, blogs, multimedia sites, and other social media like Twitter, to find mentions of the issues most relevant to a journalist, researcher, advocate or communications professional. Built and distributed on open source Drupal, Tattler's allows a user to easily filter, organize and share content gathered from the Web.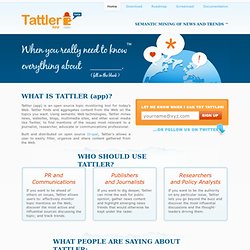 gRSShopper
eegoes | What matters to you?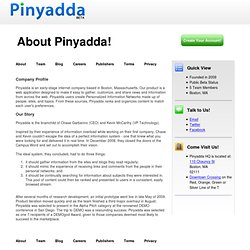 Company Profile Pinyadda is an early-stage internet company based in Boston, Massachusetts. Our product is a web application designed to make it easy to gather, customize, and share news and information from across the web.
About
Operating in real time, the Darwin Awareness Engine™ allows for the efficient scanning of content to find both breaking news and underlying casual patterns in the topics of your interest. Rather than using semantic technology to attempt to enable understanding by a computer, their approach to awareness is based on Chaos Theory and allows the content to self organize. This approach eliminates the need for a predetermined taxonomy or the ability to use SEO techniques. It provides a visualization of results that enables a person to make more informed decisions about where to look next. Darwin Ecosystem has recently announced a series of themed Darwin Editions™ powered by the Awareness Engine™ that focus on specific topics to better demonstrate its capabilities and as a service to our readers.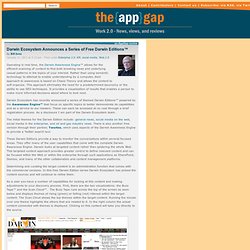 Darwin Ecosystem Announces a Series of Free Darwin Editions™
Memolane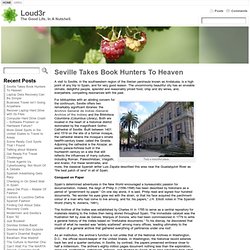 Popular Tweets We analyze your Twitter activity to see what your customers are talking about this second, and rank them based on popularity. Topics