Undefined 2
Nancy Brown is the Business Guru at All About Business Company
Anbefaler - Facebook: The Evolution of the Internet?
Scott Galloway, professor ved NYU Stern, hevder her at Facebook kommer til å bli det mest verdifulle selskapet i verden innen 24 måneder. Ungdommer bruker Facebook som deres operativsystem, de forlater aldri Facebook i løpet av dagen. Hvis Facebook blir 40% eller 50% av internett, da kan vi si at Facebook har blitt internett.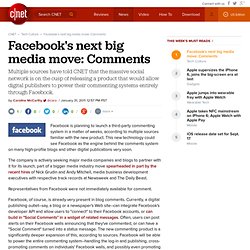 Facebook is planning to launch a third-party commenting system in a matter of weeks, according to multiple sources familiar with the new product. This new technology could see Facebook as the engine behind the comments system on many high-profile blogs and other digital publications very soon. The company is actively seeking major media companies and blogs to partner with it for its launch, part of a bigger media industry move spearheaded in part by the recent hires of Nick Grudin and Andy Mitchell, media business development executives with respective track records at Newsweek and The Daily Beast.
Facebook's next big media move: Comments | The Social
Facebook kampanjer som Webvindu har igangsatt og fulgt opp | Webvindu
Known Issues on Facebook
Mødre har fått øynene opp for Facebook
Facebook Pioneer Launches Social Media Management Platform — ecrmguide.com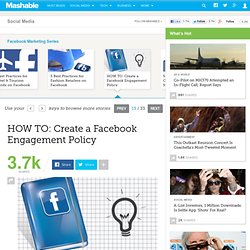 HOW TO: Create a Facebook Engagement Policy
As Facebook has become a primary customer interaction point for businesses, many companies have established formal policies for how community managers and employees should engage with fans. These engagement policies run the gamut from a brief checklist of best practices to a multi-page legal document with detailed instructions on how to handle issues. Since every company's goals, style and tone are different, it's important to develop policies that fit your business. Here are six steps to get you started. Categorize Posts
Facebook Curation - Social Media Informer
Facebook's Secret Sauce: Content Creation, Curation Pays Off
The big news this morning comes from emarketer ( via Ad Age ) and gives us an emerging portrait of Facebook that suggests it has found a place in the digisphere that will allow it to compete favorably with Google ( GOOG ) as time goes on. As Facebook continues to build its cash war chest through the Goldman Sachs ( GS ) private auction of shares, it has started to see Google-like growth coming to it from the very audience that helped propel Google into its dominant position over the past few years: The small business advertiser. But even more important than the similarities between the two companies are the differences. While Google has served the small business advertiser well over the past few years, it has recently concentrated even more on building the kind of tools that more sophisticated and larger advertisers can use to target large-scale advertising buys on its networks. And Google offers a targeted advertising buy based on automated tracking of keywords. Website creation service provider Webs has acquired Pagemodo , which enables businesses and individuals to create great-looking Facebook Pages , TechCrunch has learned. The news comes a couple of months after Webs added another relevant app, lightweight CRM tool ContactMe , to its suite of solutions designed to help small businesses develop an online presence across Web, social and mobile platforms. Pagemodo enables small business owners to design their own custom Facebook pages using its Pagebuilder product , free of charge. The products fits into Webs' existing suite of products nicely – the company has long provided small business owners with tools to build and manage their own websites. Pagemodo was founded by two Danish entrepreneurs, Thomas Kjeldgaard and Jakob Lykkegaard .
Exclusive: Webs Acquires Facebook Page Builder Pagemodo