Undefined 1
Will the new public relations please stand up? Hello, social PR! In a time of social media evolution and revolution, public relations professionals have a unique opportunity to reinvent themselves to ultimately deliver better results. The strategy: using social media-flavored PR to influence the search marketing ecosystem. First, let's look at today's journalist, one of the PR professional's primary targets. According to a recent survey by TEKGROUP International:
Social PR: 10 Ways to Do PR Better with Social Media - Search Engine Watch (SEW)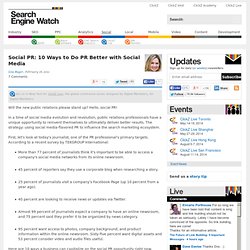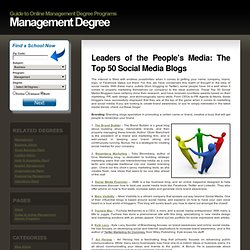 The internet is filled with endless possibilities when it comes to getting your name, company, brand, logo, or Facebook status out there. For this, we have condensed this realm of thought in the idea of social media. With these many outlets (from blogging to Twitter), some people have hit a wall when it comes to properly marketing themselves (or company) to the ideal audience.
Management Degree » Leaders of the People's Media: The Top 50 Social Media Blogs
Two years ago, Google acquired Gapminder, the Swedish graphics-display company whose Trendalyzer software specializes in representing data over time. (You may recall the company from this awesome and much-circulated TED talk from 2006.) Since the acquisition, Google has built out the Trendalyzer software to create its Public Data Explorer, a tool that makes large datasets easy to visualize — and, for consumers, to play with.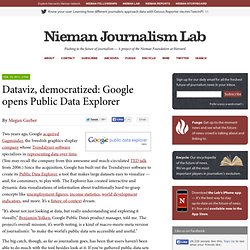 Dataviz, democratized: Google opens Public Data Explorer » Nieman Journalism Lab » Pushing to the Future of Journalism
Citi Adding Technology to Tweak Twitter
A Guide to The Contextual Web
It's the end of 2008 and everyone on the Web is hurting due to the economy. But we know that things will get better, because slow-downs eventually bury the old and give birth to new evolutionary ways of doing things. One of these evolutions started quietly in 2008. We are witnessing the rise of a new kind of web: contextual. You might not have heard or thought about it much yet, but you are already using it today. Search remains the killer app on the web, but context is quickly become a viable contender.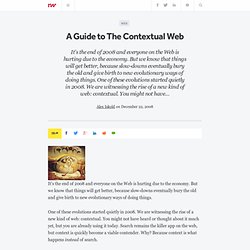 New Social Business Network Launches: The Future or Facemash 2.0 for the Chamber Crowd? News, Marketing, SEO, Social Media & More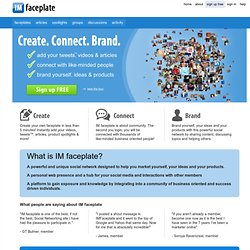 IM faceplate - brand yourself!
Create your own faceplate in less than 5 minutes! Instantly add your videos, tweetsTM, articles, product spotlights & more! IM faceplate is about community. The second you login, you will be connected with thousands of like-minded business oriented people!
Google chief Eric Schmidt on social media threat
Community curation of the blekko.com programming slashtags
That would be a fantastic idea. I'd be willing to help in the tags that I'm most active in. I really like what Blekko is doing, and I love finding information that I need without having to sift through a mountain of crud.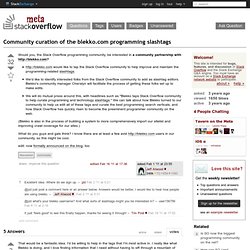 by Maria Popova What Gogol, Seth Godin and TED have to do with the fate of the written word. The year has barely begun and already it's been a tremendously disruptive month for the publishing industry, with a number of noteworthy developments that bespeak a collective blend of optimism, fear and utter confusion about what the future holds for the written word as its purveyors try to make sense — and use — of digital platforms.
Merchants of Culture: A Meditation on the Future of Publishing
Social Media Management Software for Businesses: Sendible
Contextual Web
In my last post, I expressed my surprise for the sudden explosion of the research-oriented workshops in computer science conferences that are explicitly focused on the concept of crowdsourcing. I should also note though, that there is a parallel explosion of similar micro-crowdsourcing services. Here is a list of services that I have ran into: Some of the companies above are serious, some are new and upcoming, some are copycats, and some are there just to facilitate spamming. This growing list makes it clear that we enter the bubble period. Bubbles are not necessarily negative.
The Explosion of Micro-Crowdsourcing Services - A Computer Scientist in a Business School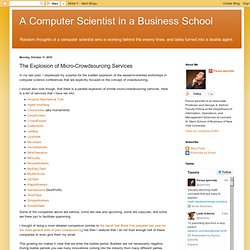 NONA i samarbeid med BI inviterer til åpen forelesning med professor Robert G. Picard, en av verdens ledende medieøkonomier, på BI tirsdag 8. februar kl. 10.00-12.00, rom C2-060. Business Models and their Use in Media Company Strategy and DevelopmentOrganisational Origins of Media Industries' Troubled Responses to New Technologies Forelesningene er en del av BIs masterkurs i flermedial ledelse. Picard er professor ved The Reuters Institute for the Study of Journalism at Oxford, og tidligere leder for Media Management and Transformation Centre i Sverige.
Picard på BI: Om nye forretningsmodeller og hvorfor mediene sliter med endring | Netthoder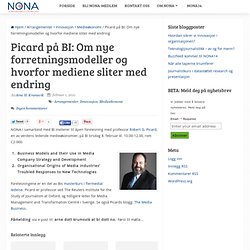 We all have personalities, and no one is exactly like another. Our relationships and memories are built on our interaction with other people. Like every person, web designers have unique and intriguing personalities. But even with the clearly obvious level of impact our personality has in our lives and our work, there is still a noticeable lack of individuality in the web designs we see on the web. For example, why do the Chicago Tribune and New York Times have websites with such similar personalities even when these newspapers are unique in their own right? So often, we find ourselves getting caught up in typography, keeping up with the latest design trends, information architecture, content readability and the like that we forget or neglect to consider those who are going to be living through the experiences we're building.
Designing Websites with Personality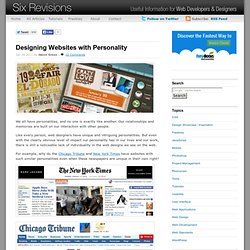 About 75 videos with Steve Jobs. From WWDCs to Macworlds to Stanford to All Things D and more. (Via MG Siegler.)
PwC's Annual Global CEO Survey, about to enter its seventeenth year, aims to inform and stimulate the debate on how businesses are facing today's challenges. Each year, CEOs around the world have taken the time to share their views with us, which we in turn share with you. Last year, in our 16th Annual Global CEO Survey, we found that organisations, faced with the increasing pace, range and impact of disruptive events, were looking to become more agile and adaptable in order to not only survive, but thrive, amidst disorder. CEOs also recognised the importance of trust - both within the organisation and with external stakeholders - as prerequisites for success as they moved from risk management to resilience.
2011 Global CEO Survey Report: Insights from PwC and the World Economic Forum