Stats
How the Fortune 500 Use Social Media to Grow Sales and Revenue. Jamie Turner is the chief content officer of the 60 Second Marketer, the online magazine for BKV Digital and Direct Response.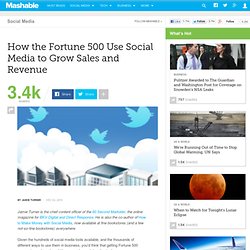 He is also the co-author of How to Make Money with Social Media, now available at fine bookstores (and a few not-so-fine bookstores) everywhere. Given the hundreds of social media tools available, and the thousands of different ways to use them in business, you'd think that getting Fortune 500 companies on board would be a complex and daunting task. But it's not. The truth is, there are only five different ways the Fortune 500 use social media. The 2010 U.S. Digital Year in Review. Download Whitepaper comScore presents the 2010 U.S.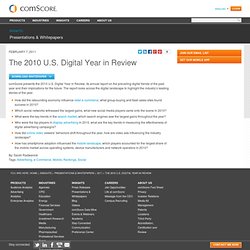 Digital Year in Review, its annual report on the prevailing digital trends of the past year and their implications for the future. ComScore: Facebook stretches lead over MySpace. New Survey: What Will Teens Be Willing to Live Without for 24 Hours? Why f-commerce? 1 in 11 humans are there [infographic. To adapt an oft' cited line "Facebook is big.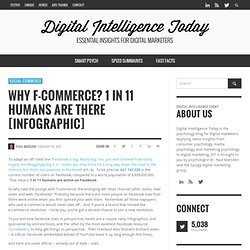 Really big. You just won't believe how vastly hugely mindboggingly big it is. I mean you may think it's a long way down the road to the chemist, but that's just peanuts to Facebook" (ch. 8). To be precise, 621 743 220 is the current number of users on Facebook, compared to a world population of 6,899,600,000. That means 1 in 11 humans are active on Facebook. Sosial – med mobilen. Nordmenn er flittige brukere av sosiale medier, og flere og flere tar mobilen i bruk når for eksempel Facebook-profilen skal sjekkes, viser en landsdekkende undersøkelse som Infact har utført for mobilselskapet Chess.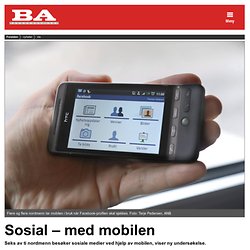 Seks av ti nordmenn bruker mobilen til å sjekke Facebook eller Twitter, og de unge skiller seg ut som de ivrigste brukerne. I aldersgruppen 18 til 24 år, er hele tre av fire aktive på sosiale medier via mobilen. Says Spending on Social Software to Support Sales, Marketing and Customer Service Processes Will Exceed $1 Billion Worldwide By 2013. STAMFORD, Conn., February 8, 2011 View All Press Releases Analysts to Discuss the Future Role of CRM at Gartner Customer Relationship Management Summit 2011, March 14-15, in London and Gartner Customer 360 Summit 2011, March 30-April 1, Los Angeles The customer relations management (CRM) market will enter a three year shake up in 2011, as a number of key trends take hold, according to Gartner, Inc.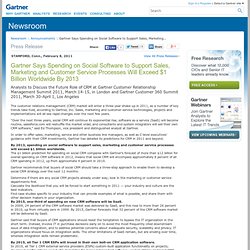 Sales, marketing and customer service technologies, projects and implementations will all see rapid changes over the next few years. "Over the next three years, social CRM will continue its exponential rise, software as a service (SaaS) will become routine, salesforce.com will reshuffle the market order, and consultants and system integrators will sell their own CRM software," said Ed Thompson, vice president and distinguished analyst at Gartner. Social Sign-In Produces Profits. In addition, 64% of fans expected to spend more than $500 during the 2010 holiday season, compared to 61% of critics.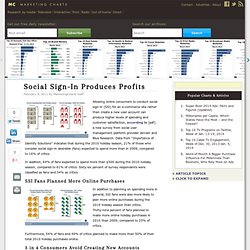 Sixty-six percent of survey respondents were classified as fans and 34% as critics. SSI Fans Planned More Online Purchases In addition to planning on spending more in general, SSI fans were also more likely to plan more online purchases during the 2010 holiday season than critics. Thirty-nine percent of fans planned to make more online holiday purchases in 2010 than 2009, compared to 25% of critics. Content Marketing – The Competency Gap | B2C Marketing Insider. Popular Today in Business: All Popular Articles This time last year I put branded content on my list of PR trends to watch in 2010.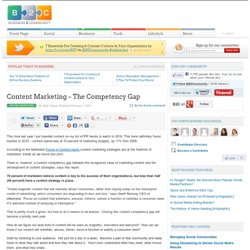 This trend definitely found traction in 2010 – content spend was at 33 percent of marketing budgets, up 11% from 2008. 8 UK social stats, and what they mean for your business « The Bazaarvoice Social Commerce Blog. I've been doing a lot of research lately about social shopping trends in the UK.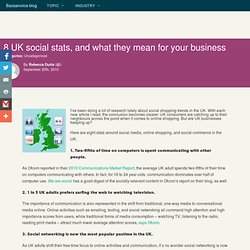 With each new article I read, the conclusion becomes clearer: UK consumers are catching up to their neighbours across the pond when it comes to online shopping. But are UK businesses keeping up? The Reality of Social Media Usage in the Enterprise. Infographic: The Evolution of CRM (Social Studies Blog) | Social Business Trends. What Makes Facebook Fan Pages Successful? - eMarketer | Brand & Content Curation.
---