Social Search
Topsy Labs Closes $15M Series C Round. Topsy Offers a Real-time Social Search Experience. We all know that Google is the king of website search engines.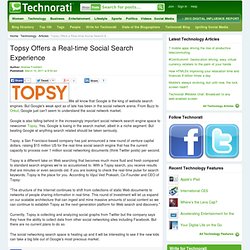 But Google's weak spot as of late has been in the social network arena. From Buzz to Orkut, Google just can't seem to understand the social network market. Google is also falling behind in the increasingly important social network search engine space to newcomer Topsy. Yes, Google is losing in the search market, albeit in a niche segment. But beating Google at anything search related should be taken seriously. Greplin: One-stop search through your social network stream and cloud data. Are you starting to have trouble tracking your information across social networks, the Web and into the cloud?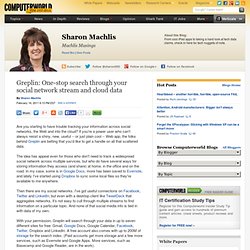 If you're a power user who can't always resist a shiny, new, useful -- or just plain cool -- Web app, the folks behind Greplin are betting that you'd like to get a handle on all that scattered data. The idea has appeal even for those who don't need to track a widespread social network across multiple services, but who do have several ways for storing information they access (and share) at home, in the office and on the road. In my case, some is in Google Docs, more has been saved to Evernote, and lately I've started using Dropbox to sync some local files so they're available to me anywhere. Then there are my social networks. I've got useful connections on Facebook, Twitter and LinkedIn; but even with a desktop client like TweetDeck that aggregates networks, it's not easy to cull through multiple streams to find information on a particular topic.
Greplin makes social search impossibly easy. A couple of weeks ago I met the most fascinating person.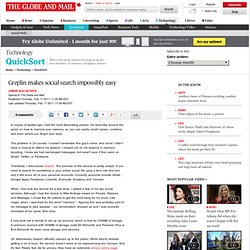 He keynotes around the world on how to improve your memory, so you can easily recall names, numbers, and even where you forgot your keys. The problem is (of course) I couldn't remember this guy's name. And since I didn't have a chance to attend his speech, I missed out on his lessons in memory-boosting. I knew we had exchanged messages, but wasn't sure if they were on Gmail, Twitter, or Facebook. Greplin's Social Search Opens Its Doors To All. Greplin, the service that indexes and lets you search all of your online social stuff (Gmail, Twitter, Facebook, etc.), has just opened its doors to everyone.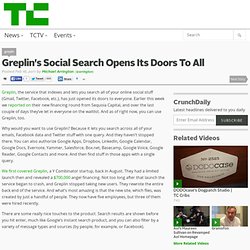 Earlier this week we reported on their new financing round from Sequoia Capital, and over the last couple of days they've let in everyone on the waitlist. And as of right now, you can use Greplin, too. Why would you want to use Greplin? Because it lets you search across all of your emails, Facebook data and Twitter stuff with one query. How a 19-Year-Old Earned $5 Million to Revolutionize Search. Where might you want to search that Google can't reach?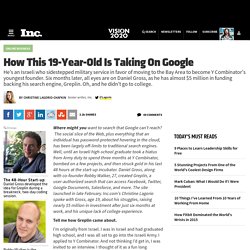 The social slice of the Web, plus everything that an individual has password-protected hovering in the cloud, has been largely off-limits to traditional search engines. Well, until an Israeli high-school graduate took a hiatus from Army duty to spend three months at Y Combinator, bombed on a few projects, and then struck gold in his last 48 hours at the start-up incubator. Daniel Gross, along with co-founder Robby Walker, 27, created Greplin, a user-authorized search that can access Facebook, Twitter, Google Documents, Salesforce, and more. Real Time Search - Social Mention.
---