Social Layers
Get flash to fully experience Pearltrees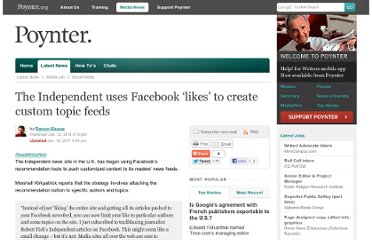 ReadWriteWeb The Independent news site in the U.K. has begun using Facebook's recommendation tools to push customized content to its readers' news feeds. Marshall Kirkpatrick reports that the strategy involves attaching the recommendation button to specific authors and topics:
Robert Fisk, the Middle East correspondent for The Independent in the United Kingdom, is surging in popularity on Facebook, with more than 13,000 "Likes" since mid-January. In comparison, the publication's primary account has garnered about 39,000 "Likes" in about a year.
The New York Times released Thursday a finished version of the Recommendations platform it quietly introduced in beta in late January. Available at nytimes.com/recommendations and on the "Recommended For You" tab on article pages, the tool is designed to help logged-in readers "see through the news fog," as NYT lead technology reporter Nick Bilton put it .
Mashable currently boasts 12 million unique visitors per month — making the social media-focused news site the largest independent tech news site on the web.
The New York Times is launching the public beta of its TimesPeople social network this evening, an offering we first reviewed earlier this summer .
In 2009, we announced HuffPost Social News — "a collaboration with Facebook that connects HuffPost users to their Facebook friends, the news they are reading, and the stories they are commenting on," as Arianna wrote then. The past year has seen that vision realized — and then some. Reading the news is no longer a solitary experience.
We're excited to announce today the beta launch of a new social layer we call Mashable Follow .
Considering that Mashable stories are retweeted 40,000 times a day and shared on Facebook with the same frequency each week, the people at Mashable understand that their success depends on social media.