Social Layers
New 'like' features on independent.co.uk | Jack Riley. The Independent uses Facebook 'likes' to create custom topic feeds. ReadWriteWeb The Independent news site in the U.K. has begun using Facebook's recommendation tools to push customized content to its readers' news feeds.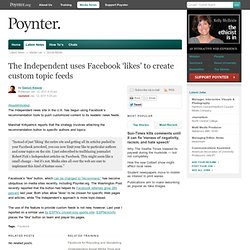 Marshall Kirkpatrick reports that the strategy involves attaching the recommendation button to specific authors and topics: "Instead of just 'liking' the entire site and getting all its articles pushed to your Facebook newsfeed, you can now limit your like to particular authors and some topics on the site. I just subscribed to trailblazing journalist Robert Fisk's Independent articles on Facebook. This might seem like a small change – but it's not. Media sites all over the web are sure to implement this kind of feature soon." How The Independent uses Facebook "Likes" to push specialized content to readers. Robert Fisk, the Middle East correspondent for The Independent in the United Kingdom, is surging in popularity on Facebook, with more than 13,000 "Likes" since mid-January.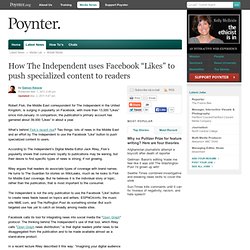 In comparison, the publication's primary account has garnered about 39,000 "Likes" in about a year. What's behind Fisk's recent rise? Two things: lots of news in the Middle East and an effort by The Independent to use the Facebook "Like" button to push specialized content to users. According to The Independent's Digital Media Editor Jack Riley, Fisk's popularity shows that consumers' loyalty to publications may be waning, but their desire to find specific types of news is strong, if not growing. Riley argues that readers do associate types of coverage with brand names.
How The New York Times Is Incorporating Social & Algorithmic Recommendations. The New York Times released Thursday a finished version of the Recommendations platform it quietly introduced in beta in late January.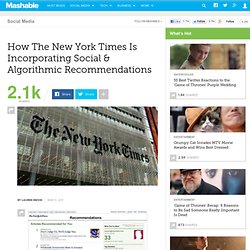 Available at nytimes.com/recommendations and on the "Recommended For You" tab on article pages, the tool is designed to help logged-in readers "see through the news fog," as NYT lead technology reporter Nick Bilton put it. It serves up recommended stories based upon the kinds of articles visitors have read. "We wanted to make the site more engaging, to expose content to our readers on a more customized, personalized basis — and not customized in the way you select your topics like a My Yahoo or iGoogle, but more of a passive personalization," Marc Frons, CTO of The New York Times, explains.
"We created an algorithm that exposes users to content they may not have seen otherwise," he adds. The algorithm is one of the most sophisticated we've seen on a news site. Mashable, tackling info overload, launches a Follow function keyed to user networks and interests. Mashable currently boasts 12 million unique visitors per month — making the social media-focused news site the largest independent tech news site on the web.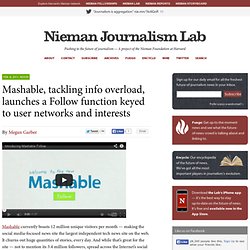 It churns out huge quantities of stories, every day. And while that's great for the site — not to mention its 3.4 million followers, spread across the Internet's social networks — it also creates what you might call a nice problem to have: How do you scale in a way that doesn't overwhelm your readers? How do you serve tons of users with tons of content — without contributing, at the same time, to information overload? Today, Mashable is launching, in closed beta, its response to those questions: Mashable Follow, a new social layer intended to help users personalize their experience on the site. New York Times Launches TimesPeople Social Networking Site « Mashable | The Social Media Guide Mashable | The Social Media Guide. The New York Times is launching the public beta of its TimesPeople social network this evening, an offering we first reviewed earlier this summer.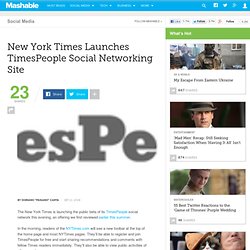 In the morning, readers of the NYTimes.com will see a new toolbar at the top of the home page and most NYTimes pages. They'll be able to register and join TimesPeople for free and start sharing recommendations and comments with fellow Times readers immediately. They'll also be able to view public activities of other members. How Media Will Relate to Facebook in the Future. All media will be personalized in three to five years, Facebook COO Sheryl Sandberg said in September.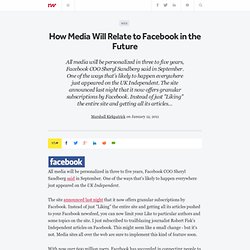 One of the ways that's likely to happen everywhere just appeared on the UK Independent. The site announced last night that it now offers granular subscriptions by Facebook. Instead of just "Liking" the entire site and getting all its articles pushed to your Facebook newsfeed, you can now limit your Like to particular authors and some topics on the site.
I just subscribed to trailblazing journalist Robert Fisk's Independent articles on Facebook. Rob Fishman: Stories You Might Like: Join Our Beta Program to Test HuffPost Recommendations. In 2009, we announced HuffPost Social News — "a collaboration with Facebook that connects HuffPost users to their Facebook friends, the news they are reading, and the stories they are commenting on," as Arianna wrote then.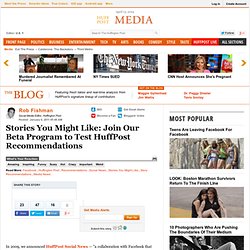 The past year has seen that vision realized — and then some. Reading the news is no longer a solitary experience. Many Huffington Post Readers Hate Site's New Facebook-Powered Recommendation Engine. The giant online publisher and aggregator Huffington Post began experimenting with a new content recommendation engine today, powered by Facebook and built by AdaptiveSemantics, the startup the company acquired last June.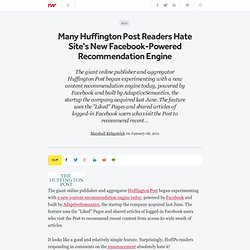 The feature uses the "Liked" Pages and shared articles of logged-in Facebook users who visit the Post to recommend recent content from across its wide swath of articles. It looks like a good and relatively simple feature. Introducing Mashable Follow, Our New Social Layer Mashable | The Social Media Guide. We're excited to announce today the beta launch of a new social layer we call Mashable Follow.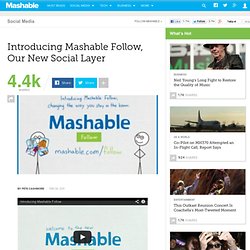 This project is the start of a significant shift for Mashable in 2011, as we evolve from being a purely editor-driven news site to becoming a true news community that seeks to engage our readers in the news process. Beyond personalization, we believe that curation is the next great wave in news, and empowering our community to choose the news of the day is the ultimate aim of the Follow project. The Engagement Era. 'Mashable Follow' focuses on power users with curation, sharing tools. Considering that Mashable stories are retweeted 40,000 times a day and shared on Facebook with the same frequency each week, the people at Mashable understand that their success depends on social media.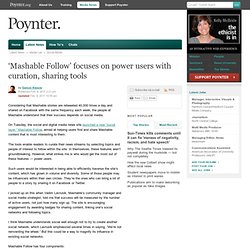 On Tuesday, the social and digital media news site launched a new "social layer," Mashable Follow, aimed at helping users find and share Mashable content that is most interesting to them. The tools enable readers to curate their news streams by selecting topics and people of interest to follow within the site. In themselves, these features aren't groundbreaking.
---