Social Layers
New 'like' features on independent.co.uk | Jack Riley
The Independent uses Facebook 'likes' to create custom topic feeds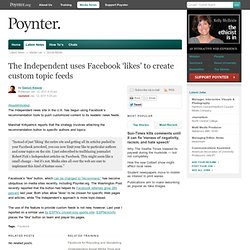 ReadWriteWeb The Independent news site in the U.K. has begun using Facebook's recommendation tools to push customized content to its readers' news feeds. Marshall Kirkpatrick reports that the strategy involves attaching the recommendation button to specific authors and topics: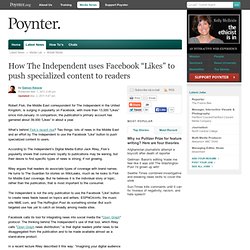 How The Independent uses Facebook "Likes" to push specialized content to readers
Robert Fisk, the Middle East correspondent for The Independent in the United Kingdom, is surging in popularity on Facebook, with more than 13,000 "Likes" since mid-January. In comparison, the publication's primary account has garnered about 39,000 "Likes" in about a year.
How The New York Times Is Incorporating Social & Algorithmic Recommendations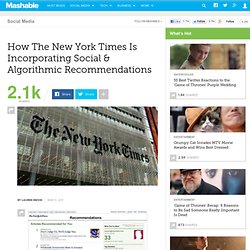 The New York Times released Thursday a finished version of the Recommendations platform it quietly introduced in beta in late January. Available at nytimes.com/recommendations and on the "Recommended For You" tab on article pages, the tool is designed to help logged-in readers "see through the news fog," as NYT lead technology reporter Nick Bilton put it.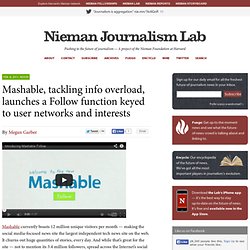 Mashable currently boasts 12 million unique visitors per month — making the social media-focused news site the largest independent tech news site on the web.
Mashable, tackling info overload, launches a Follow function keyed to user networks and interests » Nieman Journalism Lab » Pushing to the Future of Journalism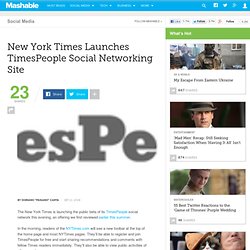 New York Times Launches TimesPeople Social Networking Site « Mashable | The Social Media Guide Mashable | The Social Media Guide
The New York Times is launching the public beta of its TimesPeople social network this evening, an offering we first reviewed earlier this summer.
How Media Will Relate to Facebook in the Future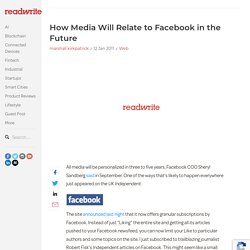 All media will be personalized in three to five years, Facebook COO Sheryl Sandberg said in September. One of the ways that's likely to happen everywhere just appeared on the UK Independent. The site announced last night that it now offers granular subscriptions by Facebook. Instead of just "Liking" the entire site and getting all its articles pushed to your Facebook newsfeed, you can now limit your Like to particular authors and some topics on the site. I just subscribed to trailblazing journalist Robert Fisk's Independent articles on Facebook.
In 2009, we announced HuffPost Social News — "a collaboration with Facebook that connects HuffPost users to their Facebook friends, the news they are reading, and the stories they are commenting on," as Arianna wrote then. The past year has seen that vision realized — and then some. Reading the news is no longer a solitary experience.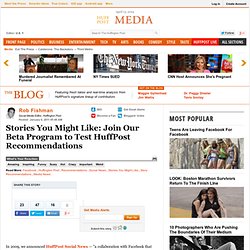 Rob Fishman: Stories You Might Like: Join Our Beta Program to Test HuffPost Recommendations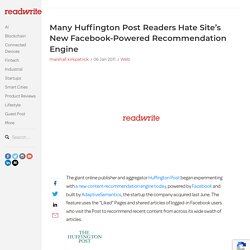 The giant online publisher and aggregator Huffington Post began experimenting with a new content recommendation engine today, powered by Facebook and built by AdaptiveSemantics, the startup the company acquired last June. The feature uses the "Liked" Pages and shared articles of logged-in Facebook users who visit the Post to recommend recent content from across its wide swath of articles. It looks like a good and relatively simple feature. Surprisingly, HuffPo readers responding in comments on the announcement absolutely hate it! The feature sounds simple, but is a great example of the power of Facebook: the social network is not just a tool for publishers to push content onto, to increase distribution and pageviews, Facebook Connect is also a form of data portability that allows 3rd party websites to offer personalized content to their visitors.
Many Huffington Post Readers Hate Site's New Facebook-Powered Recommendation Engine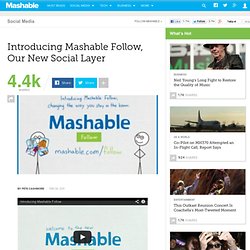 Introducing Mashable Follow, Our New Social Layer Mashable | The Social Media Guide
We're excited to announce today the beta launch of a new social layer we call Mashable Follow.
Considering that Mashable stories are retweeted 40,000 times a day and shared on Facebook with the same frequency each week, the people at Mashable understand that their success depends on social media.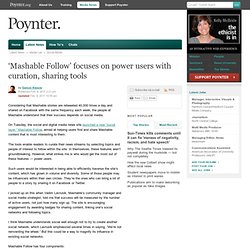 'Mashable Follow' focuses on power users with curation, sharing tools