Pro
CES is a wonderful world of 100 inch TVs, robots, crazy wearables and shiny new cars that may never see a showroom. But based on an analysis of the social media reaction to this week's event, the show may be heading in a new direction. Hardware is still king, yes. But the services that power the hardware are becoming a larger piece of the puzzle.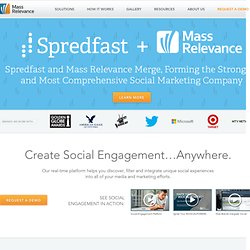 Research, archive, syndicate, publish - all in real-time. StoryCrawler is a Web 2.0 application that helps businesses and organizations sift through the mass of Internet clutter to pinpoint the most relevant information. There are millions of news stories, RSS feeds, blogs and social media networks that flood the Internet making it virtually impossible to find all the information you need, when you need it... until now. With the force of 1,000 employees and the might of a Fortune 500 research department, we are your personal intelligence agent constantly sorting through the millions of pieces that flow through the information superhighway. Now, we deliver it all to your doorstep in real-time with our proprietary, persistent search technology.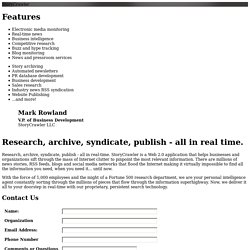 StoryCrawler
Social Media for Business - FeedMagnet
Aggregage is building the next-generation of business media, deploying web sites/newsletters that are each focused on a specific business segment topic, and each aggregating the most engaging online content. The aggregated content on our topic-specific sites comes from a number of interesting and relevant sources: blogs, white papers, peer recommendations, social networks, and discussion groups to name a few. That content is auto-curated by our readers based on their social media activity, so that the best rises to the top.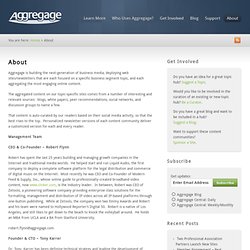 About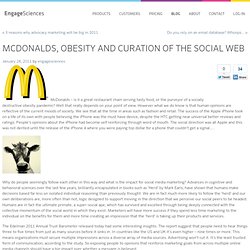 McDonalds, obesity and curation of the social web | EngageSciences
McDonalds – is it a great restaurant chain serving tasty food, or the purveyor of a socially destructive obesity pandemic? Well that really depends on your point of view. However what we do know is that human opinions are reflective of the current moods of society. We see that all the time in areas such as fashion and retail. The success of the Apple iPhone took on a life of its own with people believing the iPhone was the must have device, despite the HTC getting near universal better reviews and ratings. People's opinions about the iPhone had become self reinforcing through word of mouth.
How to Use Amplify for Content Curation and Thought Leadership | Network Solutions Small Business Blog