Not sorted 4
Why Content Factories May Be Headed Nowhere: Demand Media and Social Curation | Real-Time News Curation | Scoop.it. I'm seeing more Scoopit links in my Twitter stream and I'm not crazy about it.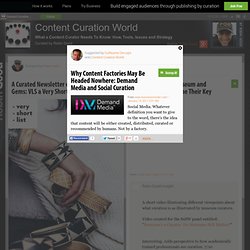 Sure it's quick and easy to share with Scoopit. But it not quick and easy to consume. Overwhelmed? Welcome the Age of Curation | Epicenter  Forrester Research analyst Sarah Rotman Epps coined a phrase Friday for something many have been talking about since Apple launched the iPad about six weeks ago.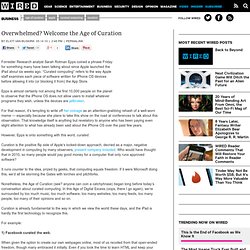 "Curated computing" refers to the way Apple staff examines each piece of software written for iPhone OS devices before allowing it into (or blocking it from) the App Store. Epps is almost certainly not among the first 10,000 people on the planet to observe that the iPhone OS does not allow users to install whatever programs they wish, unless the devices are jailbroken. What Is Newsmastering And What Are Newsradars? RSS News Aggregation And Re-Publishing For Beginners. What Is NewsMastering Newsmastering is the process by which a human being identifies, aggregates, hand-picks, edits and republishes a highly-focused, thematic news via RSS.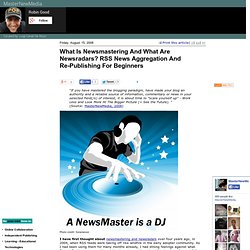 Newsmastering allows dedicated news editors (newsmasters) to remix and contextualize the existing tsunami of breaking news for very specific audiences in one thousand and more ways. Can you be more specific? Sure. What do print newspapers do? News Is Power in Washington, and Aides Race to Be Well-Armed. With the help of three alarm clocks, he gets up at 4 a.m., is showered and out the door in less than an hour, and scans his BlackBerry almost constantly as he makes his pretimed 12- to 13-minute trek to the Red Line Metro stop where he catches the first train downtown.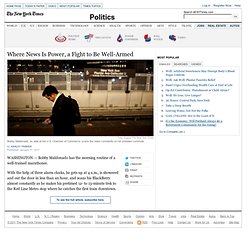 He knows exactly where to stand so he can get into the car that deposits him just steps from the escalator at the Farragut North station. "It's an efficiency thing," he explained, "so I don't get stuck behind people, so I hit the crosswalk at the right minute." 4 Promising Curation Tools That Help Make Sense of the Web. Steven Rosenbaum is a curator, author, filmmaker and entrepreneur.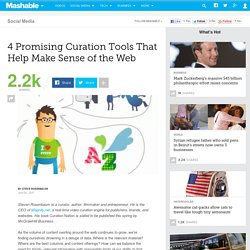 He is the CEO of Magnify.net, a real-time video curation engine for publishers, brands, and websites. His book Curation Nation is slated to be published this spring by McGrawHill Business. As the volume of content swirling around the web continues to grow, we're finding ourselves drowning in a deluge of data. Where is the relevant material? Is Curation The Answer To Search Spam? Posted by Tom Foremski - January 12, 2011 Much has been written lately about the lower quality of Google's search results.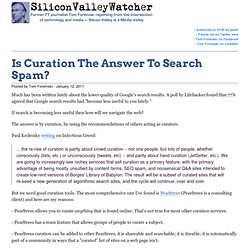 A poll by Lifehacker found that 77% agreed that Google search results had "become less useful to you lately. " If search is becoming less useful then how will we navigate the web?
---