Linkedin Business
6 Ways That Facebook is Better Than LinkedIn for B2B Marketing
LinkedIn's New Feature – Company Status Updates
Social Media Dashboard for Teams using Twitter, Facebook, Linkedin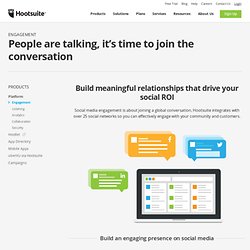 Features | Plans & Pricing | Blog | Resources Sign Up Login Log in Using Facebook Login or Signup with OpenID Select one of these third-party accounts: Login
HootSuite Integrates LinkedIn Company Pages & Groups
HootSuite is adding LinkedIn Company Pages and Groups, the social media management tool announced on Thursday. The integration is key for HootSuite — which previously only supported LinkedIn profiles — in evolving side-by-side with its main user base: social media marketers. Since filing to go public in January, LinkedIn has increasingly gained attention as a social platform.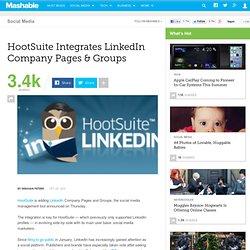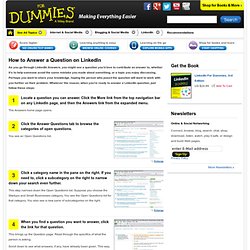 How to Answer a Question on LinkedIn
As you go through LinkedIn Answers, you might see a question you'd love to contribute an answer to, whether it's to help someone avoid the same mistake you made about something, or a topic you enjoy discussing. Perhaps you want to share your knowledge, hoping the person who posed the question will want to work with you further on their problem. Whatever the reason, when you're ready to answer a LinkedIn question, just follow these steps: Locate a question you can answer. Click the More link from the top navigation bar on any LinkedIn page, and then the Answers link from the expanded menu.
LinkedIn Questions & Answers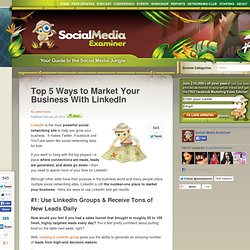 Top 5 Ways to Market Your Business With LinkedIn
LinkedIn is the most powerful social networking site to help you grow your business. It makes Twitter, Facebook and YouTube seem like social networking sites for kids. If you want to hang with the big players—a place where connections are made, leads are generated, and deals go down—then you need to spend more of your time on LinkedIn. Although other sites have their purpose in the business world and many people utilize multiple social networking sites, LinkedIn is still the number-one place to market your business. Here are ways to use LinkedIn and get results: #1: Use LinkedIn Groups & Receive Tons of New Leads Daily
LinkedIn Tips
Inbound Now 10 - Leveraging LinkedIn for Business w/ Lewis Howes
LinkedIn Groups Tip: how to add and change the moderators and managers of your LinkedIn Group
How to send a Group announcement on LinkedIn.mp4 - from Wise Man Say Ltd
Lewis Howes
18 LinkedIn Apps, Tools, and Resources
Customising your Facebook business page takes time and understanding – in order to give your fans the most value possible from your business page it's important to keep your applications updated and functioning. In case you don't even know where your apps can be found– they run down the left hand side of your business page and usually have tabs for your wall, friend activity, photos and videos. If you want to take an easy first step into customising your companies Facebook profile then adding the LinkedIn application to your company page is a good place to start – it's easy to configure, looks great and encourages activity on LinkedIn.
Feeding A LinkedIn Page Onto A Facebook Business Page
****UPDATE 2013 > Linkedin's made some big changes to the way it operates. See new article outlining how to add video to your Linkedin profile here **** LinkedIn can be a great tool to stay connected with business colleagues and clients.
How to add video to Linkedin company pages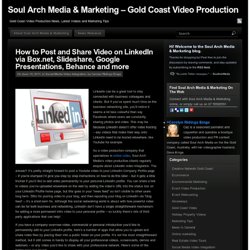 Soul Arch Media & Marketing: Products & Services
LinkedIn launches plugin for one-click job applications
Service Provider Directory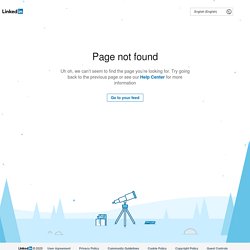 Application Directory
by LinkedIn The Polls application allows you to collect actionable data from your connections and the professional audience on LinkedIn. by Amazon Extend your professional profile by sharing the books you're reading with other LinkedIn members. Find out what you should be reading by following updates from your connections, people in your field, or other LinkedIn members of professional interest to you. Showcase your GitHub projects on LinkedIn.
Content Ads | LinkedIn Marketing Solutions
Collecting Leads with LinkedIn Ads: Advertising
LinkedIn recently announced a new feature designed to help advertisers collect leads with their LinkedIn ads. The feature, which is currently only available to selected advertisers on a test basis, enables advertisers to collect leads with campaign and contact leads directly on LinkedIn. For those of you out there already using LinkedIn PPC ads, you can switch this feature on by selecting the relevant campaign for lead collection (or by creating a new campaign) and then selecting the 'edit' button next to 'Collect Leads'.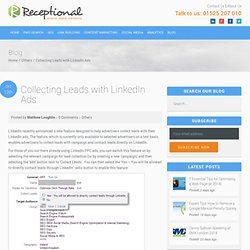 I recently ran two ads, one on Facebook and one on LinkedIn and the results couldn't be more different. LinkedIn now has their own Pay-Per-Click advertising called . You may not have even noticed the ads and that's part of the problem. Linked in has 3 types of ads, Banner Ads, Media Box ads and DirectAds.
LinkedIn Ads vs. Facebook Ads – A Case Study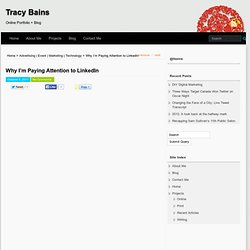 Why I'm Paying Attention to LinkedIn « Tracy Bains
digg Seven Takeaways for Marketers I'm an avid user of LinkedIn—one of over 120 million professionals from more than 200 countries and territories who have signed up to manage their business identity, keep current with industry news, or search for jobs on this social network. But when I put together a marketing plan, LinkedIn isn't necessarily the first place I think to advertise. Since I work in the non-profit sector—higher education by day, community development by night—it hasn't been a natural fit.
LinkedIn Annonsering for B2B Salg -
LinkedIn and Wildfire Partner, Bringing Social Media Marketing to the B2B World
Initial results show 60% reduction in cost per lead when combining Wildfire with LinkedIn ads We're excited to announce that we've partnered with LinkedIn to bring our Social Media Marketing Suite to the LinkedIn platform! With Wildfire, companies on LinkedIn can create and manage social promotions to generate leads and grow their followers. Coming soon, they will also be able to publish messages to continually engage their audience and measure indepth analytics about the performance of their LinkedIn company page. We have gained extensive experience building a comprehensive social marketing product on Facebook and Twitter, and are now excited to bring these tools to the LinkedIn platform. For all marketers, but especially B2B marketers, this is exciting news!
linkedin-to-integrate-wildfire-social-marketing-suite
5 Need to Know LinkedIn Tricks | LI & Business
How To Use LinkedIn | LI & Business
To me, LinkedIn has always seemed like more of a place to hunt for a new gig than anything else. And since I haven't been in the job market for a while, I've paid it little mind. Plus, I've always thought LinkedIn was kind of ... well, boring. If Facebook is a rave at a hip downtown hot spot, LinkedIn is a stuffy reception with piped-in music at one of those soulless function facilities conveniently located at the end of an exit ramp.
My exploration of LinkedIn advertising platform continues! My last few articles have focused on audience targeting for LinkedIn, as well as ad optimization tactics to improve ROI. In this article, we will explore a new feature just released for LinkedIn advertisers – Lead Collection (or in other words, lead tracking!). How Lead Collection Functions LinkedIn's Lead Collection service works differently than most lead tracking options. Usually, you place a conversion tracking snippet on your confirmation page, and when someone converts on your website a cookie is dropped on that person's computer and the conversion appears in your SEM reporting.
New LinkedIn Lead Tracking System: What You Need to Know
LinkedIn 101 - By Viveka von Rosen
Linked Into Business —
LinkedIn's '2010 Wrap Up', Engagement Email
LeadIncentive - Spread the word
Products & Services
How to Connect LinkedIn and a WordPress Blog
American Express partners LinkedIn to launch digital campaign targeting professionals | AlooTechie
linkeduit
Connected Marketing Awards 2011 Winners Announced
8 New LinkedIn Features Worth Exploration
How to Create a LinkedIn Company Page