Huffington
The Economics of Blogging and The Huffington Post. When The Huffington Post announced earlier this week that it was being acquired by AOL for $315 million in cash and stock, one group felt slighted: a set of unpaid bloggers for the site, identifying by the Twitter hashtag #huffpuff, which claims that The Huffington Post has "built a blog-empire on the backs of thousands of citizen journalists."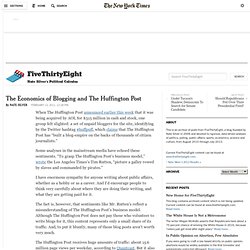 Some analyses in the mainstream media have echoed these sentiments. "To grasp The Huffington Post's business model," wrote the Los Angeles Times's Tim Rutten, "picture a galley rowed by slaves and commanded by pirates." Mment is free. AOL and Huffington Post merger: Search engine optimization won't work forever. - By Farhad Manjoo. Are you wondering, "will AOL's acquisition of the Huffington Post be successful?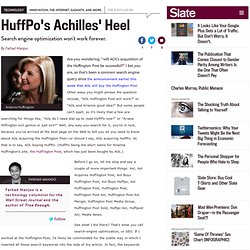 " I bet you are, as that's been a common search engine query since the announcement earlier this week that AOL will buy the Huffington Post. Other ways you might phrase the question include, "AOL Huffington Post will work? " or "AOL and Arianna good idea? " But some people can't spell, so it's likely that a few are searching for things like, "AOL do I need dial-up to read HyffPo now? " or "Ariana Hiffington evil genius or just evil?
" Why the NYT will lose to HuffPo | Analysis & Opinion | Tom McGeveran asks an important question, in his analysis of the AOL-HuffPo deal: What is it about the environment of traditional journalism that makes it so that readers are more likely to interact with the Huffington Post reblog of a New York Times article than they are with the article itself?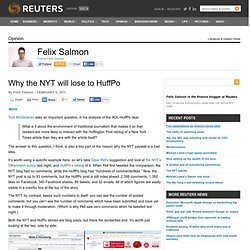 The answer to this question, I think, is also a key part of the reason why the NYT paywall is a bad idea. HuffPost Social News. Huffington Post Thanks Facebook For Massive Growth. Earlier this year, the Huffington Post announced the launch of Huffington Post Social News, a service which aggregates Huffington Post content that Facebook users comment on and share.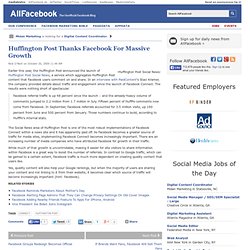 In an interview with PaidContent's Staci Kramer, the company provided details about traffic and engagement since the launch of Facebook Connect. The results were nothing short of spectacular.
---