Huffington
The Economics of Blogging and The Huffington Post
AOL and Huffington Post merger: Search engine optimization won't work forever. - By Farhad Manjoo
Are you wondering, "will AOL's acquisition of the Huffington Post be successful?" I bet you are, as that's been a common search engine query since the announcement earlier this week that AOL will buy the Huffington Post.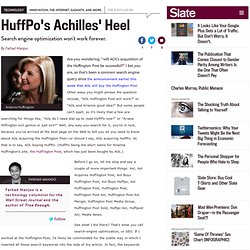 Tom McGeveran asks an important question, in his analysis of the AOL-HuffPo deal: What is it about the environment of traditional journalism that makes it so that readers are more likely to interact with the Huffington Post reblog of a New York Times article than they are with the article itself? The answer to this question, I think, is also a key part of the reason why the NYT paywall is a bad idea.
Why the NYT will lose to HuffPo | Analysis & Opinion |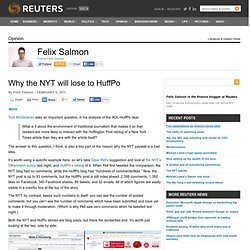 HuffPo CEO Eric Hippeau: 'We Are Now In The Big Leagues'
HuffPost Social News
Earlier this year, the Huffington Post announced the launch of Huffington Post Social News, a service which aggregates Huffington Post content that Facebook users comment on and share. In an interview with PaidContent's Staci Kramer, the company provided details about traffic and engagement since the launch of Facebook Connect. The results were nothing short of spectacular.
Huffington Post Thanks Facebook For Massive Growth