Finans
E-commerce and social media help drive merger and acquisition activity in January. Merger and acquisition activity for the marketing, information and digital media and commerce industries last month included 196 deals worth $8.5 billion, up 158% from $3.3 billion in January 2010. according to investment banking firm Petsky Prunier LLC.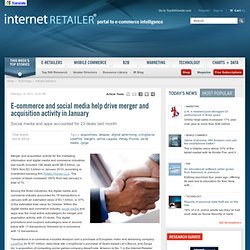 The number of deals increased 180% from last January's total of 70. Among the three industries, the digital media and commerce industry accounted for 78 transactions in January with an estimated value of $3.1 billion, or 37% of the estimated total value for October. Within the digital media and commerce industry, social media and apps was the most active subcategory for merger and acquisition activity, with 23 deals. The digital promotions and coupons subcategory was in second place with 13 transactions, followed by e-commerce with 12 transactions. Stockopedia | Share Prices, Company News, Interviews & Research. Stockopedia Becomes The First Social Investing Platform To Launch Real-time Analytics For Contributors | Stockopedia News. 01/02/2011 London, UK: Stockopedia, the premier social media site for UK stock market investors, today announces the launch of its Publisher Analytics platform that allows third party publishers and bloggers on the site to more accurately measure readership and engagement for their content on a real-time basis, making Stockopedia the first social media investing site to offer such a service.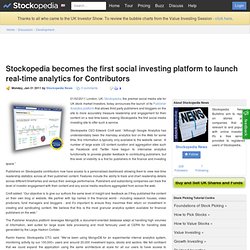 Stockopedia CEO Edward Croft said: "Although Google Analytics has understandably been the mainstay analytics tool on the Web for some time, this information is typically only available to the website owner. A number of large scale US content curation and aggregation sites such as Facebook and Twitter have begun to internalise analytics functionality to provide greater feedback to contributing publishers, but this level of visibility is a first for publishers in the finance and investing space."
Six key technology developments for banks in 2011. Looking at technology specifically in financial services, there are many that are being cited as hot for 2011: More social media developments as firms like Foursquare, Groupon and Quora add functionalities not seen before;More bank mobile apps, with clever structures and device-specific security;The creation of new retail payments structures, as Apple and Google get into mobile payment wallets and PayPal and Facebook push credits to the extreme;The maturing usage of internet and mobile television, along with video communications for dialogue on the move;Cloud computing becoming acceptable as a service for financial applications;Major investments in creating agile infrastructures and platforms to respond to regulatory requirements.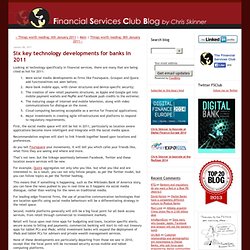 First, the social media space will still be hot in 2011, particularly as location aware applications become more intelligent and integrate with the social media space. iQualify – Competence Network. Places to meet. Comic strip for 01/17. Social business - innovation, organization and leadership. Thomas Stack. Customer Experience Manager at Brandhouse Customer Experience Marketing and Advertising | Copenhagen Area, Denmark, DK I Brandhouse Customer Experience arbejder jeg med at udvikle kundeoplevelsen og den interne kultur hos vores kunder.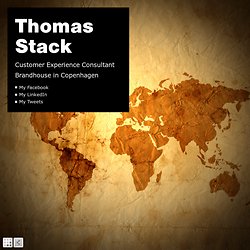 Det betyder at vi kigger på alle virksomhedens berøringspunkter med kunden, på tværs af interne siloer for at skabe en oplevelse der er i tråd med det brandløfte man har skabt via sin kommunikation. Konkret hjælper jeg vores kunder med følgende:- Strategi, design og implementering af kundeoplevelsen- Customer Experience Management- Udvikling af intern virksomhedskultur- Ledelsesudvikling- Servicedesign- Touchpoint analyse- Kundeindsigt- Customer Experience målinger- Brandede virksomhedsakademier- GTD og Presentation Zen inspirerede kurser- Keynote præsentationer om Customer Experience, Servicedesign, Branded Behavior og intern virksomhedskultur.
Public:Social Business Consultancies - SocialSquareWiki. Andreasjohannsen. Charlene Li on Social technology and Open Leadership Part 2. Building on Part 1 of my interview with Charlene Li (author of Groundswell and Open Leadership), here is Part Two in which we discuss the persistent issue of how you convince CEOs to use social media and what they can expect from doing it.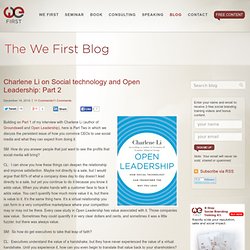 SM: How do you answer people that just want to see the profits that social media will bring? CL: I can show you how these things can deepen the relationship and improve satisfaction. Maybe not directly to a sale, but I would argue that 80% of what a company does day to day doesn't lead directly to a sale, but yet you continue to do it because you know it adds value. Charlene Li on Social Technology and Open Leadership Part 1. Last week I had the great pleasure of catching up with a social media thought leader I really admire, Charlene Li.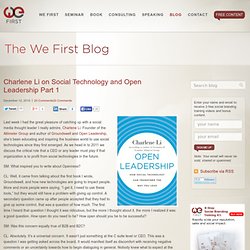 Founder of the Altimeter Group and author of Groundswell and Open Leadership, she's been educating and inspiring the business world to use social technologies since they first emerged. As we head in to 2011 we discuss the critical role that a CEO or any leader must play if that organization is to profit from social technologies in the future. SM: What inspired you to write about Openness? CL: Well, it came from talking about the first book I wrote, Groundswell, and how new technologies are going to impact people.
More and more people were saying, "I get it, I need to use these tools," but they would still have a problem with giving up control. TEDxCopenhagen - mOOnbird. TEDxCopenhagen. Why Klout doesn't count: putting social media influence in context. Finding (or becoming) an influencer is often seen as one of the core goals for businesses utilising social media, and the search and measurement industry is rushing to fulfil this need.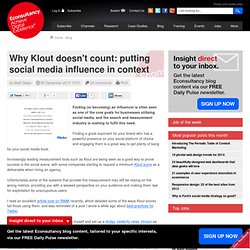 Finding a great exponent for your brand who has a powerful presence on your social platform of choice and engaging them is a great way to get plenty of bang for your social media buck. Increasingly leading measurement tools such as Klout are being seen as a good way to prove success in the social arena, with some companies starting to request a minimum Klout score as a deliverable when hiring an agency. Unfortunately some of the systems that provide this measurement may still be relying on the wrong metrics, providing you with a skewed perspective on your audience and making them ripe for exploitation by unscrupulous users. Dachis Group - 2011 Social Business Summit.
Kenneth Egelund Schmidt on Open Leadership and Social Business. The return of The Social Organization | LeaderLab. Something went wrong in our strive to build more efficient organizations during the 20th century.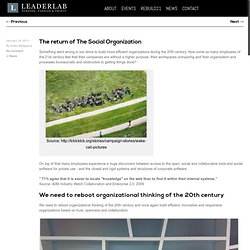 How come so many employees of the 21st century feel that their companies are without a higher purpose, their workspaces uninspiring and their organization and processes bureaucratic and obstructive to getting things done? Source: On top of that many employees experience a huge disconnect between access to the open, social and collaborative tools and social software for private use - and the closed and rigid systems and structures of corporate software. Home | Social Finance.
---