Facebook Graph
'Mashable Follow' focuses on power users with curation, sharing tools. Considering that Mashable stories are retweeted 40,000 times a day and shared on Facebook with the same frequency each week, the people at Mashable understand that their success depends on social media.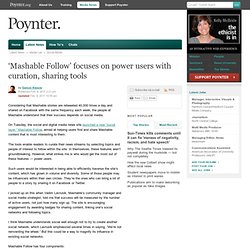 On Tuesday, the social and digital media news site launched a new "social layer," Mashable Follow, aimed at helping users find and share Mashable content that is most interesting to them. The tools enable readers to curate their news streams by selecting topics and people of interest to follow within the site. How to publish updates to people who like your Open Graph Page. It's time for a Facebook intervention. If you've followed my writing around TNW, you're already aware that I'm not a fan of Facebook.
I got challenged by Zee the other day to put into words the things that I don't like about it and I finally had to stop and lay them all out. What I realized was that the Internet as a whole seems to be addicted to a single network, a single point of failure and it's time for an intervention. First off, I have to say that there are absolutely positive sides to Facebook. We see stories every day of long-lost friends reunited, businesses that have been helped by having a personal touch and many other success stories.
Facebook Unveils the Secrets Behind the Like Button: Tech News and Analysis « If there's one thing websites and publishers can't get enough of, it's analytics — data-mining tools like Google Analytics and real-time snapshots of activity like Chartbeat, which show who comes to a site and when, where they come from, and what they do when they get there.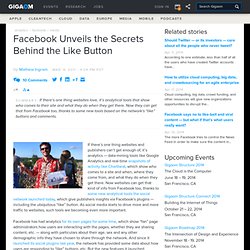 Now websites can get that kind of info from Facebook too, thanks to some new analytical tools the social network launched today, which give publishers insights via Facebook's plugins — including the ubiquitous "like" button. As social media starts to drive more and more traffic to websites, such tools are becoming even more important. Facebook has had analytics for its own pages for some time, which show "fan" page administrators how users are interacting with the pages, whether they are sharing content, etc. — along with particulars about their age, sex and any other demographic info they have chosen to share through the network. Facebook To Twitter: Back Off, We Own People's Interests. The battle over who owns your interests on the Web intensified today as Facebook started rolling out a set of new features designed to connect people more closely to the topics they care about.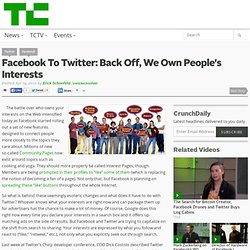 Millions of new so-called Community Pages now exist around topics such as cooking and yoga. They should more properly be called Interest Pages, though. All of Facebook's Like Buttons on Third-Party Sites Now Publish a Full News Feed Story. When users click the Like or Recommend button on a third-party website or within a Facebook app, it now publishes a full news feed story instead of just a one-line Recent Activity story.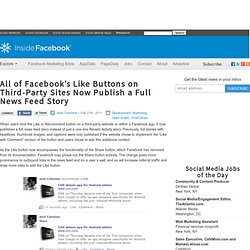 Previously, full stories with headlines, thumbnail images, and captions were only published if the website chose to implement the "Like with Comment" version of the button and users chose to add this additional context. As the Like button now encompasses the functionality of the Share button, which Facebook has removed from its documentation, Facebook may phase out the Share button entirely. The change gives more prominence to outbound links in the news feed and on a user's wall, and so will increase referral traffic and draw more sites to add the Like button.
Full stories appear larger, more compelling since they often include an image, and are ranked better in the news feed than Recent Activity stories. Facebook Rolls Out Overhauled Comments System (Try Them Now On TechCrunch) Over the last few months there have been numerous reports about a new, fully revamped Facebook commenting plugin that would make the social network a viable competitor to the likes of Disqus, Echo, and the stock comment engines found in WordPress and other CMS platforms.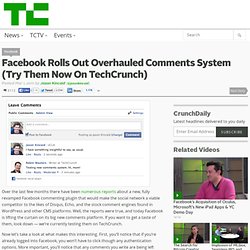 Well, the reports were true, and today Facebook is lifting the curtain on its big new comments platform. If you want to get a taste of them, look down — we're currently testing them on TechCrunch. Now let's take a look at what makes this interesting.
---