Facebook for business
MyTechOpinion.com - Technology for Real Estate. Why Facebook Breeds Voyeurism.
Facebook Pages Offically Killing FBML In Favor of iFrames. Last week Facebook, made some big changes to its Pages platform.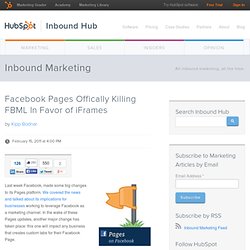 We covered the news and talked about its implications for businesses working to leverage Facebook as a marketing channel. In the wake of these Pages updates, another major change has taken place: this one will impact any business that creates custom tabs for their Facebook Page. Through its developer site, Facebook offically announced that businesses can now use iframes to build custom tabs for Facebook pages instead of Facebook Markup Language (FBML). In addition to the roll out of iframe support, Facebook also announced that it is phasing out FBML and that starting March 11, 2011, businesses will no longer be able to create new FBML apps and Pages will no longer be able to add the Static FBML app.
Facebook for Websites: Social Plugins for Your Blog and Business « gabriel catalano | in-perfección. Facebook offers webmasters and bloggers a lot of options for integrating their platform onto websites.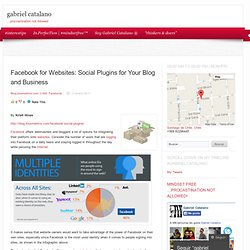 Consider the number of users that are logging into Facebook on a daily basis and staying logged in throughout the day while perusing the Internet. It makes sense that website owners would want to take advantage of the power of Facebook on their own sites, especially since Facebook is the most used identity when it comes to people signing into sites, as shown in the infographic above. The best part is that Facebook offers several social plugins that you can implement onto virtually any website, some with very little coding knowledge required. Let's look at these plugins, and the reason why you would want to have a few of them on your site.
Undefined. Business. Mari Smith - Facebook Marketing Expert, Social Media Training, Relationship Marketing Specialist. EdgeRank. Blog & Notes. Redesign. Facebook: How fans really interact with your brand - and how to interact with them. In this series of Smart Insights Best Practice Advice, Danyl Bosomworth of SmartInsights.com shares tips on best practice to get better results from digital marketing.
This week, with Social Media Week, taking place in nine cities around the world including London, Danyl looks at how to get results from Facebook. You already know that, along with everything else on your plate, you need to develop Facebook as a valuable marketing tool in some shape or form, so how will you do it? There are a number of ways to leverage Facebook as marketing technique and you need to have 'a reason'…
Facebook design & tools. Why I like Capgemini India's presence on Facebook | Beast of Traal. This week's Ascent (career…nay, jobs supplement of The Times of India) had a large'ish ad. by Capgemini India.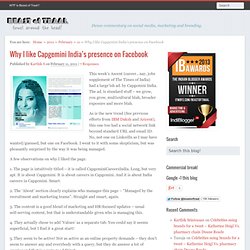 The ad. is standard stuff – we grow, you grow, multicultural blah, broader exposure and more blah. As is the new trend (See previous efforts from IBM Daksh and Aricent), this one too had a social network link beyond standard URL and email ID. Top Ten Most Engaging Magazines on Facebook. In comparing the Facebook pages of the top 86 magazines by circulation, while those with the highest circulations generally had the highest number of Facebook fans, much like our newspaper study this presents a problem when trying to quantify engagement.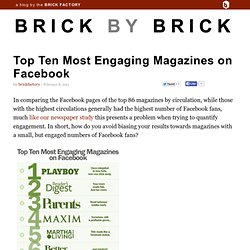 In short, how do you avoid biasing your results towards magazines with a small, but engaged numbers of Facebook fans? For a magazine like Playboy with 2.3 million fans, what is the best approach to compare engagement on their Facebook page to engagement on Time's which has over 2 million fewer members? While there are some statistical methods can compensate, at the end of the day we believe it's going to come down to a qualitative, rather than quantitative judgment. In this respect, we present our own views as to the top ten magazines on Facebook. Please check out our reasoning after the jump and visit our ImpactWatch blog tomorrow to see all our data.
---