Facebook Apps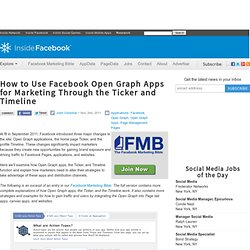 Inside Facebook · How to Use Facebook Open Graph Apps for Marketing Through the Ticker and Timeline
At f8 in September 2011, Facebook introduced three major changes to the site: Open Graph applications, the home page Ticker, and the profile Timeline.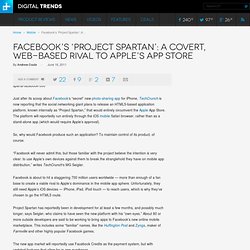 Just after its scoop about Facebook's "secret" new photo-sharing app for iPhone, TechCrunch is now reporting that the social networking giant plans to release an HTML5-based application platform, known internally as "Project Spartan," that would entirely circumvent the Apple App Store.
Facebook's 'Project Spartan': A covert, web-based rival to Apple's App Store
Jobvite's New Facebook Recruiting App Suggests Friends to Refer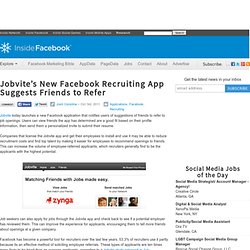 Jobvite today launches a new Facebook application that notifies users of suggestions of friends to refer to job openings.
On Friday the Guardian launched a new app through Facebook's open graph, allowing for a completely socialised experience of reading the news and sharing news with friends. News of this might not be so much on its own, especially when you compare it to the Washington Post's newly launched social reader, that also takes advantage of the Open Graph on Facebook. But by looking at the app a little more closely, you can see the true potential of Facebook's Open Graph and what it mean for brands that choose to make the most of the functionality available. Huge growth One thing that you can't look past is the huge userbase that The Guardian has built up, despite only having launched on Friday and also being a UK-focused paper. They have close to 198,00 users already, despite very little advertising by the paper :
News App shows the astonishing potential of Facebook's Open Graph – Simply Zesty - Simply Zesty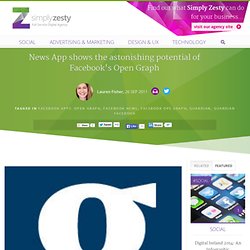 The Guardian på Facebook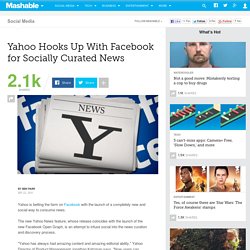 Yahoo Hooks Up With Facebook for Socially Curated News
Yahoo is betting the farm on Facebook with the launch of a completely new and social way to consume news. The new Yahoo News feature, whose release coincides with the launch of the new Facebook Open Graph, is an attempt to infuse social into the news curation and discovery process. "Yahoo has always had amazing content and amazing editorial ability," Yahoo Director of Product Management Jonathan Katzman says.
Facebook CEO Mark Zuckerberg announced a raft of new additions to his social network at the Facebook f8 developers' conference in San Francisco on Thursday. REUTERS/Robert Galbraith acebook's "flurry of announcements" at its f8 developers' conference on Thursday all point to one ambitious goal: Convincing the social network's 800 million users that they don't ever need to leave Facebook.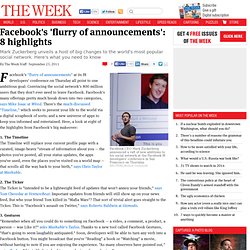 Facebook's 'flurry of announcements': 8 highlights
Facebook's Open Graph Is New Attack on Privacy
Facebook's recent launch of what Chief Executive Officer Mark Zuckerberg calls "frictionless sharing"—in which apps from services like Spotify and publishers like the Washington Post (WPO)can post a user's activity to their wall, without asking for permission for every item—has caused a lot of controversy over whether the feature is a worthwhile addition or a massive invasion of privacy. Consumer advocacy groups such as the Electronic Privacy Information Center are arguing the latter, and have even asked the government to step in, while some users have deleted their Facebook accounts in protest. But there's an argument to be made that Facebook isn't forcing anyone to share; it's simply adapting to the increasingly social way that we are living our lives online.
Why Facebook's Frictionless Sharing Is the Future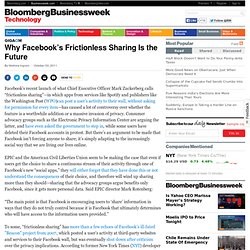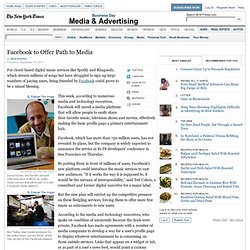 This week, according to numerous media and technology executives, Facebook will unveil a media platform that will allow people to easily share their favorite music, television shows and movies, effectively making the basic profile page a primary entertainment hub. Facebook, which has more than 750 million users, has not revealed its plans, but the company is widely expected to announce the service at its F8 developers' conference in San Francisco on Thursday. By putting them in front of millions of users, Facebook's new platform could introduce the music services to vast new audiences.
Facebook Is Expected to Unveil Media-Sharing Service
WSJ Social, For a World Where Facebook Is the New Internet
Why journalists should think twice about Facebook
The most recent stats could be, for news outfits, pretty grim: Americans spend 22.5 percent of their time online visiting social networks and blogs, and only 2.6 percent of their time learning about current events. And among the social sites, of course, none is more time-consuming than Facebook: In May alone, the site sucked up over 53 billion minutes of Americans' time.
With WSJ Social, the Wall Street Journal is rethinking distribution of its content…on Facebook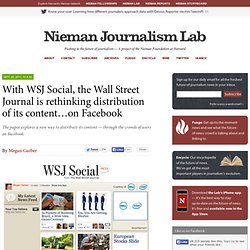 The Washington Post Social Reader
A First Look at Social Reader, WaPo's New Facebook App | Epicenter 
Facebook and the Washington Post Company introduced a new social news reading application at Facebook's f8 developer conference on Thursday, aiming to change the way users interact with online news content. Wired.com had a chance to use the app before its wide release.
Facebook iPad App to Launch at Apple's iPhone 5 Event [EXCLUSIVE]
UPDATE: Facebook's iPad App has arrived. Facebook will launch its long-awaited iPad app at Apple's iPhone 5 launch event on Oct. 4, Mashable has learned. In addition to the iPad app, Facebook is also expected to release a revamped version of its iPhone app and may unveil an HTML5-based mobile app marketplace.
Facebook links with publishers to make news super social
There's been a lot of attention paid recently to the new "social reading" apps that were launched by a number of publishers and content companies — including The Washington Post and The Guardian — at Facebook's f8 developer conference. Some of that has focused on the "frictionless sharing" that these apps enable, where all of a reader's activity from the app is shared through the social network, and we've pointed out the risks of putting so many eggs into a basket controlled by a large platform owner.
Memo to media: A Facebook app is not innovation