Communication
It's come to this: Ad agencies, in a push to get hip with the kids, lower their price points, and produce better ideas, seem to be piling onto the crowdsourcing bandwagon. But can crowdsourcing produce anything more than mediocre work? Evangelists for the trend say that crowdsourcing opens the competitive field, to talent that would otherwise go overlooked. Typically, you offer a prize, open the gates, and let the best idea win.
Crowdsourcing: A One-Way Ticket to Blah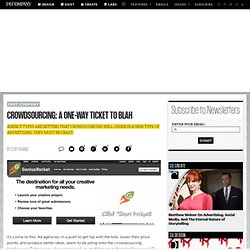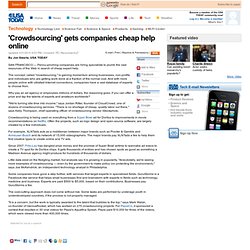 'Crowdsourcing' gets companies cheap help online
By Jon Swartz, USA TODAY SAN FRANCISCO — Penny-pinching companies are hiring specialists to plumb the vast resources of the Web in search of cheap expert help. The concept, called "crowdsourcing," is gaining momentum among businesses, non-profits and individuals who are getting work done at a fraction of the normal cost. And with more people online with ultrafast Internet connections, companies have a vast database of experts to choose from.
Crowdsourcing is the practice of obtaining needed services, ideas, or content by soliciting contributions from a large group of people, and especially from an online community, rather than from traditional employees or suppliers.[1] This process is often used to subdivide tedious work or to fund-raise startup companies and charities, and can also occur offline.[2] It combines the efforts of numerous self-identified volunteers or part-time workers, where each contributor of their own initiative adds a small portion to the greater result.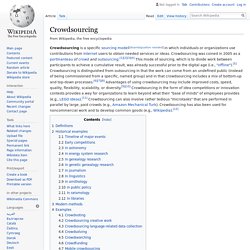 co: collective
Victors & Spoils