Caser
TeliaSonera och Hallvarsson & Halvarsson vinner guld i ARC Awards | Integrerad kommunikation - Halvarsson.se
TeliaSoneras digitala årsredovisning har vunnit guld i den internationella tävlingen ARC Awards, i klassen World's Best Online Annual Reports. ARC Award (Annual Report Competition) är en internationell tävling, som enligt internationell finanspress är "the Academy Awards of Annual Reports". Det är den största internationella tävlingen att belöna extra bra och utmärkande årsredovisningar.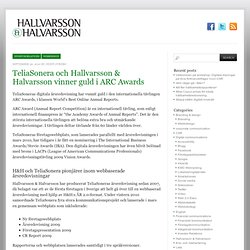 Annual Report 2009
December 21, 2010 by Frederic Page On December 17th, Pernod Ricard ( Euronext : RI ), a French company that produces distilled beverages and is a world leader in the Premium segment as well as a co-leader in Wines & Spirits, released its 2009/2010 annual report..through an iPad application ! Pernod Ricard is active in 70 countries, employs 18000 employees and its Net Sales amounted to € 7.081 m over the 2009/2010 period. As far as I know, this initiative is one of the first in its category, together with the japanese company Daiwa House Industry's 2010 report, also available as an iPad application The Pernod Ricard app has definitely a nice design, with a series of beautiful pictures by the contemporary Argentinian photographer Marcos Lopez.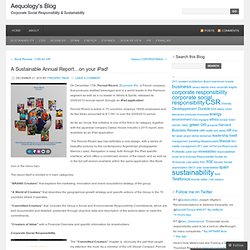 A Sustainable Annual Report…on your iPad! « Aequology's Blog
First CAC 40 annual report on iPad takes friendly approach - FoodPacific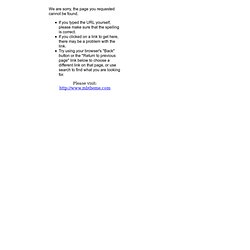 The Siemens Annual Report 2010 consists of three sections: the company report, the financial report and "Siemens at a glance". The company report illustrates the strategy. The target system "One Siemens" explains the company's framework for sustainable value creation and its requirements for capital-efficient growth. The financial report provides an overview of the Siemens AG fiscal year 2010. "Siemens at a glance" delivers key statements regarding sectors, strategy, positioning, key financial figures and the development of Siemens shares. Reports and videos provide a lively insight into the implementation of the Siemens company strategy.
Siemens Annual Report 2010 - iPad apps free download
Siemens Annual Report 2010 (Business) « Ipad lovers