Snacks
Potato Slices Made Like Potato Skins Recipe - Food.com - 130023. Easy Homemade Microwave Popcorn. Yes, homemade microwave popcorn, and it really works!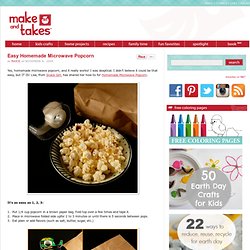 I was skeptical. I didn't believe it could be that easy, but IT IS! Lisa, from Snack Girl, has shared her how-to for Homemade Microwave Popcorn. It's as easy as 1, 2, 3: Twix Caramel Popcorn Recipe | Caramel Popcorn Recipe. Twix Caramel Popcorn Every Fall we make caramel popcorn, it is a tradition in our house.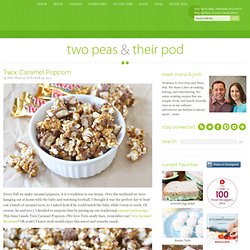 Over the weekend we were hanging out at home with the baby and watching football. Chocolate Popcorn with Sea Salt. It's December.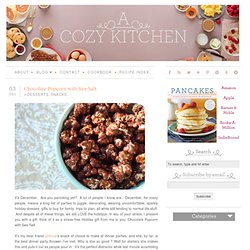 Are you panicking yet? A lot of people I know are. December, for many people, means a long list of parties to juggle, decorating, wearing uncomfortable, sparkly holiday dresses, gifts to buy for family, trips to plan, all while still tending to normal life stuff. And despite all of these things, we still LOVE the holidays. In leiu of your stress, I present you with a gift; think of it as a stress-free Holiday gift from me to you: Chocolate Popcorn with Sea Salt.It's my dear friend Johnna's snack of choice to make at dinner parties, and she, by far, is the best dinner party thrower I've met.
How to make roasted pumpkin seeds - in easy illustrated steps. Click here for a PDF print version These days, roasted pumpkins seeds are all the rage.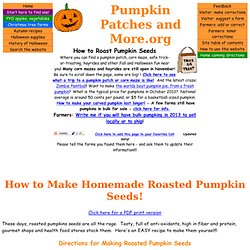 Tasty, full of anti-oxidants, high in fiber and protein, gourmet shops and health food stores stock them. Here's an EASY recipe to make them yourself! Cinnabon Popcorn. Diet starts Monday.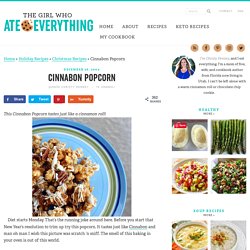 That's the running joke around here. Before you start that New Year's resolution to trim up try this popcorn. It tastes just like Cinnabon and man oh man I wish this picture was scratch 'n sniff. The smell of this baking in your oven is out of this world.
---