Kids
Perrin Report: The A-to-Z Guide to Traveling with Kids : Expert Travel Tips. C is for the Chatham Bars Inn, on Cape Cod.
As elegant as this historic oceanfront inn is, it still has every feature to keep children busy for a week: a supervised kids' club (that even has educational field trips), a gated (read: parent-friendly) area with both a huge pool and a kiddie pool, a daily lineup of children's outdoor games, an enormous sports field, a boccie court, a human-size chess board, a barrier-reef island full of playful seals (and a boat to take you there), and a historic trolley car to drive you into the charming town of Chatham—all included in the rate (508-945-0096; doubles, $435-$495 in summer). Teaching your Child to Love Reading | Hybrid Mom. 40 Ways to Show Your Child Love.
Displayed on a shelf in the entry way of my mother's home is a book entitled To A Child Love Is Spelled T-I-M-E.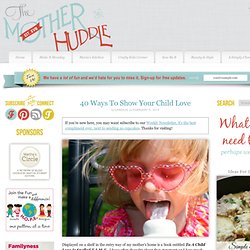 I have often thought about that statement and how much truth it holds. It's easy for us to say "I love you" but those three words, devoid of action and the gift of our quality time, are simply that—just words. As we celebrate this season of sentiment and affection, let us show our littlest valentines just how special they really are. 40 simple ways to show your child love:
---