Java Restful Services
The basics REST defines a set of architectural principles by which you can design Web services that focus on a system's resources, including how resource states are addressed and transferred over HTTP by a wide range of clients written in different languages. If measured by the number of Web services that use it, REST has emerged in the last few years alone as a predominant Web service design model.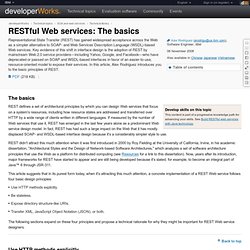 RESTful Web services: The basics
Oracle Oracle Oracle Technology Network > Java Challenge Win A Trip to JavaOne 2014 Build an application for the Internet of Things (IoT) Developer Challenge for a trip for you and two other team members to win a trip to JavaOne.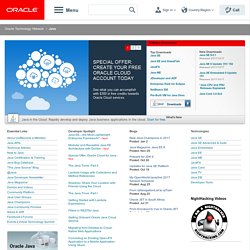 By Jakub Podlesak and Paul Sandoz This Tech Tip will show you how to write RESTful web services in Java that conform to the JAX-RS: Java API for RESTful Web Services (JSR-311) specification and its reference implementation - Jersey. You'll learn some of the principles of Representational State Transfer (REST) and get introduced to JAX-RS and Jersey. The tip uses a sample application to demonstrate some of the JAX-RS concepts and techniques.
Implementing RESTful Web Services in Java (Enterprise Tech Tips)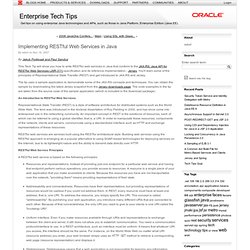 Representational state transfer (REST) is an architectural style consisting of a coordinated set of architectural constraints applied to components, connectors, and data elements, within a distributed hypermedia system. REST ignores the details of component implementation and protocol syntax in order to focus on the roles of components, the constraints upon their interaction with other components, and their interpretation of significant data elements.[1][2] The term representational state transfer was introduced and defined in 2000 by Roy Fielding in his doctoral dissertation at UC Irvine.[1][3] REST has been applied to describe desired web architecture, to identify existing problems, to compare alternative solutions, and to ensure that protocol extensions would not violate the core constraints that make the Web successful.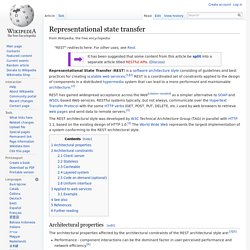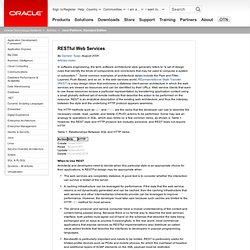 Articles Index In software engineering, the term software architectural style generally refers to "a set of design rules that identify the kinds of components and connectors that may be used to compose a system or subsystem." * Some common examples of architectural styles include the Pipe and Filter, Layered, Push Based, and so on.
RESTful Web Services
An Introduction to Building RESTful Web Services in Java Using NetBeans 6.0