Java Restful Services
Author: , Date: 08 Aug 2010, Views: 944, RESTful Java Web Services By Jose Sandoval Publisher: Packt Publishing 2009 | 260 Pages | ISBN: 1847196462 | File type: PDF | 3 mb Master core REST concepts and create RESTful web services in Java Build powerful and flexible RESTful web services in Java using the most popular Java RESTful frameworks to date (Restlet, JAX-RS based frameworks Jersey and RESTEasy, and Struts 2) Master the concepts to help you design and implement RESTful web services Plenty of screenshots and clear explanations to facilitate learning A developer's guide with practical examples to ensure proper understanding of all concepts and the differences between the frameworks studied In Detail If you are already familiar with REST theory but are new to RESTful Java web services, and want to use the Java technology stack together with Java RESTful frameworks to create robust web services, this is the book for you.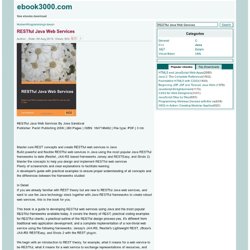 RESTful Java Web Services
The basics REST defines a set of architectural principles by which you can design Web services that focus on a system's resources, including how resource states are addressed and transferred over HTTP by a wide range of clients written in different languages. If measured by the number of Web services that use it, REST has emerged in the last few years alone as a predominant Web service design model. In fact, REST has had such a large impact on the Web that it has mostly displaced SOAP- and WSDL-based interface design because it's a considerably simpler style to use. REST didn't attract this much attention when it was first introduced in 2000 by Roy Fielding at the University of California, Irvine, in his academic dissertation, "Architectural Styles and the Design of Network-based Software Architectures," which analyzes a set of software architecture principles that use the Web as a platform for distributed computing (see Resources for a link to this dissertation).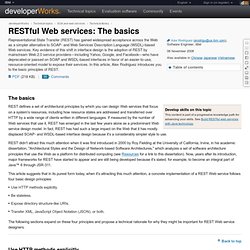 RESTful Web services: The basics
Oracle Oracle Technology Network > Java Article Why, Where, and How JavaFX Makes Sense CaptainCasa moved from Swing to JavaFX for front-end infrastructure, explaining that implementing an employee desktop front end with native technology is a valid approach and that JavaFX is a good fit. Posted 3/13/13 // Tags: java , JavaFX , RIA // Headlines Archive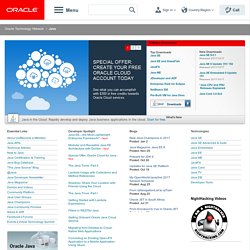 By Jakub Podlesak and Paul Sandoz This Tech Tip will show you how to write RESTful web services in Java that conform to the JAX-RS: Java API for RESTful Web Services (JSR-311) specification and its reference implementation - Jersey . You'll learn some of the principles of Representational State Transfer (REST) and get introduced to JAX-RS and Jersey. The tip uses a sample application to demonstrate some of the JAX-RS concepts and techniques.
Implementing RESTful Web Services in Java (Enterprise Tech Tips)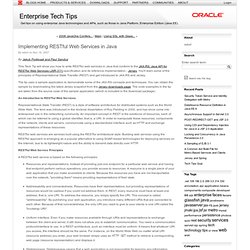 Representational State Transfer ( REST ) is a style of software architecture for distributed systems such as the World Wide Web . REST has emerged as a predominant web API design model. The term representational state transfer was introduced and defined in 2000 by Roy Fielding in his doctoral dissertation. [ 1 ] [ 2 ] Fielding is one of the principal authors of the Hypertext Transfer Protocol (HTTP) specification versions 1.0 and 1.1. [ 3 ] [ 4 ] [ edit ] About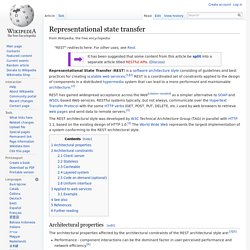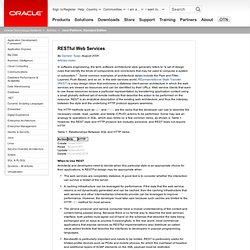 Articles Index In software engineering, the term software architectural style generally refers to "a set of design rules that identify the kinds of components and connectors that may be used to compose a system or subsystem." * Some common examples of architectural styles include the Pipe and Filter, Layered, Push Based, and so on.
RESTful Web Services
Posted by bleonard on July 18, 2007 at 12:54 PM PDT So, REST based web services are simpler than SOAP, right? Then why's it so difficult to create a REST based web service in Java? Using tools I can crank out a SOAP based web service in seconds - not so easy with REST. But help is on the way. JSR 311: JAX-RS: The Java API for RESTful Web Services aims to simplify the process.
An Introduction to Building RESTful Web Services in Java Using NetBeans 6.0