Digital
Les dernières techniques américaines de SEO pour faire exploser votre trafic. Article rédigé par David Taté.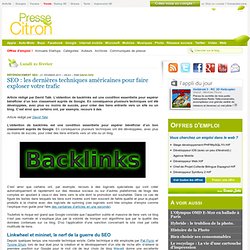 L'obtention de backlinks est une condition essentielle pour espérer bénéficier d'un bon classement auprès de Google. En conséquence plusieurs techniques ont été développées, avec plus ou moins de succès, pour créer des liens entrants vers un site ou un blog. C'est ainsi que certains ont, par exemple, recours à des. Twitter's Biz Stone: "We Are Not Valued At $10 Billion" ENQUETE BLOGOSPHERE FRANCOPHONE 2010 | SITE GEEK et HIGH-TECH NWE. Chose promise, chose due, voici les résultats de la 4ème édition de la traditionnelle Enquête Blogosphérique organisée chaque année par NWE!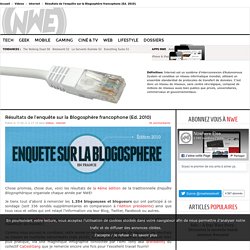 Je tiens tout d'abord à remercier les 1.354 blogueuses et blogueurs qui ont participé à ce sondage (soit 336 sondés supplémentaires en comparaison à l'édition précédente) ainsi que tous ceux et celles qui ont relayé l'information via leur Blog, Twitter, Facebook ou autres. (Special Thx @Fadhila Brahimi qui a spammé comme une folle durant 15 jours pour attirer un maximum de monde!) Comme vous pouvez le constater, cette année je ne vous propose pas de découvrir les résultats au travers de multiples camemberts mais plutôt, vu que c'est à la mode et il faut l'avouer bien plus pratique, via une magnifique infographie concoctée par l'Ami Tony aka @Wisibility du collectif CaCestGang que je remercie encore une fois pour l'excellent travail fourni! Xbox Kinect Vs. PS3: How 2 Companies Handle Hacking. Imagine you're a gaming console manufacturer, and some kid hacks your console to do "neat tricks.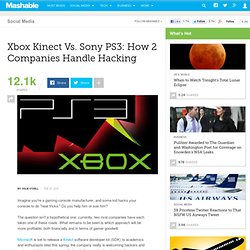 " Do you help him or sue him? The question isn't a hypothetical one; currently, two rival companies have each taken one of these roads. What remains to be seen is which approach will be more profitable, both financially and in terms of gamer goodwill. Microsoft is set to release a Kinect software developer kit (SDK) to academics and enthusiasts later this spring; the company really is welcoming hackers and curious minds to go to town on its hands-free gestural control interface. Who could have guessed that the Windows maker, which has struggled to shake an unjustly stodgy image, would be the first to invite experimental development on its gaming platform?
Blu-ray film comes with Android-friendly option | The Digital Home. Android handset owners will now be able to watch a digital copy of a Blu-ray film on their smartphones.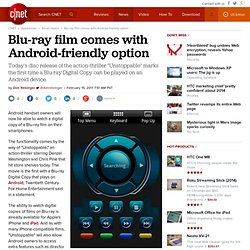 The functionality comes by the way of "Unstoppable," an action-thriller starring Denzel Washington and Chris Pine that hit store shelves today. The movie is the first with a Blu-ray Digital Copy that plays on Android, Twentieth Century Fox Home Entertainment said in a statement. Secretary Clinton: The Internet Has Become The World's Town Square. U.S.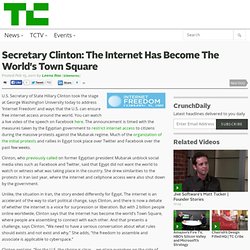 Secretary of State Hillary Clinton took the stage at George Washington University today to address 'Internet Freedom' and ways that the U.S. can ensure free internet access around the world. You can watch a live video of the speech on Facebook here. The announcement is timed with the measures taken by the Egyptian government to restrict internet access to citizens during the massive protests against the Mubarak regime. Much of the organization of the initial protests and rallies in Egypt took place over Twitter and Facebook over the past few weeks.
---