Digital
Téléchargement, DRM et Hadopi. iTunes. Egypte. France Telecom To Buy 49% of Video-Sharing Site Dailymotion. France Telecom's Orange has announced plans to buy a 49% stake in video sharing site Dailymotion for €58.8 million ($79.9 million).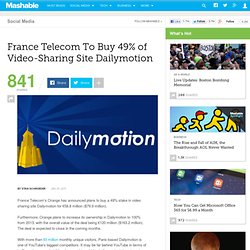 Furthermore, Orange plans to increase its ownership in Dailymotion to 100% from 2013, with the overall value of the deal being €120 million ($163.2 million). The deal is expected to close in the coming months. With more than 93 million monthly unique visitors, Paris-based Dailymotion is one of YouTube's biggest competitors. It may be far behind YouTube in terms of traffic and revenue, but it has been making strides in the content department, having partnered with EMI in February 2010. It's also doing well in the advertising department, reporting strong growth throughout 2010.
Obama: "We Are a Nation of Google and Facebook" In addressing American innovation in the State of the Union Address, President Obama called America a nation of Google and Facebook.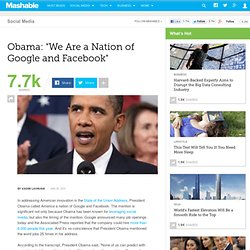 The mention is significant not only because Obama has been known for leveraging social media, but also the timing of the mention. Google announced many job openings today and the Associated Press reported that the company could hire more than 6,000 people this year. Strong Smartphone & Galaxy Tab Sales Round Up Samsung's Record Year. Samsung posted positive fourth quarter results Friday morning.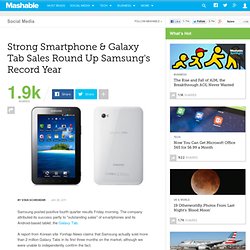 The company attributed its success partly to "outstanding sales" of smartphones and its Android-based tablet, the Galaxy Tab. A report from Korean site Yonhap News claims that Samsung actually sold more than 2 million Galaxy Tabs in its first three months on the market, although we were unable to independently confirm the fact.
---