Graphisme - Photo
Oliver Daxenbichler Design, Inc.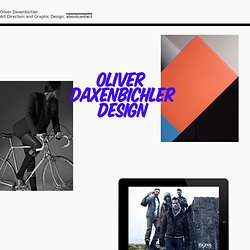 Oliver Daxenbichler, Art Direction and Graphic Design. about contact +49 172 6569000 studio(at)oliverdaxenbichler.com fb oliver.daxenbichler represented by Schierke artists Nadja Benaissa, art direction and graphic design
Not sold on the idea of going back to school? Neither was Daniel Savage. The NYC-based designer/director just released his animated short, "Helium Harvey," a labor of love that doubled as self-directed education: After much debate on whether to go to graduate school or not, I decided I would take part of 2013 off to explore storytelling and character driven narrative on my own.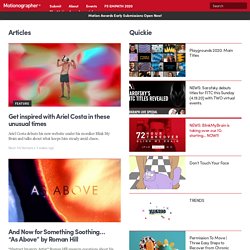 Austin Kleon I'm a writer who draws. Author of Newspaper Blackout and Steal Like An Artist. Steal Like An Artist is a manifesto for creativity in the digital age. Read the book→ My TEDx talk explains the basic idea of my book, Steal Like An Artist.
design, architecture, art, art contemporain, street life, hi-tec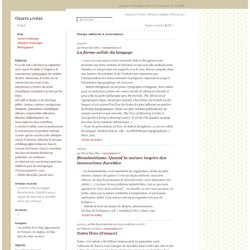 Deux étudiants en management de projet multimédia du CNA-CIFAG , Lloyd Cavé et Vincent Simonin, ont réalisés un questionnaire permettant, je cite : « de recueillir des témoignages terrain en matière de design presse afin de concevoir un panorama et analyser les évolutions des pratiques liées à ce domaine ». Pour cela, ils ont interrogés plusieurs professionnels designers, une journaliste, et un directeur éditorial, parmi lesquels j'ai eu l'honneur de faire partie. Voici mes réponses que je diffuse avec leur autorisation. Je les remercie, espérant que leur initiative suscitera le débat à l'école et dans la profession. Une interface, associée à l'ergonomie qui en découle, impose forcément une certaine forme de lecture, une manière de parcourir l'information.
Objets livres [design éditorial] ~ Blog