PHP
Deciphering Magic Methods in PHP. PHP provides a number of 'magic' methods that allow you to do some pretty neat tricks in object oriented programming.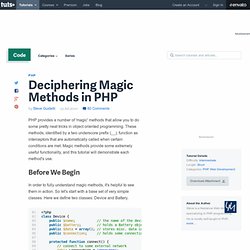 These methods, identified by a two underscore prefix (__), function as interceptors that are automatically called when certain conditions are met. Magic methods provide some extremely useful functionality, and this tutorial will demonstrate each method's use. 15 very useful PHP code snippets for PHP developers | ViralPatel.net. By Viral Patel on May 7, 2009 Following are list of 15 most useful PHP code snippets that a PHP developer will need at any point in his career.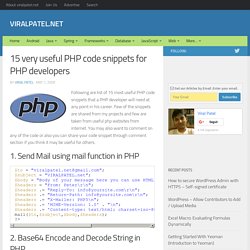 Few of the snippets are shared from my projects and few are taken from useful php websites from internet. You may also want to comment on any of the code or also you can share your code snippet through comment section if you think it may be useful for others. 1. Send Mail using mail function in PHP. Really Useful Classes And Libraries For PHP Developers. Today millions of websites and servers across the Internet are powered by PHP.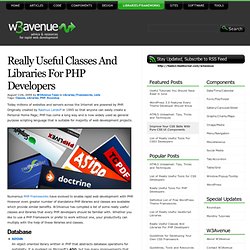 Originally created by Rasmus Lerdorf in 1995 so that anyone can easily create a Personal Home Page; PHP has come a long way and is now widely used as general purpose scripting language that is suitable for majority of web development projects. Numerous PHP Frameworks have evolved to enable rapid web development with PHP. However even greater number of standalone PHP libraries and classes are available which provide similar benefits. W3Avenue has compiled a list of some really useful classes and libraries that every PHP developers should be familiar with. 8 Best Open Source Shopping Carts.
Hey Everyone, On Sunday I was contacted by a client and they said the needed a shopping cart up by Monday.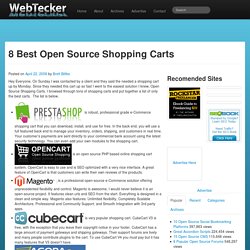 Since they needed this cart up so fast I went to the easiest solution I knew, Open Source Shopping Carts. I browsed through tons of shopping carts and put together a list of only the best carts. The list is below. is robust, professional grade e-Commerce shopping cart that you can download, install, and use for free. In the back end, you will use a full featured back end to manage your inventory, orders, shipping, and customers in real time. PHP snippets. Object passing (with and without serialization) in php - This article will show you how to handle in a proper way a very common situation: a user logs in your site and you want to keep trace of his details while he browses around your site using just one.
Imagine you have done a site (an e-commerce one e.g.) and you have a nice login page.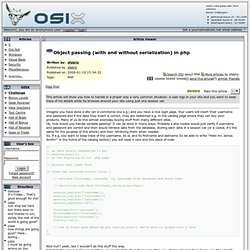 Your users will insert their username and password and if the data they insert is correct, they are redirected e.g. to the catalog page where they can buy your products. Many of us do this almost everyday buying stuff from many different sites. Ok, how would you handle variable passing? It can be done in many ways. What's the Right Way to Prevent SQL Injection in PHP Scripts? - Brian Swan. How to prevent SQL injection in PHP scripts is probably a topic that doesn't need anything more written about it.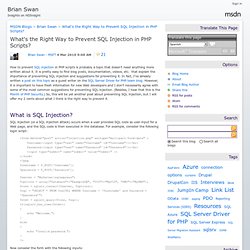 It is pretty easy to find blog posts, documentation, videos, etc. that explain the importance of preventing SQL injection and suggestions for preventing it. In fact, I've already written a post on this topic as a guest writer on the SQL Server Driver for PHP team blog. Still life: Bent objects » Article » OWNI.eu, Digital Journalism. UPDATE: The Return of Bent Objects Wires transform these objects from inanimate to hilarious works of art.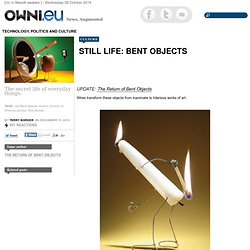 Little polish girl. 43 Must Read PHP Articles and Resources. Grace Smith is a seasoned Freelance Web Designer, based in Northern Ireland.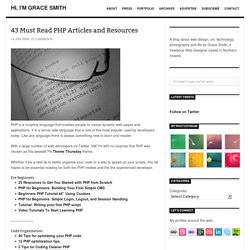 She has been featured in numerous online and print publications and is a featured writer for Mashable, one of the largest Tech and Social News sites in the world. She has also been named one of the Top 50 Female Designers in the world. Grace is the hired gun behind Postscript5; a small, boutique web design studio based in Northern Ireland. She has 6+ years experience in the design industry, and has worked with corporations and entrepreneurs, as well as small local startups and businesses.
---