jQuery
jHERE - Maps Made Easy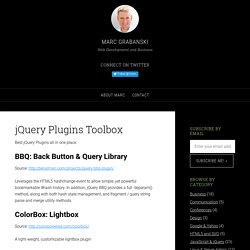 Best jQuery Plugins all in one place. BBQ: Back Button & Query Library Source: http://benalman.com/projects/jquery-bbq-plugin/ Leverages the HTML5 hashchange event to allow simple, yet powerful bookmarkable #hash history. In addition, jQuery BBQ provides a full .deparam() method, along with both hash state management, and fragment / query string parse and merge utility methods. ColorBox: Lightbox
MobilyMap Demo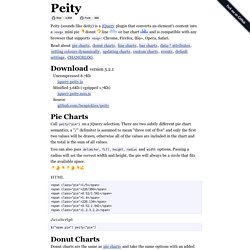 Peity (sounds like deity) is a simple jQuery plugin that converts an element's content into a simple <svg> mini pie 2/5 line 5,3,9,6,5,9,7,3,5,2 or bar chart 5,3,9,6,5,9,7,3,5,2 and is compatible with any browser that supports <svg>: Chrome, Firefox, IE9+, Opera, Safari. Download version 2.0.0 Uncompressed 7.1Kb jquery.peity.js Minified 3.3Kb (+gzipped 1.5Kb) jquery.peity.min.js
I've put together a nice little collection of scripts over the past year or so, and have decided as it's approaching summer in the UK (sorry winter in Australia!) to do a download bundle of 20 assorted scripts where you can get the lot in one click for free! Although donations are also much appreciated.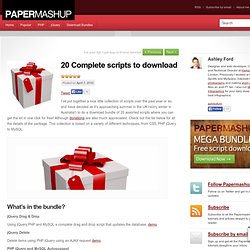 In this tutorial we are going to create a beautiful navigation that has a background image slide effect. The main idea is to have three list items that contain the same background image but with a different position.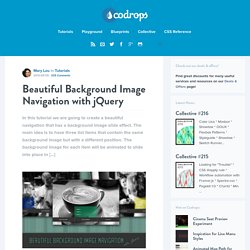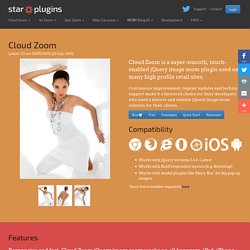 Cloud Zoom is a popular fly-out jQuery image zoom plugin used on many high profile retail sites. Continuous improvement, regular updates and technical support make it a favoured choice for busy developers who need a mature and reliable jQuery image zoom solution for their clients. New 'hover intent' feature allows for completely unobtrusive zooming for site visitors using mice or touch-pads. This is useful for when you have a large 'unavoidable' image on the page, or many smaller images that would all trigger a zoom.
7 Things I Wish I Had Known About jQuery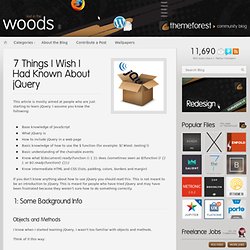 This article is mostly aimed at people who are just starting to learn jQuery.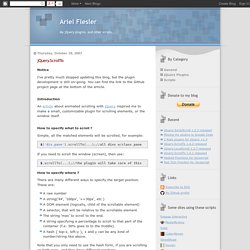 Introduction An article about animated scrolling with jQuery inspired me to make a small, customizable plugin for scrolling elements, or the window itself.
Whatever content you have to present, you can present them in a more interactive & more responsive ways.
Using jQuery The Sexy Way: 7 Great Techniques For a Slick Layout