Alarmes et VERA
Visonic Powermax Alarm Panel. Visonic produces the Powermax alarm panel series (PowerMax, PowerMax+, PowerMaxExpress, PowerMaxPro and PowerMaxComplete).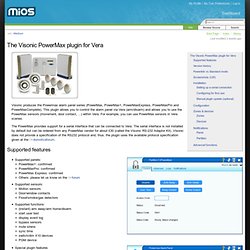 This plugin allows you to control the alarm panel via Vera (arm/disarm) and allows you to use the PowerMax sensors (movement, door contact, ...) within Vera. For example, you can use PowerMax sensors in Vera scenes. The PowerMax provides support for a serial interface that can be connected to Vera. The serial interface is not installed by default but can be ordered from any PowerMax vendor for about £30 (called the Visonic RS-232 Adaptor Kit).
Zwave. PhysicalConnection – GE Caddx Networx NX-584 NX-8E Alarm Plugin. There are many ways of connecting the NX-584/NX-8E panel's serial interface with a serial port on the Vera.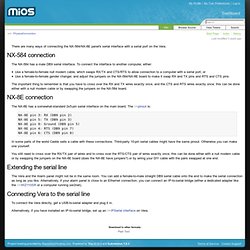 The NX-584 has a male DB9 serial interface. To connect the interface to another computer, either: Use a female-to-female null modem cable, which swaps RX/TX and CTS/RTS to allow connection to a computer with a serial port, or Use a female-to-female gender changer, and adjust the jumpers on the NX-584/NX-8E board to make it swap RX and TX pins and RTS and CTS pins. The important thing to remember is that you have to cross over the RX and TX wires exactly once, and the CTS and RTS wires exactly once; this can be done either with a null modem cable or by swapping the jumpers on the NX-584 board.
Alarm Panels Integration with Vera. I have an Ademco 10SE panel.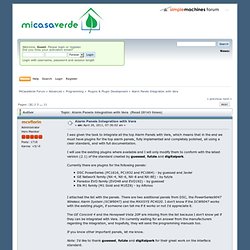 I just got the NuTech AD2USB which interfaces with most Vista series panels and had started to work on integration. The AD2USB is a virtual keypad. Vera sees the AD2USB adapter as a serial port without issue. Paradox Alarm Plugin. Introduction ¶ The Paradox Alarm plugin is a ​Luup component that connects Vera to a Paradox Security Alarm panel (Digiplex DGP-848 or EVO series) via their Home Automation interface (Paradox PRT3) over USB.
Through this interface, events occurring within the Alarm Panel are exposed to Vera including the status of any attached Doors, Windows, Motion Sensors. Each of these is exposed as a Motion Sensor to Vera, so that standard ​Scenes (Lights, Notifications, etc) can be established in Vera based upon events occurring within the Alarm Panel. Additionally, the interface exposes the current Armed State, Stay Armed State and whether the Alarm is in Breach. Alarm Panel Plugins. Alarm Panel Plugins DSC PowerSeries Panels Authors: Javier Guerra, guessed Compatible models: PC1616, PC1832, PC1864 Hardware requirements: IT-100 Integration Module.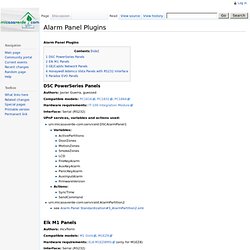 GE Caddx Networx NX-584 NX-8E Alarm Plugin. Discussion for this Luup plugin is on the Micasaverde forum at ​ Got one of these panels?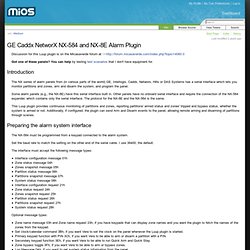 You can help by testing test scenarios that I don't have equipment for. Introduction ¶
---