Medical
With no clear indication of a decline in the number of cases being diagnosed each year, HIV continues to be a major public health concern for Europe.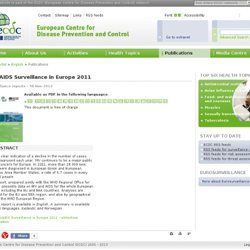 Publications - 20121130-Annual-HIV-Surveillance-Report.pdf
Belgisch Centrum voor Farmacotherapeutische Informatie (B.C.F.I. vzw)
MyMedSchedule, free medication reminder and schedule service
Home - ConsuMed - Kwaliteit in medische informatie
URL of this page: http://www.nlm.nih.gov/medlineplus/tutorial.html MedlinePlus presents interactive health tutorials from the Patient Education Institute . Learn about the symptoms, diagnosis and treatment for a variety of diseases and conditions. Also learn about surgeries, prevention and wellness. Each tutorial includes animated graphics, audio and easy-to-read language. NOTE: These tutorials require Flash, version 8 or above.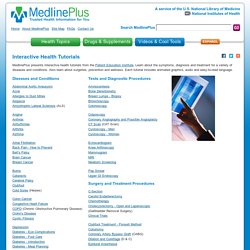 Korotkoff-toon
Korotkoff-tonen zijn de geluiden die met een stethoscoop te horen zijn wanneer de extern aangelegde druk in de manchet van een bloeddrukmeter tussen de systolische en diastolische bloeddruk ligt. Korotkoff-tonen zijn vernoemd naar Nikolaj Korotkov (1874-1920), chirurg te Leningrad . Om de bloeddruk te meten, wordt de bloeddrukmanchet zo hard opgepompt, dat de slagader zowel tijdens de systole als de diastole dichtgedrukt is. Meestal wordt ongeveer 30 mmHg boven de druk waarbij nog pulsaties van de a. brachialis of a. radialis gevoeld worden. Vervolgens laat men de manchet langzaam leeglopen, waardoor de druk steeds lager wordt. De wervelingen die ontstaan wanneer er, eerst tijdens de systole en later ook tijdens de diastole, weer bloed door de slagader loopt, worden de Korotkoff-tonen genoemd.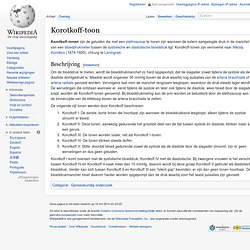 Woordenboek - Algemeen
Free Medical Books | by Amedeo.com
hartslag meten heartbeat
tekenen microscoop
kleuring preparaat
Soorten micro-organismen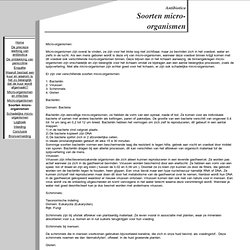 Micro-organismen: Micro-organismen zijn overal te vinden, ze zijn voor het blote oog niet zichtbaar, maar ze bevinden zich in het voedsel, water en zelfs in de lucht. Als een mens geboren wordt is deze vrij van micro-organismen, wanneer deze voedsel binnen krijgt komen met dit voedsel ook verschillende micro-organismen binnen. Deze blijven dan in het lichaam aanwezig, de binnengekregen micro-organismen zijn onschadelijk en zijn belangrijk voor het lichaam omdat ze bijdragen aan een aantal belangrijke processen, zoals de spijsvertering. Niet alle micro-organismen zijn echter goed voor het lichaam, er zijn ook schadelijke micro-organismen. Er zijn vier verschillende soorten micro-organismen: