4sq Link
Millions Silly Words
This is Nicopanda, an iPhone case designed by Nicola Formichetti, it is traveling the world with his owner @knswee (instagram). Jetsetting and photographed at various countries' landmark! Following this panda does remind us that the world is our oyster and remember to take a break from our hectic lives to at least travel and explore the world. This is specially dedicated to all the solo travelers out there!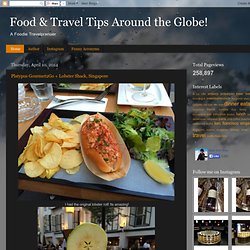 by Chaunce Dolan on Wednesday, February 17th, 2010 Our comprehensive Foursquare badge list will show you how to unlock badges, where to unlock badges, venues that unlock badges, and which badges are active or retired (inactive). If you happen to find out how to unlock something or if we have incorrect unlock info, leave us a comment in our forum. Active Badge Section Newly Active Badges Top Foursquare Core Badges Top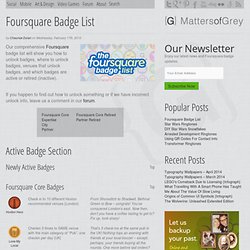 Foursquare Badge List | Matters of Grey
Foursquare Badge List
About Foursquare
Inside Manchester Pub in Manhattan, customers will find a fun spot to catch a game and wash down some quality pub fare with carefully-selected craft beers. One of the keys to early growth for Manchester Pub was through traditional word of mouth. Foursquare helped amplify this, said co-owner Lawrence Chan, who noticed that when people saw their friends checking in, they wanted to experience the pub for themselves.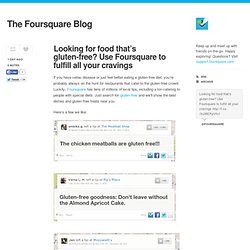 Foursquare Blog
foursquare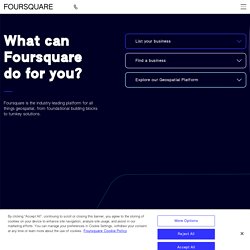 Foursquare I'm looking for... What's happening in Montreal? Let's explore nearby: "Sweet place !