After Effects
Get flash to fully experience Pearltrees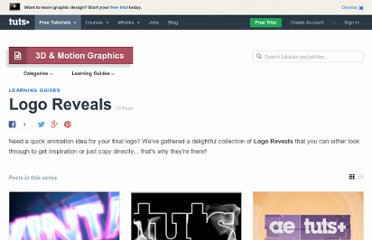 Sessions are blocks of articles, interviews, tutorials and content on a particular creative subject. Sessions are hosted around the Tuts+ network depending on where each article fits best.
Monologue AE Render Manager is a new free utility from Monologue, a motion design studio in Greece. It's an After Effects command-line interface GUI for Windows that is supposed to render many projects faster than firing up After Effects. Another benefit is easing sometimes tedious command line setups, which are explained in AE Help in Automating rendering with aerender .
Back N Forth is a free sine wave generator preset for the position, scale, and rotation in every axis of your objects inside of After Effects…
CopyMask2Layer is a new After Effects script at AE Scripts.
Motionworks' tour of built-in AE filters continues with After Effects A-Z: CC Film Burn : "Guest host James Zwadlo introduces the After Effects' CC Burn Film effect and shares some creative uses for water and displacement effects.l." While many AE filters will work in Premiere ( see details ), this filter does not.
With high-end color correction tools reaching the mass market, and free tools more powerful than ever, here's a linkfest outlining books, websites, plug-ins, and tutorials for color correction in After Effects and beyond.