sites fun
Get flash to fully experience Pearltrees
刚点准备整个房间的人都被题出错误ID22? 什么意思?求解释 最近已经是n多次发生这种情况了! 33fgt_角膳砂 17:02 | 2 cst423075043
三国杀
Most popular photography on StumbleUpon!
Conceptual photography is an art of getting your 'concept' across the mind of the viewer using just the contents of a photograph. It is a genre of photography where a photographer puts various things in the scenery so that his idea or concept becomes clear to perceive . Most of the times, computers are used for blending various objects into a photograph, but many photographers just use what is available to them.
Conceptual Photography: 50 Beautiful Examples
Art 1. Optical Design
Drawspace.com - Learn to draw
FM 100 Hue Test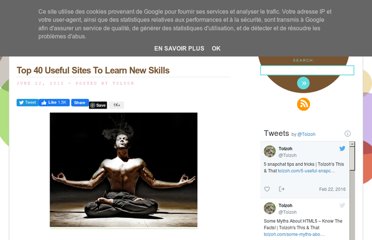 Top 40 Useful Sites To Learn New Skills
The web is a powerful resource that can easily help you learn new skills. You just have to know where to look. Sure, you can use Google, Yahoo, or Bing to search for sites where you can learn new skills , but I figured I'd save you some time.
50 Things Everyone Should Know How To Do | EvenCool
The Curious Case Of Caloric Restriction | Science & Technology | Chemical & Engineering News
© 2009 View Enlarged Image WHICH MONKEY LOOKS OLDER? Owen (left panels) and Eeyore (right panels) are both 27 years old, but Eeyore, who has been fed a calorie-restricted diet for the past 20 years, looks more youthful in terms of facial features, coat, and posture.
Color Forecast
This Easy Mistake Stitch scarf is made with Jade Sapphire's gorgeous 12-ply cashmere in color "Green Tea". If you know how to knit and purl you can make this scarf! Mistake Stitch creates a deep and lofty rib that looks like so much more work than it actually is. If you're curious about the orange scarf on the right, you can find the complete instructions at this link: Materials
Very Special Scarf: Easy Mistake Stitch - Easy Mistake Stitch Scarf
豆瓣
PlanetRomeo