Royaume Uni/U.K.
Expanding Universe
De Montfort University - Leicester, UK | undergraduate, postgraduate and part-time education
Creative Writing and New Media Archive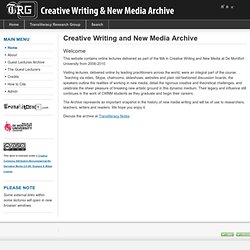 This website contains online lectures delivered as part of the MA in Creative Writing and New Media at De Montfort University from 2006-2010. Visiting lectures, delivered online by leading practitioners across the world, were an integral part of the course. Teaching via video, Skype, chatrooms, slideshows, websites and plain old-fashioned discussion boards, the speakers outline the realities of working in new media; detail the rigorous creative and theoretical challenges, and celebrate the sheer pleasure of breaking new artistic ground in this dynamic medium.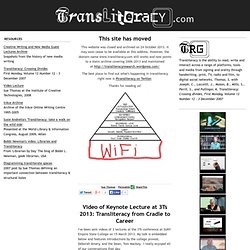 Transliteracy Research Group
At 3Ts 2013: Transliteracy from Cradle to Career in Saratoga Springs this week I learned some new things about transliteracy. 1. In What I Want, When I Want to Watch It: Brief Thoughts on Television Literacy in the Streaming World with Hollie Miller & Michele Forte, Hollie aka @theotherinside showed us a feature on Hulu Plus which allows you to choose between adverts. That means that when the ads come on - as they invariably do - if you don't like the one they're showing, you can choose a different ad from several on offer. Very interesting ad-based literacy - I've never been asked to consciously choose my own ads before, even though I know I'm already trading off that information on many of my social media platforms.
Kate Pullinger - writer
Buy or sample the Kindle version here . Hello World: travels in virtuality was first published in March 2004 by Raw Nerve Books. At that time it could only be produced in print and pdf formats but now, nine years later, it has entered its home territory of cyberspace. The Hello World blog was launched in 2004 with the original publication of the book and was live through 2004-5. Today it's a memorable archive of some of the things we were talking about in those years.
Sue Thomas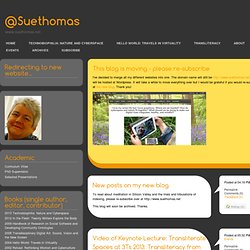 Faculty of Humanities - Home | De Montfort University - Leicester, UK
The Institute of Creative Technologies, De Montfort University, Leicester, UK