Food
Mississippi Mud Cake. So what's the big deal with Mississippi Mud?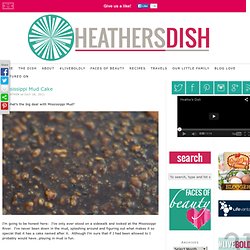 I'm going to be honest here: I've only ever stood on a sidewalk and looked at the Mississippi River. I've never been down in the mud, splashing around and figuring out what makes it so special that it has a cake named after it. S'mores Icebox Candy Bars. I'm putting on an orange leotard tomorrow.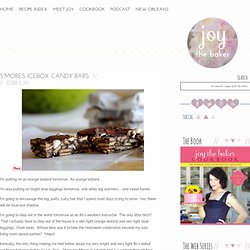 An orange leotard. I'm also putting on bright blue leggings tomorrow.. and white leg warmers… and sweat bands. 90-Day Ticker. Cruise lines recognize the value of selling every last cabin, even at a fraction of the regular price.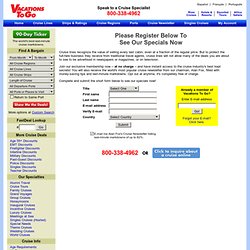 But to protect the full-fare business they receive from traditional travel agents, cruise lines will not allow many of the deals you are about to see to be advertised in newspapers or magazines, or on television. Join our exclusive membership now -- at no charge -- and have instant access to the cruise industry's best kept secrets! You will also receive the world's most popular cruise newsletter from our chairman, Alan Fox, filled with money-saving tips and last-minute markdowns.
Opt out at anytime, it's completely free of charge. No-Churn homemade icecream | The Wanna be Country Girl. This ice cream recipe has only four ingredients, takes less than 10 minutes to make, and will leave you wanting more every time.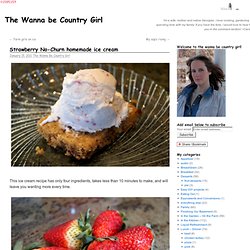 Grab 5 fresh strawberries. You can use any fruit you like, or add 1 teaspoon vanilla extract and top with hot fudge. Wash and slice the fruit, then put it in a food processor. Add 1 tablespoon of sugar and pulse until the fruit is pureed. Add the pureed fruit to a large mixing bowl. Lunch Sandwich Round-Up. Culinary Arts College & 100 Famous Restaurant Recipes You Can Replicate... Eating out is becoming a more and more popular phenomenon.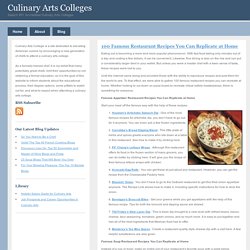 With fast food taking only minutes out of a day and costing a few dollars, it can be convenient. Likewise, fine dining is also on the rise and can put a considerably larger dent in your wallet. But unless you were a master chef with a keen sense of taste, these recipes were lost to you. Sweet saturday: one minute peanut butter cake & Food & back to her roots. Picture this scene: it's 8:30 in the evening.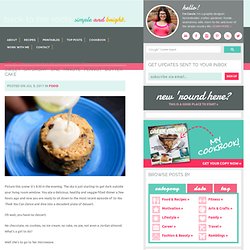 The sky is just starting to get dark outside your living room window. You ate a delicious, healthy and veggie-filled dinner a few hours ago and now you are ready to sit down to the most recent episode of So You Think You Can Dance and dive into a decadent plate of dessert. How to Make Your Own Beauty Products from Scratch - Health - GOOD. Let's keep things simple this week.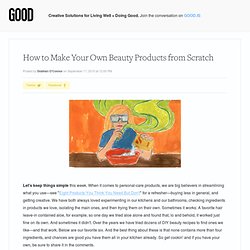 When it comes to personal-care products, we are big believers in streamlining what you use—see "Eight Products You Think You Need But Don't" for a refresher—buying less in general, and getting creative. We have both always loved experimenting in our kitchens and our bathrooms, checking ingredients in products we love, isolating the main ones, and then trying them on their own. Sometimes it works: A favorite hair leave-in contained aloe, for example, so one day we tried aloe alone and found that, lo and behold, it worked just fine on its own.
The Pastry Affair - Home - Butterbeer. This is part III in a mini-series of Harry Potter snacks from the books brought to life (part I is on Honeydukes treats, part II is all about the cauldron cakes, and part IV showcases decadent butterbeer cupcakes).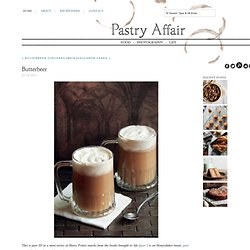 Last August, my family made the two thousand mile journey to the Wizarding World of Harry Potter at Universal Studios. Orlando has always been one of my family's favorite vacation destinations. Add in my love (and obsession) with Harry Potter and we all knew that once the park officially opened I couldn't be kept away for long. On the big day, we woke up at an obscene hour to a bright dawn.
---