Crafts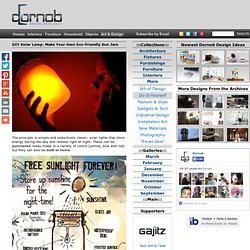 The principle is simple and seductively clever: solar lights that store energy during the day and release light at night. These can be purchased ready-made in a variety of colors (yellow, blue and red) but they can also be built at home. A simple, less-technical approach involves buying a conventional solar-powered yard lamp and then essentially harvesting it for key pieces to put in a jar. This is simply a way of taking an existing solar lamp design and appropriating its parts to make something more attractive for display around a house or home. A more electronically-savvy individual can take the more complex route and built a solar lamp from the ground up using small solar panels – though the aesthetic result may not be as impressive.
To make all of these Instructables, download this collection of How To's as an ebook.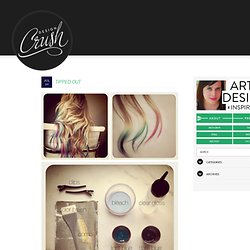 adele Oh I love it!!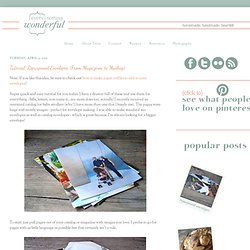 Note: If you like this idea, be sure to check out how to make paper ruffles to add to your envelopes!
I love the way the cherry trees outside my building bloom cheerfully each Spring. I wanted to bring the beauty of those cherry blossoms indoors so I made some out of tissue paper and to make them even more special I added LEDs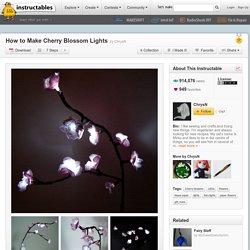 Bug Necklaces - Clear Acrylic - Bugs by G & more .........
Difficulty Rating: Beginner Tags Beginner, Craft Tools, Cutting, Glue, How-To-Projects, Mark Montano, Mixed Media, Papers, Sprays, Wire, If you need a quick 'just because' gift for someone, this is it!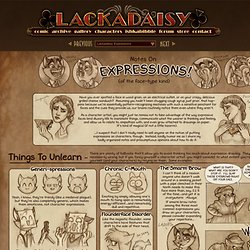 Boy, I didn't know what I was getting myself into when I started this.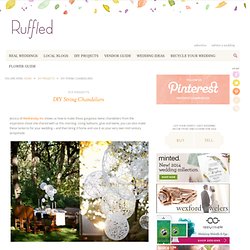 Jessica of Wednesday Inc shows us how to make those gorgeous twine chandeliers from the inspiration shoot she shared with us this morning. Using balloons, glue and twine, you can also make these lanterns for your wedding – and then bring it home and use it as your very own mid century lampshade. What you will need are: balloons, glue, yarn, tray for glue, corn starch 1/2 cup of Corn starch, 1/4 cup of Warm water, clear fast drying spray paint, hanging lamp cord or fishing line (depending on your desired final product), and a lighting kit if you're looking for a fully functional lantern.