Nebulas y sombras
Mexico's Narco Cultura: Glorifing Drug War Death and Destruction. There's something bothering Edgar Quintero, lead singer of the Mexican-American band Buknas de Culiacan, which specializes in songs that glorify Mexican drug kingpins.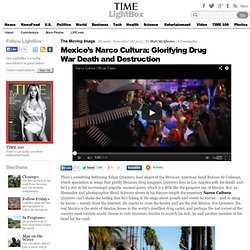 Quintero lives in Los Angeles with his family and he's a star in his increasingly popular musical genre, which is a little like the gangster rap of Mexico. But, as filmmaker and photographer Shaul Schwarz shows in his feature-length documentary Narco Cultura, Quintero can't shake the feeling that he's faking it. He sings about people and events he knows – and in slang he learns – mainly from the Internet. He yearns to cross the border and see the real Mexico. Time & Space. Home. Peter Gorman | Photographer. Home. Adorama. Is there an audience for an $8,000 camera that only shoots in black-and-white?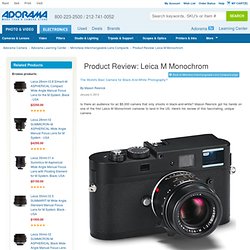 Mason Resnick got his hands on one of the first Leica M Monochrom cameras to land in the US. Here's his review of this fascinating, unique camera. Leica M Monochrom Key Features: La visión de Pierre Gable, fotógrafo ganador de HIPA - Camaramagazine. - ¿Dónde estabas y qué estabas haciendo antes de ganar HIPA?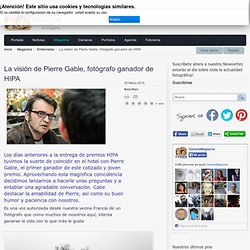 - Trabajaba en la fotografía, particularmente editando portadas de libros de literatura y de revistas. También trabajaba en una agencia para conciertos y para un músico, Pop-Rock. Me gustaba. - Pensé que escucharías más música clásica, por el estilo de tus fotografías. Cuando el amor falla, ¿por qué no salir contigo mismo? Estar en una relación puede ser bastante apestoso.
Como si tu propia incapacidad de lidiar con el mundo que te rodea no fuera suficiente, activamente decides limitarte a las locuras de otras personas, lo que me parece una cosa extrañamente masoquista en la que se clavó todo el planeta. La fotógrafa Penélope Koliopoulou también encuentra interesante el concepto de las relaciones, y decidió explorarlo en un proyecto, Self Portraits, en el que posaba como ambas mitades de diferentes parejas.
Le llamé para saber si una relación contigo mismo, incluso virtualmente, es o no una buena idea. VICE: Hola Penélope, buenas fotos. Entiendo que esto fue tu proyecto de maestría en artes, ¿cierto? René Burri - Paris Photo Agenda. Nov 06, 2013 — Nov 23, 2013 Esther Woerdehoff Paris Fair Exhibitor 36, rue Falguière75015 paris galerie@ewgalerie.comT +33 (0)9 51 51 24 50www.ewgalerie.com Opening reception, book signing and lecture: Wednesday, November 6, from 6pm to 9pm.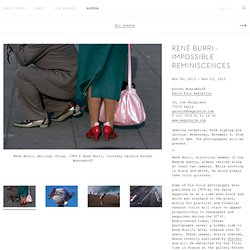 Araki - Paris Photo Agenda. Oct 17, 2013 — Dec 07, 2013 in camera Paris Fair Exhibitor 21, rue Las Cases75007 paris contact@incamera.frT +33 (0)1 47 05 51 77www.incamera.fr in camera is pleased to present, in collaboration with the curator Caroline Trausch and Zen Foto Tokyo, an exhibition of vintage and recent prints of Nobuyoshi Araki, chosen from different series which covers the last forty years of his work.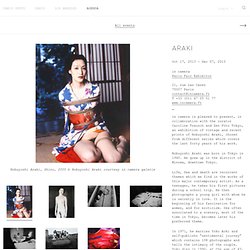 Nobuyoshi Araki was born in Tokyo in 1940. He grew up in the district of Minowa, downtown Tokyo. Antonio Turok Photography, Oaxaca, Mexico. "Conviviendo con la muerte" Por: Daniel Aguilar.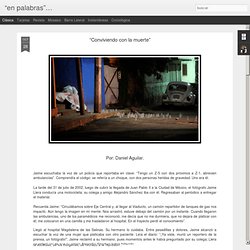 Jaime escuchaba la voz de un policía que reportaba en clave: "Tengo un Z-5 con dos próximos a Z-1, abrevien ambulancias". Comprendía el código: se refería a un choque, con dos personas heridas de gravedad. Magnum Photos Photographer Portfolio. Now You See It - Photo Gallery. La historia perdida de Robert Capa en México. Callegrafía | 18 | | Keith Dannemiller Photographer Mexico. After/Hours | Edgar Ramirez |Asher.
Tod Papageorge. Capturing Moments of Complete Disorientation: Interview with Mark Powell by Todd Gross. Eric's Note: I am excited to share this interview as a collaboration between Todd Gross (Quarlo) and Mark Powell (locaburg).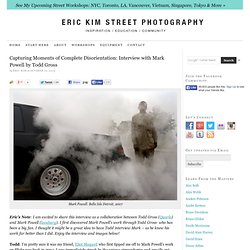 I first discovered Mark Powell's work through Todd Gross- who has been a big fan. I thought it might be a great idea to have Todd interview Mark – as he knew his work far better than I did. Enjoy the interview and images below! Todd: I'm pretty sure it was my friend, Eliot Shepard who first tipped me off to Mark Powell's work on Flickr way back in 2004. Centro de la Imagen. La mirada del arte es inaprehensible, inexplicable, impenetrable.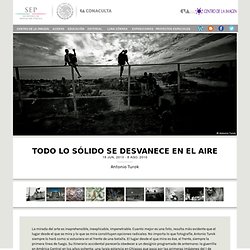 Cuanto mejor es una foto, resulta más evidente que el lugar desde el que se mira y lo que se mira constituyen opciones radicales. No importa lo que fotografíe, Antonio Turok siempre lo hará como si estuviera en el frente de una batalla. El lugar desde el que mira es ése, el frente, siempre la primera línea de fuego. Su itinerario accidental parecería obedecer a un designio programado de antemano: la guerrilla en América Central en los años ochenta; una larga estancia en Chiapas que pasa por las primeras imágenes del 1 de enero de 1994; el 11 de septiembre en Nueva York; Oaxaca y el nacimiento de la appo; las migraciones de América Central a Estados Unidos; la raza en la frontera; el barrio en Texas, Los Ángeles, Chicago; el derrumbe de la economía y la desbandada de los centros industriales de Estados Unidos. Sopitas. Hoy es el último día del Corona Capital en su edición 2013 y en Sopitas.com hemos estado trabajando arduamente para que puedan disfrutarlo, hicimos de todo, desde regalar pases, hasta subir reseñas para que vean cómo se puso.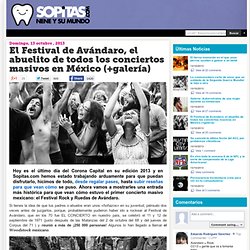 Ahora vamos a mostrarles una entrada más histórica para que vean cómo estuvo el primer concierto masivo mexicano: el Festival Rock y Ruedas de Avándaro. Si tienes la idea de que tus padres o abuelos eran unos «ñoñazos» en su juventud, piénsalo dos veces antes de juzgarlos, porque, probablemente pudieron haber ido a rockear al Festival de Avándaro, que en los 70 fue EL CONCIERTO en nuestro país, se celebró el 11 y 12 de septiembre de 1971 (justo después de las Matanzas del 2 de octubre del 68 y del jueves de Corpus del 71 ) y reunió a más de ¡250 000 personas! Algunos lo han llegado a llamar el Woodstock mexicano. (Foto: Archivo Pedro Meyer) Amazing Miniature Scenes Shot with Model Cars, Forced Perspective and a $250 P&S.
Model maker/collector and photographer Michael Paul Smith is a master at recreating incredibly accurate outdoor scenes using his extensive die-cast model car collection and forced perspective. Mixing up miniature cars, detail items and buildings into a scene whose backdrop is the real world, he shoots the gorgeous miniature vistas of the town he has created and named "Elgin Park" — and he does it all with a cheap point-and-shoot.
Elgin Park is some 25 years in the making, as are Smith's modeling and diorama photography skills. In an extensive interview with Fstoppers, he describes his tools, his process and the minute attention to detail that creating these scenes requires. Lara gasparotto – under the sheets. Hover over the image for navigation and full screen controls ESSAY CONTAINS EXPLICIT CONTENT EPF 2013 shortlist Lara Gasparotto. Las fotos que Hitler quiso destruir. World Press Photo. Magnum In Motion.
Matt eich – fear & self loathing in america. Fuego, camina conmigo | VICE México.
---