Work
The Interview Question That's Always Asked (and How to Nail It) 50 Places You Can Learn to Code (for Free) Online. If you're curious about learning a programming language then you're in luck: there's no shortage of resources for learning how to code online.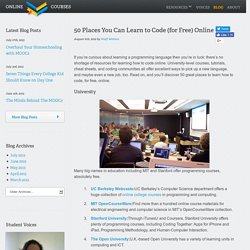 University-level courses, tutorials, cheat sheets, and coding communities all offer excellent ways to pick up a new language, and maybe even a new job, too. Read on, and you'll discover 50 great places to learn how to code, for free, online. University. Why You Didn't Get the Interview | job tips for geeks. After reading the tremendous response to Why You Didn't Get the Job (a sincere thanks to those that read and shared the post) I realized that many of the reasons referenced were specific to mistakes candidates make during interviews.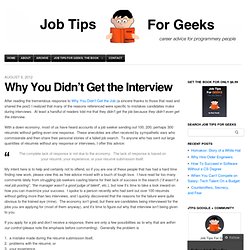 At least a handful of readers told me that they didn't get the job because they didn't even get the interview. With a down economy, most of us have heard accounts of a job seeker sending out 100, 200, perhaps 300 résumés without getting even one response. These anecdotes are often received by sympathetic ears who commiserate and then share their personal stories of a failed job search. How to Create an Awesome Infographic [INFOGRAPHIC] There's no better way to show companies how to create an engaging infographic than through outlined steps in the form of an infographic.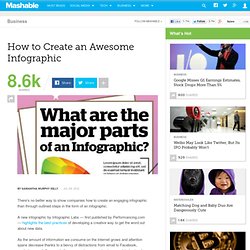 A new infographic by Infographic Labs — first published by Performancing.com — highlights the best practices of developing a creative way to get the word out about new data. As the amount of information we consume on the Internet grows and attention spans decrease thanks to a bevvy of distractions from email to Facebook, market research firms and other companies are packaging new data in visual ways. In some cases, infographics even go viral. SEE ALSO: 20 Reasons to Switch to Google+ [INFOGRAPHIC] What multitasking does to our brains | The Buffer blog: productivity, life hacks, writing, user experience, customer happiness and business.
5.8K Flares Filament.io 5.8K Flares × We all know this and have heard it hundreds of times.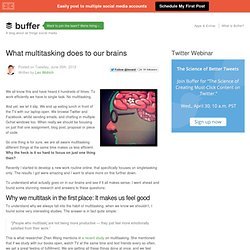 To work efficiently we have to single task. No multitasking. How to Combat the Most Common Problems When Searching for a Job. SExpand You don't need statistics to tell you that it's not easy to find a job, but they're around to reaffirm that unfortunate reality.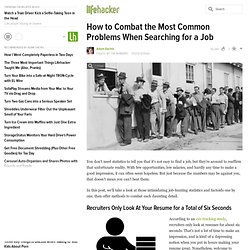 With few opportunities, low salaries, and hardly any time to make a good impression, it can often seem hopeless. But just because the numbers may be against you, that doesn't mean you can't beat them.P In this post, we'll take a look at those intimidating job-hunting statistics and factoids one by one, then offer methods to combat each daunting detail.P Recruiters Only Look At Your Resume for a Total of Six SecondsP. On Making the Right Choice: The Deliberation-Without-Attention Effect. Contrary to conventional wisdom, it is not always advantageous to engage in thorough conscious deliberation before choosing.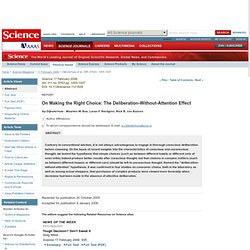 On the basis of recent insights into the characteristics of conscious and unconscious thought, we tested the hypothesis that simple choices (such as between different towels or different sets of oven mitts) indeed produce better results after conscious thought, but that choices in complex matters (such as between different houses or different cars) should be left to unconscious thought. Named the "deliberation-without-attention" hypothesis, it was confirmed in four studies on consumer choice, both in the laboratory as well as among actual shoppers, that purchases of complex products were viewed more favorably when decisions had been made in the absence of attentive deliberation. Showing Up Is Not Enough - dan shipper. This post was republished on LifeHacker.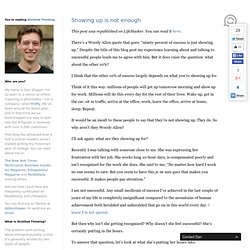 You can read it here. There's a Woody Allen quote that goes: "ninety percent of success is just showing up." Despite the title of this blog post my experience learning about and talking to successful people leads me to agree with him. But it does raise the question: what about the other 10%? TEDXYale- Vikram Mansharamani-The Power of Foxy Thinking. All Hail the Generalist - Vikram Mansharamani. By Vikram Mansharamani | 10:53 AM June 4, 2012 We have become a society of specialists.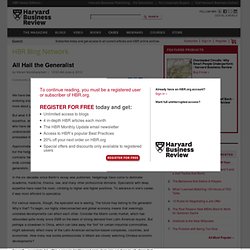 Business thinkers point to "domain expertise" as an enduring source of advantage in today's competitive environment. The logic is straightforward: learn more about your function, acquire "expert" status, and you'll go further in your career. Get Hired. I was recently asked for interview advice. 1.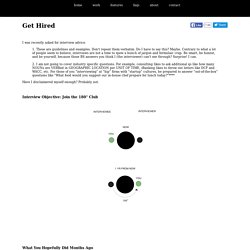 These are guidelines and examples. Don't repeat them verbatim. Smart Resume Risks. Work Less and Do More by Applying the Pareto Principle to Your Task List. How to Choose the Best Chart for Your Data. What You Really Need to Apply for a Job—and What You Don't. "An ideal candidate should have a strong marketing background, five years of experience in the consumer goods industry, a track record of designing and running complex marketing campaigns for new consumer products, proficiency with Adobe Creative Suite, and a graduate-level degree with a focus on marketing or public relations.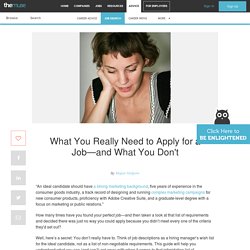 " How many times have you found your perfect job—and then taken a look at that list of requirements and decided there was just no way you could apply because you didn't meet every one of the criteria they'd set out? Well, here's a secret: You don't really have to. How to Manage a Micromanager. When Bad Things Happen To Productive People. You relish being seen as the go-to person when it comes to getting things done. You take pride in your ability to deal with a hefty workload and numerous deadlines without getting tripped up along the way. Yet, no matter how accomplished and efficient you are, there will be times when you get overwhelmed by negative or upsetting events. Times when you are left wondering how you could possibly accomplish almost anything in the near term – be it the client work that still needs to be completed on time, or the myriad of other commitments and responsibilities crying out for your attention. How to Follow Up on a Job Interview (Without Being Annoying)
How to Write an Email That Will Get a Response. How to write an email? What's next? A post on how to tie your shoes? Why "We Need to Work Longer" Is Almost Always a Bad Idea. Go the F**k Home. I have honestly never understood people who work more than 40 hours a week. I try to work less. I get more done, I meet my deadlines, and I don't hate my life. When I worked in Boston, the train was full of business people on their phones talking about how they worked 70 hours this week. It was like a badge of honor. I just wanted to say, "I worked 38, played with my kids, and went on a nice relaxing trip. " 6 questions to ask a job interviewer - Ask Annie. To stand out from your competition, says an executive coach, you need to start a real, memorable conversation.
Here's how to do it. Dear Annie: I've only been out of college a few years, and I was hired into my first real job (which I still have) by an on-campus recruiter at a career fair, so I don't have much experience with interviews. 10 Things To Never Say To Your Boss. The Magic of Doing One Thing at a Time - Tony Schwartz. Know When to Back Out of a Project. How to Attend a Conference as Yourself - Peter Bregman. Excel Six Sigma Metrics Balanced Scorecard. Process Capability Analysis in Excel | Process Capability Metrics | Cp, Cpk, Pp, Ppk.
DMAIC Measure Phase | DMAIC Tools: Six Sigma Toolkit and Excel Templates. Excel Dashboards, Templates and Business Software. Jonah Lehrer on How to Be Creative. Five Leadership Lessons From Jean-Luc Picard. Proact - Faq. How to Write a Cover Letter That Employers Will Actually Read. Make Better Quality Decisions with the Help of This Spreadsheet. How to Ask for Help via Email (and Actually Get It) How To Take Control of Your Next Job Interview.
Winston Joseph.
---