RAP NEWS - JUICEMEDIA.COM
Impromptu Robert Foster performance at the Free Julian Assange Rally in Melbourne on 10 Dec. 2010
Rap News LIVE @ Julian Assange Rally
WikiLeaks parody of MasterCard ad... priceless
RAP NEWS 16: OBAMA v ROMNEY - the Final Presidential Debate:
The War on Terra - Canada vs Australia [RAP NEWS 17]
Australian Election: A Game of Polls [RAP NEWS 20]
Dieses Video ist derzeit nicht verfügbar. Das Video ist auf diesem Gerät nicht verfügbar. von $author Diese Playlist teilen Abbrechen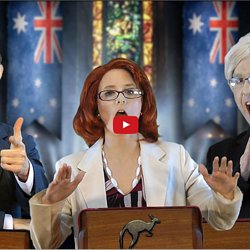 "The News" - [RAP NEWS 21: S02E01] - feat. Sage Francis
The Energy Crisis -- [RAP NEWS 22]
Crimea: Media War Games - feat. Abby Martin [RAP NEWS 23]
RAP NEWS 11: Australia Day (with Ken Oathcarn)
RAP NEWS 12: Yes We KONY?
RAP NEWS 13: A News Hope
Juice Rap News - Episode 14 - Higgs Boson Unbound
RAP NEWS 15: Big Brother is WWWatching You
RAP NEWS 8: Osamacide
RAP NEWS 9 - The Economy w. Ron Paul & Peter Joseph
RAP NEWS 1: NASA bombs the moon
RAP NEWS 2: OBAMA wins Nobel War is Peace Prize
RAP NEWS 3: Lord Monckton rap-battles Al Gore on Climate Change
RAP NEWS 4: Wikileaks v The Pentagon - WWWAR on the Internet