DIY Fashion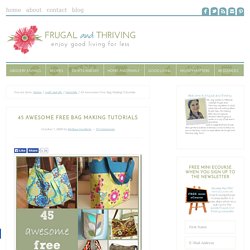 Posted on October 7 by Melissa Goodwin · 51 Comments This post has been updated – broken links have been replaced with new awesome bag making tutorials.
The Sew Weekly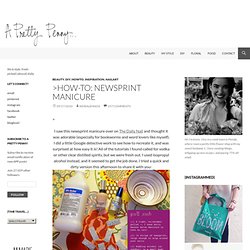 I saw this newsprint manicure over on The Daily Nail and thought it was adorable (especially for bookworms and word lovers like myself). I did a little Google detective work to see how to recreate it, and was surprised at how easy it is! All of the tutorials I found called for vodka or other clear distilled spirits, but we were fresh out.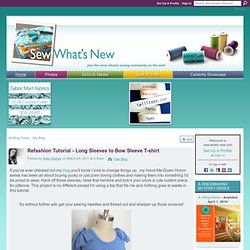 If you've ever checked out my blog you'll know I love to change things up, my Hand-Me-Down Horror series has been all about buying yucky or just plain boring clothes and making them into something I'd be proud to wear. Hack off those sleeves, raise that hemline and bob's your uncle a cute custom piece, for pittence. This project is no different except I'm using a top that fits me and nothing goes to waste in this tutorial. So without further ado get your sewing needles and thread out and sharpen up those scissors! Before, a plain long sleeve Tee from Old Navy, that cost me a wopping $2.60
Here is a list of tutorial categories found on Make It and Love It. Click on any of the images below and you will be directed to a full list of the tutorials that fall under that specific category. If you still can't seem to find a certain project you're looking for, try using the search bar on my right sidebar.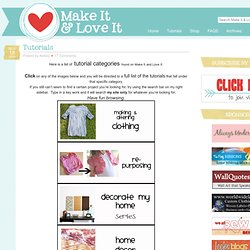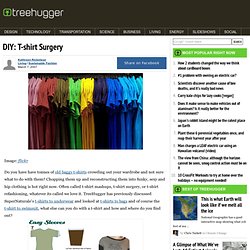 Image: flickr Do you have have tonnes of old baggy t-shirts crowding out your wardrobe and not sure what to do with them? Chopping them up and reconstructing them into funky, sexy and hip clothing is hot right now. Often called t-shirt mashups, t-shirt surgery, or t-shirt refashioning, whatever its called we love it.
You should all know by now that we are all about stacking bracelets on our wrists. The more, the better. In fact . . . the most, the best!