Instructions
Although as important as the software it supports, education and documentation are relatively neglected in the Open-source world. Coders love to code, and explaining how best to use or improve the software tends to be deferred or even sidelined. At Showmedo we believe the community can play a vital role here and also say thanks for the tools and software that make our lives easier. If you have a piece of software you love or a programming langugage you are enthusiastic about, why not make a screencast showing others how to use it? All the stuff you wish you'd been told, the tips, tricks, insights that would have saved you time and frustration.
Learn Django: Create a Wiki in 20 minutes video tutorial - Learn Django: Create a Wiki in 20 minutes - Learn: webdevelopment, python, beginners, application, programming, basics, running, time, little, pages, create, wiki, learn, library, tutorials, http,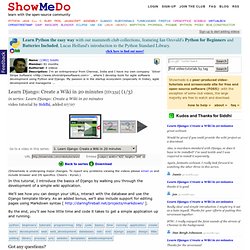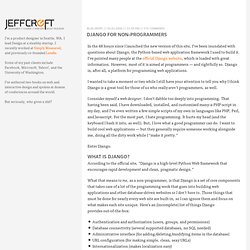 In the 48 hours since I launched the new version of this site, I've been inundated with questions about Django, the Python-based web application framework I used to build it. I've pointed many people at the official Django website, which is loaded with great information. However, most of it is aimed at programmers — and rightfully so. Django is, after all, a platform for programming web applications. I wanted to take a moment or two while I still have your attention to tell you why I think Django is a great tool for those of us who really aren't programmers, as well.
Django for non-programmers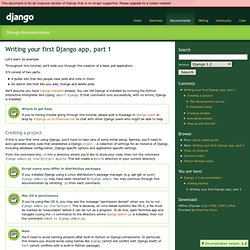 Let's learn by example. Throughout this tutorial, we'll walk you through the creation of a basic poll application. It'll consist of two parts: A public site that lets people view polls and vote in them.An admin site that lets you add, change and delete polls. We'll assume you have Django installed already. You can tell Django is installed by running the Python interactive interpreter and typing import django.
Writing your first Django app, part 1
Preface Prerequisites Why Use Python Let's Write a Program Where Do We Go From Here? Review Preface What you will learn
Learn to Program using Python: Lesson 1, Getting Started — Developer.com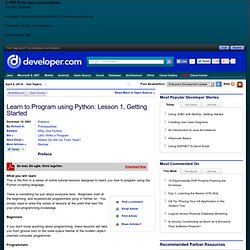 Solving the third and last layer of the Rubik's cube
Intro | 1st layer | 2nd layer | 3rd layer | Tricks | The other methods To solve the last layer, turn again the cube upside down with the uncompleted face on the top: We are going to make a blue cross, without worrying about the order of the cubes that form the cross. One algorithm and its reverse are necessary: